SONiC Panel Discussion

Tuesday, October 18, 2011 from 4:30 PM to 6:00 PM (EDT)
Event Details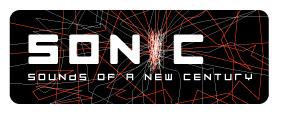 american composers orchestra
invites you to a panel discussion
If the World is Flat,
Does that Mean Our Music is Too?

The opportunities and perils of composition
in the 21st Century
Introductions by:
Derek Bermel & Stephen Gosling, SONiC festival curators
Moderator:
Richard Kessler, Dean, Mannes College New School
Panelists:
Richard Carrick, Mark Dancigers, Valerie Coleman, Kenji Bunch, Kate Moore, Ruby Fulton
Composers around the world are more interconnected than ever before.
Musicians can access music from around the globe at the click of a mouse.
Composers can pick-and-choose musical resources and source material from a myriad cultures.
What does this mean for composers today and the present and future direction of musical composition? Does it make our music richer and deeper, or merely eclectic and insubstantial? Are we headed toward a more homogenized international sound? And if musical boundaries are disappearing, how do new composers find their way?
Tuesday, October 18, 2011
panel begins at 4:30pm
The New School, Wolff Conference Center, Room 1103
6 East 16th Street, NYC
When & Where

The New School
New Wolff Conference Room (1103)
6 East 16th Street (at Fifth Avenue)
New York, NY 10003


Tuesday, October 18, 2011 from 4:30 PM to 6:00 PM (EDT)
Add to my calendar
Organizer
American Composers Orchestra
Now in its 40th season, American Composers Orchestra is the only orchestra in the world dedicated to the creation, performance, preservation, and promulgation of music by American composers. ACO makes the creation of new opportunities for American composers and new American orchestral music its central purpose. Through concerts at Carnegie Hall and other venues, recordings, internet and radio broadcasts, educational programs, New Music Readings, and commissions, ACO identifies today's brightest emerging composers, champions prominent established composers as well as those lesser-known, and increases regional, national, and international awareness of the infinite variety of American orchestral music, reflecting geographic, stylistic, and temporal diversity. ACO also serves as an incubator of ideas, research, and talent, as a catalyst for growth and change among orchestras, and as an advocate for American composers and their music.
To date, ACO has performed music by more than 700 American composers, including nearly 300 world premieres and newly commissioned works. In addition to SONiC, orchestra's innovative programs have included Sonidos de las Américas, six annual festivals devoted to Latin American composers and their music; Coming to America, a program immersing audiences in the ongoing evolution of American music through the work of immigrant composers; Orchestra Tech, a long-term initiative to integrate new digital technologies in the symphony orchestra; Improvise!, a festival devoted to the exploration of improvisation and the orchestra; coLABoratory: Playing It UNsafe, a new laboratory for the research and development of experimental new works for orchestra; and Orchestra Underground, ACO's entrepreneurial cutting-edge orchestral ensemble that embraces new technology, eclectic instruments, influences, and spatial orientation of the orchestra, new experiments in the concert format, and multimedia and multidisciplinary collaborations.
More information about American Composers Orchestra is available online at www.americancomposers.org.