Join us for an unforgettable evening with Andrea Brook as she takes us on a magnificent journey with Sonic Butterfly!
About this event
"Like a magician, Brook stroked electronically sensitized strings that stretched the entire length of the performance space, causing melodic pulsations that added a magical dimension."
- Jim Farber, San Francisco Classical Voice
Sonic Butterfly is a two octave, acoustic, chromatic, long-string harp created and performed by acclaimed musician and installation artist, Andrea Brook. The strings are at minimum 60ft long and span out over the audience, transforming indoor and outdoor theaters, buildings, and gardens into a stunning immersive musical instrument. Sonic Butterfly creates rich longitudinal vibrations with ascending overtones, "it's like being inside YoYo Ma's cello." The 2 resonating chambers have butterfly-shaped projection screen or LED wings adding to the visual, musical experience.
The concept for Sonic Butterfly was born in San Miguel de Allende, Mexico, where Andrea was performing for a Day of the Dead festival in 2012. Entranced by the return of the monarch butterfly as they came home to Mexico after their yearly migration, Andrea felt a deep resonance to their process of transformation and purpose. Simultaneously, a Rumi poem was recited and one line made it all clear, "Jump into the fire, become the butterfly, become the butterfly." Andrea dedicated herself to create Sonic Butterfly and an immersive musical chrysalis.
Sonic Butterfly has transformed architecture and natural environments into large-scale immersive musical instruments since 2013. Having performed throughout the globe, featured presentations include the historic El Rey Theatre in Los Angeles, Caesar's Palace in Las Vegas, the Atlanta Motor Speedway, a grand cathedral in San Miguel de Allende, Mexico, downtown Sao Paulo, Brazil, and Richard Branson's Necker Island in the British Virgin Islands. Sonic Butterfly performs for corporate clients including Rolls Royce, Lincoln Motors and Caterpillar, for festivals around the world including Brazil, Costa Rica, Mexico, Bulgaria and the US, and in theaters like the Alys Stephens Performing Arts Center, the Regent Theater, and Libbey Bowl.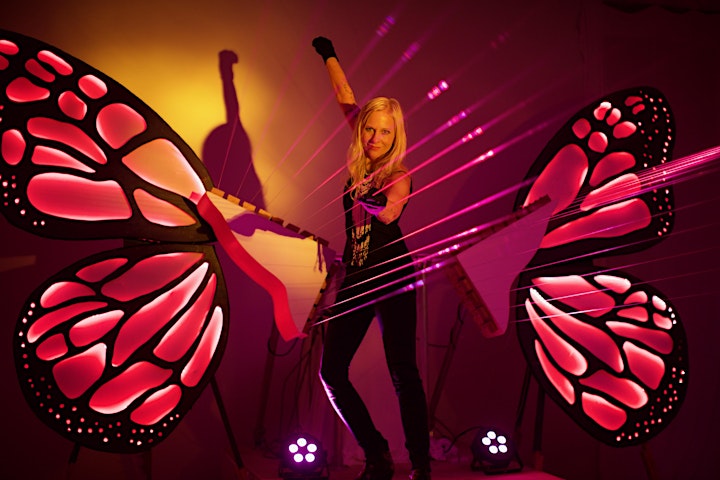 The audiences proclaim that Sonic Butterfly is "mesmerizing," "thought provoking," "electrifying," "spectacular," "an amazing musical experience."
"Sonic Butterfly is the perfect entertainment… larger than life to impress people who have seen it all before!" Rob Sandolowich, VP, Westbury National Show Systems
"The three days of performances of Sonic Butterfly for an audience of 4,000 each night could not have been more successful! Sonic Butterfly exceeded all exceptions on all counts, a home run on every level!" Mark Rubinsky, MC2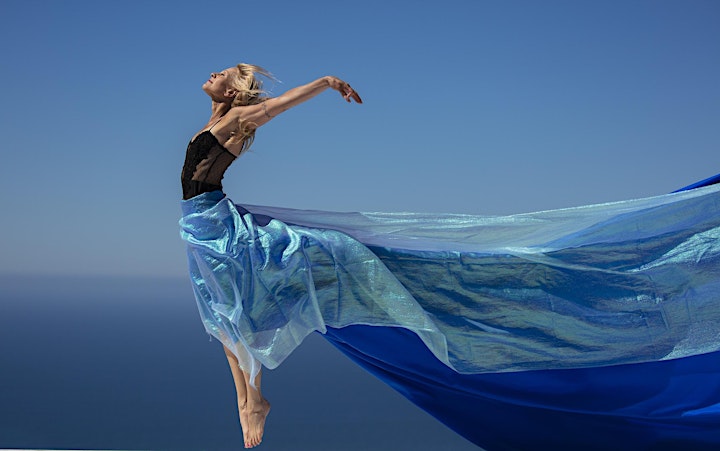 Let go of your mind
Go crazy
Yes go mad
Jump into the Fire
Become the butterfly
Become the butterfly
- Rumi
Event Schedule:
4:00pm: Mystic Universe Exhibition and Wisdome Park Opens
8:00pm: Doors Open
9:00pm - 10:30pm: Sonic Butterfly
10:30pm - 12:30am: DJ Dance Party (Artist TBD)
EARLY BIRD TICKETS NOW AVAILABLE! SELECT YOUR SEATS!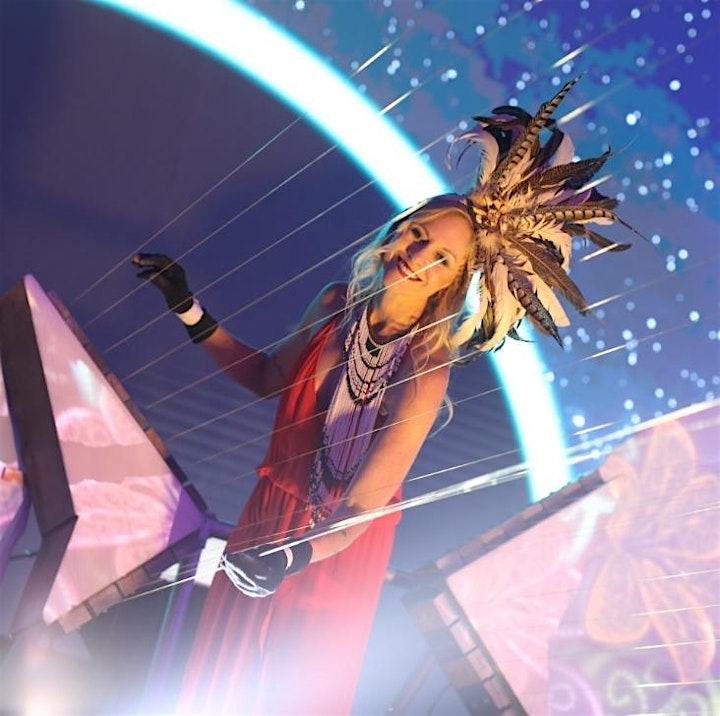 ANDREA BROOK
Andrea Brook is as physically dynamic as she is creative, and her energy knows no bounds as she continuously seeks out opportunities to engage her audiences and students in innovative and exciting ways. An installation artist, musician, dancer, writer, director and yoga teacher / life catalyst, Andrea's goal in all aspects of her work is to inspire one to believe in oneself, to see her work and think, "If she can do that, then maybe my crazy idea is possible." Galvanizing those crazy ideas and transforming them into action is what drives Andrea to continue to explore and originate new work.
Andrea has presented performances at performing arts centers, festivals, museums and corporate events for nearly 20 years. She has performed as an aerialist, dancer, musician, vocalist, and yogi. Andrea has worked with Cirque du Soleil, symphony orchestras, opera, rock, classical, world and new age musicians through out the globe. As Associate Director of MASS Ensemble from 2001-2013 and as Creative Director for Sonic Butterfly Productions since its conception in 2013, she has executed extraordinary long-string harp installations and conceived, directed and performed in thrilling shows around the world from the Grand Theater in Shanghai to a 9th Century Medieval Castle in Italy, the Temple at Burning Man, a church in downtown Sao Paulo Brazil and the Space Needle in Seattle.
"Andrea Brook has an inspired imagination, is a great collaborator with a sensitivity to detail, and exhibits the highest level of professionalism." Paul Guzzone, Triple Z Music
Instagram: @sonicbutterflyofficial.
Sonic Butterfly FB: www.facebook.com/sonicbutterflyproductions
Art + Technology Take You to a New Dimension
Mystic Universe Exhibition features 3 incredible artists, 5 immersive films, augmented reality effects and spectacular art! Enter into a Journey of Self-discovery as you are taken into the 14 mystical realms of the universe with mind-blowing art and interactive augmented reality experiences!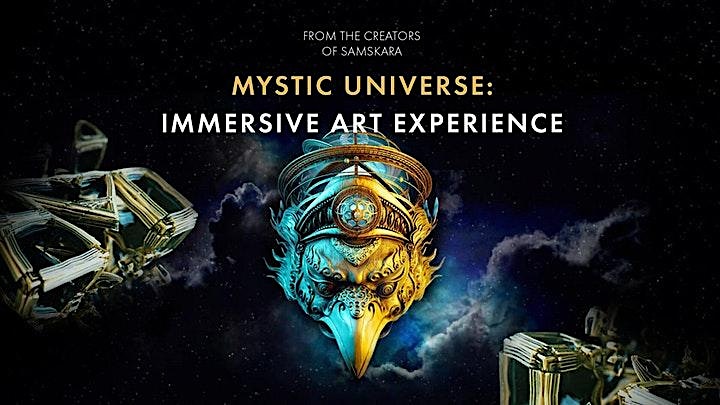 Organizer of Sonic Butterfly - Jump Into The Fire