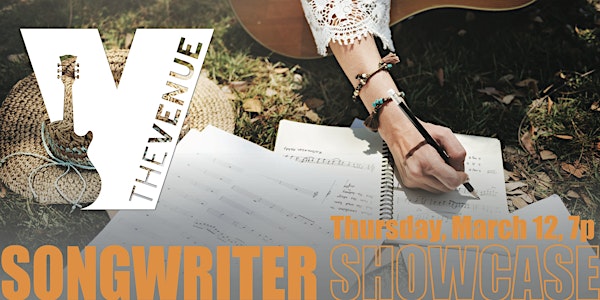 Songwriters Showcase feat. Megon McDonough, Lee Murdock & Ralph Covert
Songwriters share their tunes and their stories in our monthly series.
When and where
Location
The Venue 21 South Broadway Aurora, IL 60505
Refund Policy
Contact the organizer to request a refund.
Eventbrite's fee is nonrefundable.
About this event
Doors open at 6, show starts at 7.
$15 General Admission in advance.
People and places is the name of the game! Four talented songwriters will take on this theme at The Venue on Thursday, March 12th at 7 PM.
In round robin style, you'll hear songs and stories from host and veteran songwriter Dave Glynn, beloved and nationally known singer-songwriter Megon McDonough, balladeer & songwriter Lee Murdock and Grammy-nominated songster Ralph Covert.
Here's more about the artists:
Megon McDonough
Megon McDonough is a nationally known singer-songwriter who has been performing around the country for more than four decades and has performed on stages as varied as Carnegie Hall, The Birchmere, The Wolf Trap and more. Best known as an inaugural member of the group The Four Bitchin' Babes, Megon delights audiences with her mixture of heartfelt and humorous songs and she has 15 solo albums to her credit. She currently tours with her show "Dedicated to the Ones I Love: Great Women Singers of the '50's, '60's and '70's," a show that honors the greatest women singers of a generation, and performs entertainment for corporate workshops and events.
https://www.megonmegon.com/
Lee Murdock
Lee Murdock has uncovered a boundless body of music an stories in the Great Lakes. Taking snapshots from history, his songs summon the listener to take a front-row seat, to look through the eyes and into the hearts of individuals who have shaped our heritage on and around the Great Lakes. His Concerts invoke a sens of place, but it is a universal place and a timeless repertoire that celebrates the North American people, their triumphs and tragedies, work songs and pastimes. Noted as a fluent instrumentalist on six and twelve string guitars, Murdock combines ragtime, Irish, blues and folk styles with his flair for storytelling in songs. His musical influences span fifteen generations, and combine original compositions with traditional music.
https://leemurdock.com/
Ralph Covert
Grammy Nominated Ralph Covert and his band The Bad Examples have been a staple of the Chicago scene since their heyday in the early '90's, when their song Not Dead Yet was burning up the airwaves on Chicago's WXRT and on radio stations from coast to coast in America and as well as in Holland. Ralph has toured from LA to New York to Amsterdam, and played shows with bands including Los Lobos, Squeeze, Del Amitri, Steppenwolf, Wilco, The Lemonheads, Golden Earring, and BB King. With his family music project Ralph's World, he has received a GRAMMY nomination, been on the front page of the New York Times Arts Section, and tours nationally, bringing his music to a new generation.
Ralph Covert returns to his singer-songwriter roots with a stirringly intimate collection of post-pop acoustic gems. Welcome to Deadsville takes listeners on a journey encompassing life's highs and lows, touching on themes from depression and death to love and rebirth. It is a heart-felt album that provides a refreshingly honest soundtrack for living. The lyrics and melodies evoke comparisons to artists like Elliott Smith and Paul McCartney, arranged with sparse yet sparkling production.
http://www.ralphcovert.com/
Host Dave Glynn:
Dave Glynn has been writing songs since he became a latch key kid at age 10 and could never manage to hold onto his house key. Singing to the birds and the squirrels, he made his professional debut at age 16 at the famous Earl of Old Town in Chicago, home to songwriting greats John Prine and Steve Goodman. Dave has since written and performed his songs in the Chicago scene and on mid-west college campuses for many years. Dave is the leader of Aurora's own, Empty Can Band, a band that will soon celebrate 20 years.
https://emptycanband.com/