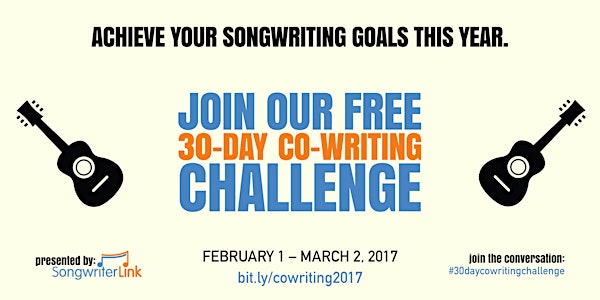 SongwriterLink's Free 30-Day Co-Writing Challenge 2017
Description
Did you set a New Year's resolution to become a better songwriter? If you're serious about achieving your songwriting goals this year, there's no better way to turn words into action than by joining SongwriterLink's FREE 30-day co-writing challenge, starting February 1.
The challenge is designed to accommodate songwriters at all levels – especially those who are new to co-writing, want to get more comfortable with it, or have previously had trouble finishing co-writes. The challenge is carefully crafted to be motivating, but not too overwhelming; it's flexible enough to accommodate participants' busy schedules while still providing forward momentum. As long as you stay on track with each mini-challenge throughout the month, you're guaranteed to have a fully co-written and demoed song by March 2.
The goal of this co-writing challenge is not to write a "perfect" song – it's to practice getting a co-write done! The sense of accomplishment you'll feel at the end of the 30 days from having simply completed a project will motivate you to keep up your songwriting productivity throughout the rest of the year – and hopefully beyond, if you stick with it!
In 30 days, you will:
explore your hopes, fears, strengths, and weaknesses as both a songwriter and a co-writer

brainstorm song ideas

have at least two co-writing sessions

practice revising and rewriting

get peer feedback and support from other challenge participants

get little notes of motivation and inspiration exactly when you need it the most

practice making decisions to meet deadlines, as professional songwriters do

learn about split sheets

record a demo of your completed song (at any production level you feel comfortable with)

get insanely motivated by your accomplishment, which will fuel your songwriting inspiration and productivity for months to come!
Join the challenge now, and make 2017 your best year of songwriting yet!
FAQs
If the challenge is free, what's the "up the ante" registration option?
The challenge is indeed free, but the other option is there if you want to up the ante, support SongwriterLink, and get some exclusive offers while you're at it. (Click "register" to see exactly what's included with each.) Investing a few bucks means you have a much larger psychological incentive to commit to completing the challenge. It's donation-based, so you get to name the price that'll motivate you!
Plus, 100% of the proceeds go straight to helping keep SongwriterLink.com up and running. We don't charge anyone to join or use our songwriting collaboration platform, so choosing this option is a fantastic way to support our growing community of wonderful songwriters looking to collaborate, and is MUCH appreciated! :)
If I choose the free registration, can I still switch to the "up the ante" option if I change my mind later?
Yup! You can change your registration by following these instructions anytime between now and February 5.
Do I choose my co-writer for this challenge, or will I get matched up with someone?
You'll be responsible for finding your own co-writer to complete this challenge with. If you don't have someone in mind, it's really easy to use SongwriterLink to find a collaborator who's a great fit for you. Click here to learn more about how SongwriterLink works, or click here to start your search.
What happens if it's February 1 and I still haven't confirmed a co-writer?
Yikes! You're cutting it close, but try posting in the co-writing challenge Facebook group and see if anyone else is still looking for a co-writer, too. Since the first co-write session happens during week 2 of the challenge, you need to have your co-writer confirmed by February 5 at the absolute latest, or you'll risk falling too far behind.
Please make sure your co-writer registers here as soon as possible, and feel free to forward any emails he or she may have missed from previous challenge days to get caught up.
Do co-writing teams register together or individually?
Each participant must register individually so that both co-writers receive the emails and access to the private Facebook group.
Do my co-writer and I need to physically be in the same room to complete this challenge?
Nope! Long-distance co-writing teams are warmly welcomed. Here are some tips and tools for long-distance songwriting collaboration.
Do I work with the same co-writer throughout the entire 30 days?
Yes. The goal is to finish one co-write with one person by the end of the challenge. You can do it!
Can I have more than one co-writer?
The challenge is designed with two-person co-writing teams in mind, but if you really want to add a third person and you all feel confident that you can coordinate your schedules and stay on top of everything, more power to you! We're certainly not stopping you. ;)
Will I get feedback and support from the other challenge participants?
Absolutely! All participants will receive a link to join our private Facebook group right after registering for the challenge on this page. The best part of doing a challenge like this is that we're all in it together every step of the way. Between the community support and the accountability of having a co-writer and a deadline, the challenge is designed to set you up for the best chance of success. As long as you offer support and feedback to other participants, you're bound to get it in return.
I have a question that wasn't answered here.
Please email Lisa at lisa@songwriterlink.com.
About SongwriterLink
SongwriterLink is a free songwriting collaboration website that makes finding the perfect co-writer faster than ever before. It uses matching engine technology – the same kind that dating websites use – to help find you exactly the type of songwriters you're looking for, and then lets you collaborate right on the spot. Founded by award-winning songwriter and Berklee College of Music graduate Lisa Occhino, SongwriterLink's goal is to make it as easy as possible for you to make music with anyone, anywhere in the world, within seconds.