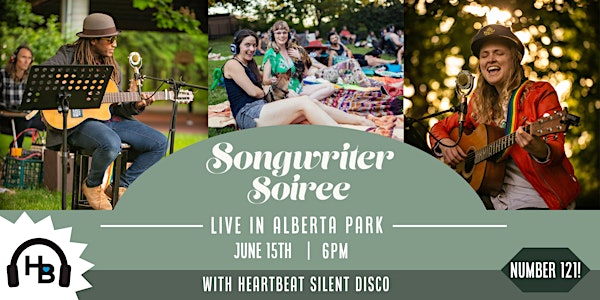 Songwriter Soiree 121 w HeartBeat Silent Disco: Live in the Park June 15th
An inspiring night of Music, Connection, and Belonging at Portland's longest running open mic for original music!
Date and time
Thursday, June 15 · 6 - 11pm PDT
Location
Alberta Park 1905 Northeast Killingsworth Street Portland, OR 97211
About this event
Welcome to the Songwriter Soiree Summer Series
The Songwriter Soiree and Heartbeat Silent Disco present a physically distant (yet very connected) soiree using the format of the Silent Disco!
LOCATION: Alberta Park (Near the tennis courts), Portland, OR
The Songwriter Soiree is a 12+ year running musical community which started in a Portland Living room, and now has reaches across the world. Our mission is to support songwriters of all skill levels and genres, create an inspiring and supportive community, and provide a safe space where individuals can express themselves through music and storytelling.
HOW IT WORKS
All performers play LIVE into mics in front of the audience. The sound is broadcast into special headphones which are included in your ticket.
You will be able to listen with full attention to the music, while keeping a safe distance with your pod or alone. Another benefit of headphones is that it allows for full focus on the music without the aural distraction of outside noise from a park. Win-Win!
Bring a blanket (and jackets for the night!) for you and your pod so you can keep a safe distance from others while enjoying the music.
Heartbeat Headphones are noise canceling and offer personalized volume control so you can hear the music as if you are in the front row no matter where you are in the park.
You must have a Valid Drivers License or ID to check out a pair of Headphones.
Safety for our community is our #1 concern so please be covid cautious and mindful of others space.
----------------------
TO SIGN UP TO PLAY
You can now sign up ONLINE! We encourage you to do this to increase your chance of your desired time slot.
To sign up to play, please purchase a ticket and you'll be directed to the sign up page immediately after!
You may also still sign up in person at the event.
Signing up online increases your chances of getting your desired time slot, however in person sign ups are drawn for spots in both sign up periods.
If you sign up at the event, we will have two sign up periods (first and second half). When you register for headphones, sign up and your name will be put in a random drawing for list order for the first OR second half (10-15 people per half). Sign up will begin at 5:30pm for the first half so get there on time to sign up!
We provide a piano and house guitar. Both will be sanitized after each use, as will the microphone.
Headphones are limited! To reserve your headphones please purchase a ticket!
------------
VOLUNTEER
If you'd like to volunteer, please message us at soiree@songwritersoiree.com or comment on the FB event page! We can use your help (all volunteers get a free ticket).
GUIDELINES
• This is a listening party, not a rager. Come with the intention of listening and keep talking to a minimum in the music space.
• This is a mostly acoustic sharing space for ease of transitions. If you wish to use electronic elements (synth/loop pedals, amps) please contact us before coming so we can clear it first.
• Please keep your total stage time to under 5 minutes
• Please invite friends personally you wish to attend.
• The Soiree is a non-smoking event (cigarettes). If you wish to smoke cigarettes please do so away from the crowd (you can still hear!)
*SUPPORT THE SOIREE!*
We rely on door fees and your support to keep the soiree going. Please consider making a donation outside of the headphone rental. Your payment will allow us to continue to offer the soiree and retreat moving forward in this challenging time.
100% of all donated proceeds go to our scholarship fund - helping those without means attend our retreats and events.
Support a songwriter and contribute here:
https://www.songwritersoiree.com/donate
---------------
For INFO on the songwriter soiree and the Songwriter Soiree Retreat, please visit
www.songwritersoiree.com
RSVP on the facebook EVENT PAGE for updates!
The BEST way to know of the next soiree - sign our email list by clicking below:
Join our monthly reminder TEXT list by texting 'MUSIC' to 33222
To music, community and love! See Less
--------------
Find out more about Heartbeat Silent Disco events here:
https://linktr.ee/heartbeatsilentdisco
About the organizer
The Songwriter Soiree celebrates the craft of songwriting and the art of performing original songs. Our mission is to support songwriters of all skill levels and genres, create an inspiring and supportive community, and provide a safe space where individuals can express themselves through music and storytelling.