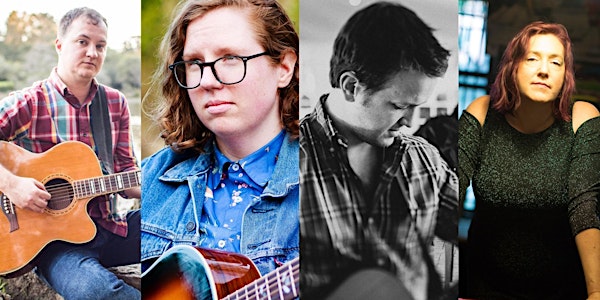 Songwriter Round: Catherine The Great, Eli Conley, Phil Norman, Sarah White
When and where
Location
The Spot on Kirk 22 Kirk Avenue Southwest Roanoke, VA 24011
Description
Join us for a Songwriters in the Round show featuring Catherine the Great, Eli Conley, Phil Norman, and Sarah White.
Doors 7:30, Show 8 pm
Wheelchair Accessible
catherine the great
(Roanoke) -
https://catherinethegreatmusic.com/
Catherine the Great is the solo project of Catherine Backus, formerly one half of Athens, GA duo the Skipperdees. A native East-Tennessean and graduate of the University of Georgia (go dawgs, go b-52's), Catherine now resides in Roanoke, Virginia, where she splits her musical time between playing bluegrass with old dudes and singing songs she wrote. She writes good, sad folk songs that have won some things people care about, like the Merlefest Chris Austin Songwriting Contest. Her music has drawn comparisons to Kathleen Edwards, Lori McKenna, and Gillian Welch (who also won the Merlefest CASC, in 1992). Catherine can be found all over the internet. She would love to see a photo of your dog.
Eli Conley
(SF Bay Area) -
https://www.eliconley.com/
"Oh what gorgeous, soulful music! It knocked off my easy chair. Eli Conley has a beautiful way of expressing himself. His writing and singing are exquisite." Laura Love
Indie folk singer-songwriter Eli Conley titled his sophomore album Strong and Tender, but he might well have been describing himself. On stage he's an earnest yet funny storyteller. His songs address big themes like gender, aging, and death through the concrete and immediate details of daily life: a stolen truck, a flopping fish, a dime in the pocket. At heart, Eli is a clear-eyed songwriter with high hopes for the human race. His songs urge us to love ourselves even when it feels like the world does not. You can't help but sing along.
Eli will be accompanied by Joel Price on mandolin, violin, and harmonies.
Sarah White
(Richmond)
Born and raised in the two Virginias, Sarah White's musical style is as familiar as it is hard to define - not quite country, not quite rock, not quite folk - but a little bit like all of the above. A chameleon-like performer with ever changing line-ups over the last decade, White has grown into a talented songwriter with a sizable body of poignant, catchy, and moving songs.
Sarah has opened for Merle Haggard, Justin Townes Earle, Earl Scruggs, Will Oldham, Dave Matthews Band Caravan and was once named Best Songwriter in her hometown of Charlottesville. She will be performing at The Spot wielding her well-worn Jumbo Gibson acoustic.
Phil Norman
of
Appalachian Soul
(Roanoke)
Known for his inviting stage presence and heartfelt delivery, Phil Norman has long been one of Roanoke's favorite singer-songwriters. Spot on Kirk fans will remember him for his sold-out solo tribute to the Counting Crows' "August and Everything After," and as part of the band Appalachian Soul.