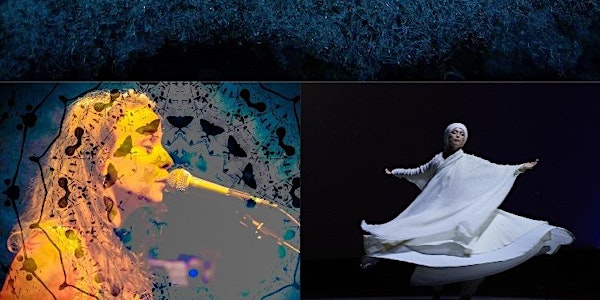 Songs of Winter Light Solstice Concert with Kristin Hoffmann & Friends
Description
CRS (Center for Remembering & Sharing) presents SONGS OF WINTER LIGHT: A SOLSTICE CELEBRATION WITH KRISTIN HOFFMANN AND FRIENDS on Saturday, December 21, 2019 from 7:30 – 9 pm. Dive into a deep ethereal musical journey of life, growth and spirit with renowned vocalist, pianist, and song-weaver Kristin Hoffmann, Sufi Dance Artist Lâle Sayoko, and special guests. This concert also features "Water Forms Winter," photography by Rise of Troy.
Tickets are $20 and are available by phone (212-677-8621), at CRS, and through Eventbrite. There will be a complimentary wine, juice and snacks reception.
Hoffmann's music has been heard on major record labels, film and television. A strong advocate for peace and ocean conservation, she has appeared internationally at environmental concerts and conventions, TEDx San Francisco, The Emoto Peace Project concert in Tokyo, and with The Royal Philharmonic Orchestra in London. In August, 2016, the symphonic version of her "Song for the Ocean" was performed at Sydney Opera House by a choir of 800 Australian children. In 2011 she became the singer for Bella Gaia, a multimedia theater experience created in conjunction with NASA.
Hoffmann's music is "art-rock with elegant, baroque-tinged melodies, precisely nuanced piano, hypnotic rhythms and out-of-this-world gorgeous, dynamic vocals," — New York Music Daily
ABOUT LÂLE SAYOKO
Sufi Dance Artist Lâle Sayoko lives to embody and transmit the voice of spirit through music and dance. As CRS resident Sufi Dance instructor, choreographer, performing artist, and musical curator, she loves to welcome people into this holy practice to explore and share their own divinity. After a long professional dance career, she retired to support her young daughter through a life-threatening medical crisis. Several years later she discovered that she could whirl as a form of prayer to support her daughter and began studying Sufi Dance with Paris-based Sufi Artist Rana Gorgani. In April 2018 Gorgani awarded her the International Sufi Dance Certification Of Cid UNESCO, granting her authority to teach Gorgani's method of Sufi Dance training. She currently teaches Sufi Dance classes at CRS every first Thursday of the month from 7 – 8:30 pm and leads the CRS Healing Circles + Whirling Prayer that take place every third Thursday of the month from 7:15 – 9 pm.
https://www.facebook.com/lale.sayoko
MORE ABOUT KRISTIN HOFFMANN
"My goal is to spread love, light, peace and truth into the world through the vehicles of music and energetic frequency." – Kristin
Starting at the age of 4, ethereal renaissance songstress, and Juilliard trained multi-instrumentalist, Kristin Hoffmann began building a prolific career in music. She studied opera with acclaimed teachers Lorraine Nubar and Zehava Gal and composition with Rob Mathes and Behzad Ranjbaran. With a particular interest in French art songs, Kristin spent a summer honing the craft at Académie Internationale d'été de Nice. In addition to stints at major record labels, Capitol and Interscope Records, and song placements on hit TV shows like Dawson's Creek and Palmetto Pointe, she has shared stages with The Wallflowers, Feist, Brandi Carlile, Richie Havens and many other musical luminaries. With a strong sense of artistic altruism, she is most passionate about projects that explore music's healing power and allow listeners to tap into their higher potentials.
Having studied with French Sound Healing pioneer Fabian Maman, Hoffmann not only made music to accompany acupuncture sessions but also composed 170 songs for health-challenged children as a writer/producer at non-profit organization Songs of Love. A spokesperson for ocean conservation, she has performed her Song for the Ocean at environmental awareness conventions and concerts around the world, including TEDxSF, Bioneers, Hermanus Whale Festival (South Africa) and with The Royal Philharmonic Orchestra in London. Song for the Ocean will next be performed at The Sydney Opera House in August 2016. In 2011 she became the singer for Bella Gaia, a multimedia immersive theater experience created in conjunction with NASA. Over the past 2 years she has continued to expand her worldly voice, guest blogging for many well-respected magazines, from Elephant Journal to The Ecologist, and performing at The Conscious Life Expo (LA), the signing of The Fuji Declaration (Mt. Fuji) and The Emoto Peace Project concert in Tokyo. In 2014, Kristin was invited to become the youngest member on the board of FIONS (Friends of Institute of Noetic Sciences). In early 2016, she was voted onto the board of Gandhi Global Center for Peace and was also a new inductee into the acclaimed group Evolutionary Leaders. Her most recent work includes a self-produced album titled "The Human Compass," a symphonic collaboration with composer Marco Missinato called "Unfolding Secrets: A Symphony of the Heart," and the brand new release of the meditational film, "Amazing Space," for which Kristin composed and produced the soundtrack. In October 2015, Kristin began a new monthly musical blog with Gandhi's BE Magazine, called "BE~Cause: Music with a Message," and has been creating a new song every month focused around important worldly issues and themes. kristinhoffmann.com
Organizer of Songs of Winter Light Solstice Concert with Kristin Hoffmann & Friends
CRS (Center for Remembering & Sharing)
 is a healing and art center founded in 2004 and located in Greenwich Village in NYC. The mission of CRS is to promote the awareness that limitless creativity lives within each of us. The Center's staff trains people to recognize the light in themselves and others and provide them opportunities to share their inner vision through the healing and creative arts. While open to everyone, CRS has from the beginning attracted many people from abroad, and has become known for presenting healing, arts, and cultural programs from around the world.