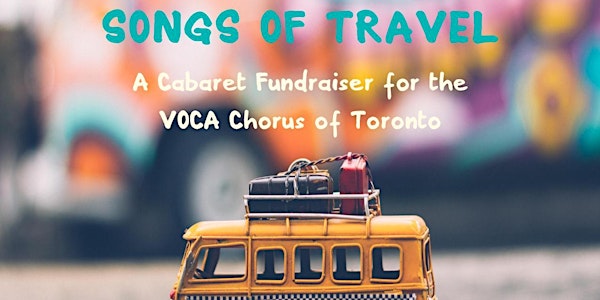 "Songs of Travel": Fall Cabaret/VOCA Fundraiser featuring VOCA's leads
"SONGS OF TRAVEL": Fall 2022 Cabaret/VOCA Fundraiser, featuring VOCA's professional leads, co-produced by Jenny Crober & Emily Vick Agnew
When and where
Location
SoCap Comedy (The Social Capital) 154 Danforth Avenue #2nd floor Toronto, ON M4K 1N1 Canada
Refund Policy
Contact the organizer to request a refund.
Eventbrite's fee is nonrefundable.
About this event
On Sunday, October 16 at 7:30 pm, Jenny Crober & Emily Vick Agnew would like to welcome you to "SONGS OF TRAVEL", our Fall 2022 Cabaret / VOCA Chorus of Toronto Fundraiser.
Our cabaret will take place at The Social Capital Theatre (SoCap Comedy Club) - 154 Danforth Ave. (2nd Floor), a funky cabaret theatre / comedy club, complete with cabaret tables and a bar in the back.
We'll be featuring a wide variety of contemporary and Golden Age musical theatre, classical, folk and pop selections about travel, including works by Vaughan Williams, Aaron Copland, Cole Porter, Joni Mitchell, Noel Coward, Sara Bareilles and others (including 2 brand new arrangements), presented by soprano Emily Vick Agnew and all seven of VOCA's professional section leads, with music director Jenny Crober, piano.
Joining Jenny and Emily will be Noelle Slaney, soprano, Lillian Brooks, mezzo soprano, Kevin Mulligan and David Walsh, tenors, and Justin Welsh, Parker Clements and James Coole-Stevenson, baritones.
*Check VOCA's website's About Us: Artistic Staff page to find out more about our professional leads: https://www.vocachorus.ca/about/staff.
We'll also be hosting a 50-50 draw (tickets can be purchased at the show) and musical quizzes, as well as a curated and colourful collection of vintage goodies from the owners of 'Hodge Podge Hotel' - Emily Vick Agnew, Amy De Wilde and Anna-Kaisa Walker - who will donate a portion of their proceeds to VOCA. (Find out more details about Hodge Podge Hotel at the bottom of this page.)
Co-producers: Jenny Crober & Emily Vick Agnew
Artistic Director, Collaborative Pianist: Jenny Crober
Host: Emily Vick Agnew
Date: Sun., Oct. 16, 2022
Time: 7:30 pm
Venue: The Social Capital Theatre (SoCap Comedy Club) - 154 Danforth Ave. (2nd Floor, above the Black Swan Tavern, just E. of Broadview Station)
Tickets: $25.00
More info.: www.vocachorus.ca
Flyer Design: Jenny Crober
*This will be a VOCA fundraising event: if you can't attend - and even if you can - please consider clicking on the Donation button under 'Tickets' .
*You can also donate to the VOCA Chorus of Toronto using any of the methods found on our website Support Us pg.: https://www.vocachorus.ca/support.
________
**At Hodge Podge Hotel, we collect vintage goodies from far and wide and show them a little hospitality until they reach their next destination. Hodge Podge Hotel's three owners and BFFs - Amy De Wilde, Emily Vick Agnew, and Anna-Kaisa Walker - share a lifelong passion for vintage, especially for the stories each item sparks in our imaginations.
As vintage sellers, we've amassed a fantastic, lovingly curated inventory of colourful dishes and barware from the '60s and '70s, Depression glass, Bohemian-style crystal, quirky original paintings, bright woven textiles from Eastern Europe, flower-power bedding, costume jewelry, Scandinavian design, vintage film cameras, hippie-era purses, '50s evening clutches, novelty phones, grandma-approved rattan furniture, and more. To see some of what we have to offer, check out our Instagram: @hodgepodgehotel.