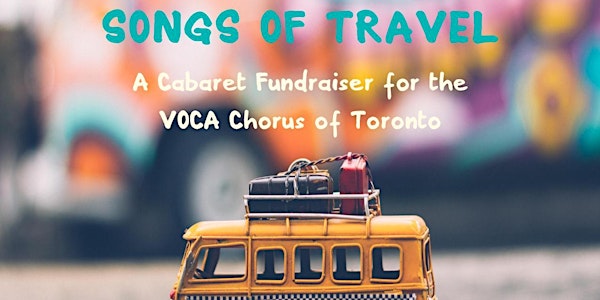 "Songs of Travel": Fall Cabaret/VOCA Fundraiser featuring VOCA's leads
"SONGS OF TRAVEL": Fall 2022 Cabaret/VOCA Fundraiser, featuring VOCA's professional leads, co-produced by Jenny Crober & Emily Vick Agnew
When and where
Location
SoCap Comedy (The Social Capital) 154 Danforth Avenue #2nd floor Toronto, ON M4K 1N1 Canada
Refund Policy
Contact the organizer to request a refund.
Eventbrite's fee is nonrefundable.
About this event
On Sunday, October 16 at 7:30 pm, join co-producers Jenny Crober & Emily Vick Agnew for "SONGS OF TRAVEL", our Fall 2022 Cabaret / VOCA Chorus of Toronto Fundraiser.
Our cabaret will feature a wide variety of musical theatre, pop and classical selections about travel, presented by soprano Emily Vick Agnew and all 7 of VOCA's professional section leads, with music director Jenny Crober, piano.
Joining Emily and Jenny will be: Noelle Slaney, soprano; Lillian Brooks, mezzo soprano; Kevin Mulligan and David Walsh, tenors; and Justin Welsh, Parker Clements and James Coole-Stevenson, baritones. A special guest or two may also drop by that evening.
In addition to the songs presented by all of our wonderful performers, we'll be hosting a 50-50 draw and musical quizzes. 50-50 tickets can be purchased at the show.
We'll also be featuring a lovingly curated and colouful collection of vintage goodies from the owners of 'Hodge Podge Hotel' - Emily Vick Agnew, Amy De Wilde and Anna-Kaisa Walker - who will be donating a portion of their proceeds from that evening to the VOCA Chorus of Toronto. * You can find more details about Hodge Podge Hotel at the bottom of this page.
Co-producers / Co-hosts: Jenny Crober & Emily Vick Agnew
Artistic Director, Collaborative Pianist: Jenny Crober
Date: Sunday, October 16, 2022
Time: 7:30 pm
Venue: The Social Capital Theatre (SoCap Comedy Club) - 154 Danforth Ave. (2nd Floor, above the Black Swan Tavern)
Tickets: $25.00
More info.: www.vocachorus.ca
Flyer Design: Jenny Crober
*This will be a VOCA fundraising event. If you can't attend - and even if you can - feel free to click the Donation button on the Tickets page.
**At Hodge Podge Hotel, we collect vintage goodies from far and wide and show them a little hospitality until they reach their next destination. Hodge Podge Hotel's three owners and BFFs - Amy De Wilde, Emily Vick Agnew, and Anna-Kaisa Walker - share a lifelong passion for vintage, especially for the stories each item sparks in our imaginations.
As vintage sellers, we've amassed a fantastic, lovingly curated inventory of colourful dishes and barware from the '60s and '70s, Depression glass, Bohemian-style crystal, quirky original paintings, bright woven textiles from Eastern Europe, flower-power bedding, costume jewelry, Scandinavian design, vintage film cameras, hippie-era purses, '50s evening clutches, novelty phones, grandma-approved rattan furniture, and more. To see some of what we have to offer, check out our Instagram: @hodgepodgehotel.