Description
*Invitación en español abajo*
SONGS OF RESISTANCE

Honduran musicians Karla Lara & José Antonio Velásquez live in concert
Honduran singer, poet, performer, and feminist Karla Lara and jazz musician José Antonio Velázquez will play two concerts in the Bay Area to sing about the struggle for self-determination and against the extractive model of so-called economic development. They will sing to free those who have been unjustly incarcerated and denied their right to protest, about our world, and about this powerful time when women continue to be present and to "live life singing!"
Thursday, April 19, 7:00 pm
SoleSpace
1714 Telegraph Ave, Oakland
Tickets: Sliding scale $15-$100
Saturday, April 21, 6:00-9:00 pm
Sunrise Restaurant
3126 24th St, San Francisco
Karla Lara is giving this special dinner performance in solidarity with and to raise funds for Sunrise Restaurant, who are fighting a $3,000 monthly rent increase.
Click here for the April 21 event in San Francisco
About the artists
Karla Lara is a singer, feminist, member of the Movimiento Amplio por la Dignidad y la Justicia (Broad Movement for Justice and Dignity), and columnist for the Honduran newspaper El Libertador. She has four albums performs an extensive musical repertoire that reflects the identity of the Honduran people, their hope, and gives voice to the testimonies of women, from a feminist political perspective.
José Antonio Velásquez is a virtuoso jazz musician, pianist, and composer. He has collaborated with Karla Lara since 2007, and is the musical director of his Jazz Trio HN. He is also a member of the group Cien Años and is renowned for his musical versatility.
Artist's statement by Karla Lara
It is a time of gathering and strength. With our bodies, thoughts and feelings we gather around the body and the example of those who have been stolen from us, pain and strength converted to chant and song to cry out with life in the face of this patriarchal war that kills us. Berta, Margarita, Mirelle, indigenous and black women, targeted because of their struggle against capitalism, racism and patriarchy.
Our bodies find each other and agree to live, because as the Zapatista women said in their recent gathering, let's commit to live, and since life is struggle, let's commit to struggle, and since we sing to struggle and struggle to be able to sing, let's live life singing!! And as Berta would say, time's running out humanity, and as Margarita sowed seeds and harvested struggles, and as Mirelle said, how many more black lives will it take them to consolidate their racist, homophobic culture of death.
We sing about ways of being, about the times, about all of our worlds, and our demand for true justice for our assassinated sisters and freedom for our political prisoners.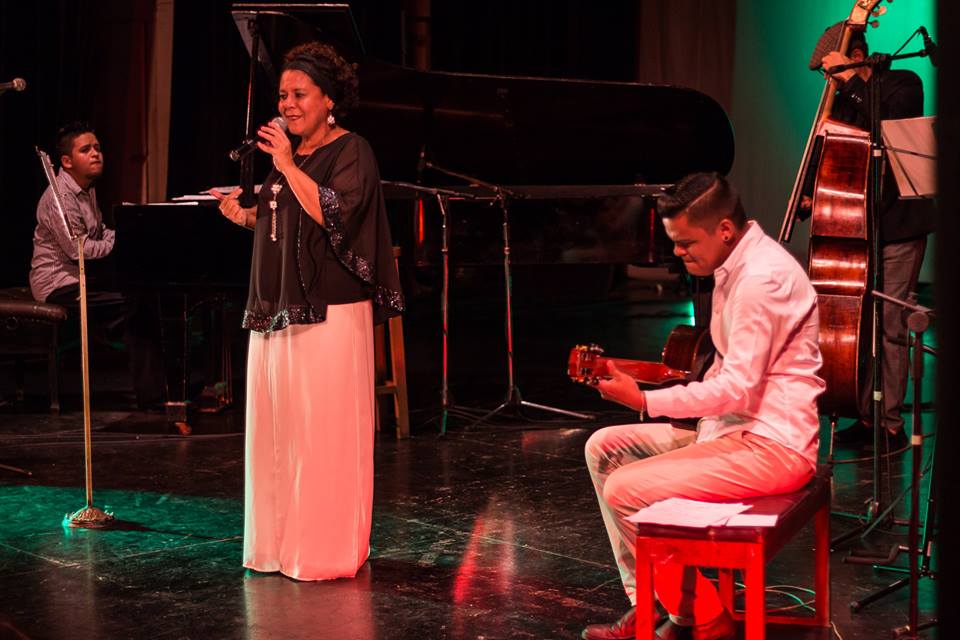 CANCIONES DE RESISTENCIA
Artistas Hondureños Karla Lara y José Antonio Velásquez en gira en el Área de la Bahía, California
Están invitados a dos conciertos con la cantautora y poeta feminista Karla Lara y el compositor y pianista José Antonio Velásquez, desde Honduras para cantarles cómo los movimientos sociales van avanzando en nuestras demandas, los modos de nuestras luchas territoriales por la autonomía y contra el modelo extractivista y del grito de libertad por quienes injustamente han sido encarcelados negando su derecho a la protesta, y cantan de nuestro mundo y de este tiempo poderoso donde las mujeres seguimos acordando a vivir cantando.
Jueves 19 abril, 7:00 pm
SoleSpace
1714 Telegraph Ave, Oakland
Donación sugerida de $15 o lo que pueda aportar a los artistas y la causa Hondureña
Sábado 21 abril, 6:00-9:00 pm
Sun Rise Restaurant
3126 24th St, San Francisco
Karla estará dando este concierto en solidaridad con y para recaudar fondos para Sunrise Restaurant, quienes están luchando contra un aumento en su renta de $3,000 por mes.
Hacer click aquí para el evento del 21 de abril en San Francisco
Los artistas
Karla Lara, cantautora, feminista, miembra del Movimiento Amplio por la Dignidad y la Justicia, columnista del Periódico El Libertador/Honduras. Del 2004 a la fecha con cuatro producciones musicales, un extenso repertorio musical inédito que da cuenta de la identidad de nuestro pueblo, de nuestra esperanza, con mucho rostro y testimonio de mujer, desde una perspectiva política feminista y del proceso del que con honra he sido parte.
José Antonio Velásquez, músico virtuoso, pianista, jazzista, compositor. Ha acompañado mi trabajo musical desde el 2007, es director de su propia propuesta musical en el género que más disfruta, el jazz, con Jazz Trio HN, es miembro de la banda musical Cien Años y destaca por su versatilidad musical.
Declaración del artista Karla Lara
Es tiempo de encuentros y de fuerza. Con nuestros cuerpos, pensamientos y sentimientos nos reunimos alrededor del cuerpo y ejemplo de quienes nos arrebatan, dolor y fuerza hecho consigna y canción para declararle la vida a esta guerra patriarcal que nos asesina. Berta, Margarita, Mirelle, mujeres indígenas, negras señaladas por su lucha anticapitalista, antiracial y antipatriarcal.
Nuestros cuerpos se encuentran y acuerdan vivir, porque como han dicho en su reciente encuentro las Mujeres Zapatistas, acordamos vivir, y como la vida es lucha, acordamos luchar y como nosotras cantamos para luchar y luchamos para cantar, acordamos vivir cantando!! y como decía Berta, ya no hay tiempo humanidad, y como hacía Margarita sembrando semillas y cosechando luchas, y como decía Mirelle, cuántas vidas negras más para instalar su cultura racista y lesbofóbica de muerte.
Porque vamos cantando los modos, los tiempos y los mundos de todas, exigiendo justicia verdadera por el asesinato de nuestras compañeras, libertad para nuestras presas y presos políticos.