Description
Celebrate the Legacy Women In Your Life
An Encore Performance by Popular Demand
Featuring Cinnamon Jones & Co.
December 15, 2012 | 7:00 - 9:00 PM
Rochester Academy of Medicine Auditorium| 1441 East Avenue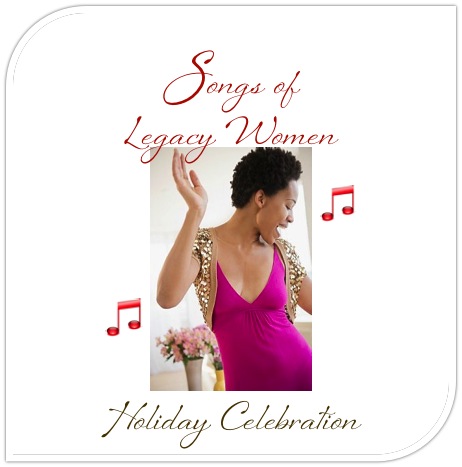 You are invited to attend our family Holiday Celebration Performance especially produced for the Legacy Women in your life. Share this experience with others and make a difference in four ways:
1) Share your appreciation. This is the perfect event to show you appreciation for the special women in your life. Nourish her soul and ignite your legacy as you experience the songs of legacy women, past and present.
2) Support our local talent. Enjoy an evening with our very own Cinnamon Jones as she and other amazing artists perform a medley of classic songs and dances that take you back. Embrace the history and accomplishment of each classic legend: Whitney Houston, Etta James, Billie Holliday, Barbra Streisand, Nancy Wilson, Tina Turner and more!
3) Support Our Youth. Your attendance will help us raise funds.A portion of ticket proceeds will go to Kids that ROC!, a program devoted to the development and advancement of Rochester's youth.
4) Support Legacy Women. Legacy Women Institute International is the pioneer of the Legacy Women Movement. We are dedicated to accelerating women's leadership: Our Mission is to document, brand, and promote the legacy of extraordinary women, past and present.
[hr]
$35.00 Adults | $20 Children Ages 13 and under
Invite your family and friends and save! Bundle Package: $300/10 tickets! SAVE $50
Call your ticket representative or 585-615-7022 for more information
Visit us online for Ticket Sales: www.SongsOfLegacy.com
Tickets sold at Mood Makers (cash only): 274 N. Goodman Street (Village Gate) 585-271-7010
and Monarch Express: 301 Exchange Blvd. (Corn Hill) 585-360-4354
Organizer of Songs of Legacy Women
Waterstone Partners
More than Money. We believe a financially independent woman is an economic force in the world. Our mission is to support women to be economically sound and fully equipped to enjoy a dream life.
www.waterstonepartners.us
Legacy Women Institute International
Our mission is to focus the brainpower, perspective, and leadership of women to achieve a balanced-gender approach to addressing 21st Century issues and for changing the world. We do this by providing legacy education, marketing, and media support services to launch women in leadership roles.
www.LegacyWomen.org