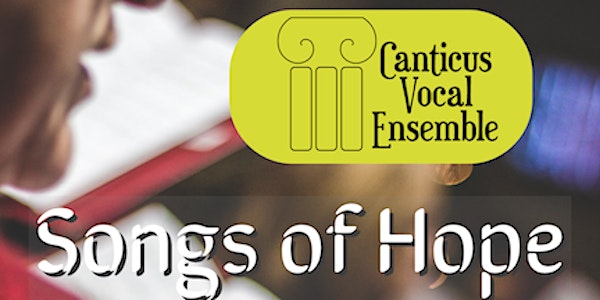 "Songs of Hope" World Premiere
Canticus Vocal Ensemble is returning to centerstage to perform "Songs of Hope," world premiere for three commissioned works.
When and where
Location
Englewood Christian Church 511 North 44th Avenue Yakima, WA 98908
About this event
General admission tickets only are available for purchase online. If you would like to purchase a student ticket, they are $5 at the door.
The concert by Central Washington's premier chamber chorus will be at 4 p.m. Sunday, Nov. 13, in the sanctuary at Englewood Christian Church, 511 North 44th Avenue. This concert is made possible through a grant from the Washington State Arts Commission, "Songs of Hope" spotlights three of the Pacific Northwest's top composers.
Daniel Schreiner received degrees in Music Education and Choral Conducting from Central Washington University. An award-winning composer, Schreiner was the recipient of the 2011 Opus 7 Undergraduate Composition Award for his piece "Cain," and the 2020 Robert Scandrett Memorial Graduate Composition Award for his piece "I Am Glad." Two years ago, Canticus Vocal Ensemble performed one of his compositions.An avid supporter of musical theatre, Daniel serves as Resident Music Director for ManeStage in Puyallup. Since 2010, he has directed more than 30 full-length productions with ManeStage. His work, "A Glimpse of Hope," is inspired by words from members of Canticus Vocal Ensemble, who were asked to answer the question, "What is hope?" "The piece begins with a repeated musical motif that blooms and grows like a sunrise," Schreiner said. This motif is interwoven throughout the piece and represents "a slight glimmer of hope."
A native of the Pacific Northwest, Chris Wallitner is also a graduate of Central Washington University, earning a degree in Music Composition. He is an active performer, poet and composer whose works have been performed throughout the country. For the past two years, he was a member of the bass section in Canticus. Wallitner said his work, "I Have Hope," is a "declaration and a promise that no matter how bleak the situation is, things will get better." The piece begins with darkness and uncertainty, with words such as "doubt" and "fear" being sung. And yet, despite these dark images, the word "hope" rises up. As the piece proceeds, he said, "you will hear that hope grow and become clearer and brighter until it cannot be ignored."
Vijay Singh lives in Ellensburg where he is professor of music at Central Washington University. He's a composer, teacher and conductor. An accomplished bass-baritone soloist, he has performed with such notable groups as Male Ensemble Northwest, the Oregon Symphony, the Robert Shaw Chorale and is a member of the award-winning a cappella jazz quartet, Just 4 Kicks. He has also conducted All-State choirs in more than 26 states. Singh's work, "A Chrysalis of Threefold Memories," is separated into three sections. The initial piece, Singh said, is "visceral, angry, confused, shocked, sad, resigned — all the emotions we felt when Covid first hit." It ends with the chorus singing in unison simple pitches in realization that "we can only control our own self." The second piece, "I Am Reawakening," represents the long period of time that followed the initial shock of the pandemic as everyone tried to adapt to a new order of lockdowns, mandates and government restrictions. Singh said he developed the piece around the image of an unfolding chrysalis, with the interplay of piano and voices "weaving a sonic cocoon" that becomes "ultimately beautiful." His final piece exudes optimism for the future and is written in an up-tempo, American folksong style. The final verses highlight the phrase "Truth be spreadin' everywhere" and culminates with "Hope be spreadin' everywhere," completing what Singh said embraces the overarching theme of the concert.
"Songs of Hope" is the first appearance in Yakima by the Canticus Vocal Ensemble since their critically acclaimed performance of Handel's "Messiah" in December 2019.