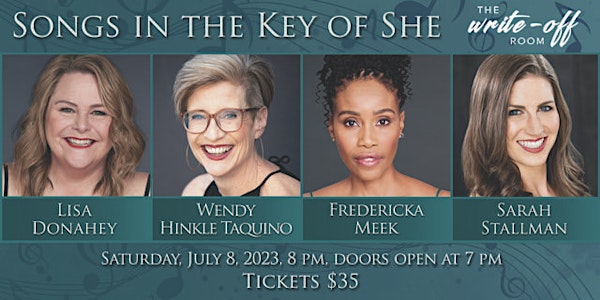 SONGS IN THE KEY OF SHE
When purchasing tickets - Please use the "BUY ON MAP" option to select your desired seats.
Date and time
Saturday, July 8 · 8 - 10pm PDT.
Location
The Write-Off Room 11502 Ventura Blvd Studio City, CA 91604
Performers
Headliners
More Performers
Wendy Hinkle Taquino
Fredericka Meek
Sarah Stallman
About this event
2 hours

Ages 21+

Mobile eTicket
PLEASE NOTE, THIS IS A STATE OF THE ART BAR - TICKET HOLDERS MUST BE 21 YEARS OLD AND OVER.
$20 TWO DRINK MINIMUM
Doors: 7:00pm //Show: 8:00pm
SONGS IN THE KEY OF SHE
Stepping into the spotlight with an all-star band are versatile chanteuses Lisa Donahey, Wendy Hinkle Taquino, Fredericka Meek and Sarah Stallman. These talented women will spend this special night sharing the stage performing songs that have influenced them as vocalists. Each will bring their impeccable and interpretive vocal and musical styles to this new show and will tap into each of their musical passions with everything from pop, R&B, rock, the Great American Songbook, classic standards and jazz. The night will be a celebration of the sisterhood they share in song.
ABOUT LISA DONAHEY
In an industry that too often rewards artists and performers for limiting their vast musical potential and allowing themselves to be pigeonholed, Lisa Donahey stands out as a singular multi-faceted talent who embraces and does it all – with an engaging, charismatic style and panache all her own.
Combining her masterful storytelling abilities with her innate skills as a people person, she's captivated audiences throughout her native Southern California and beyond with critically acclaimed performances that tap into her passions for everything from classic Top 40 pop, R&B, rock, Great American Songbook and big band standards to musical theatre, country, novelty tunes, classical and even her own colorful mash-up style, "Jazzbaret." A consummate entertainer, Lisa does more than simply interpret the genius of others. She adds her own narrative flair to the flow of the music, turning set lists full of songs we know and love into fresh, poetic looks at life and love while making the crowd an integral part of the experience.
When not producing and singing in live concerts, Lisa sings on studio sessions for TV, commercials and film, as well as singing on-camera. Lisa has three studio albums, including her homage to Broadway, "Takes on Broadway," with tracks currently in rotation on SIRIUS XM's Siriusly Sinatra, "She's Got It Covered," her cover album spanning multiple musical genres and her Holiday Album "Christmas in Our Soul" which spent over 10 weeks in the Top 20 on Billboard's Holiday charts and in rotation on SIRIUS XM's Hallmark Radio Channel during the holiday season. All her albums can be found streaming on Apple Music, Amazon Music and Spotify.
Follow Lisa and her musical shenanigans on social media - Facebook: Lisa Donahey Music, IG: @LisaDonaheyMusic. Twitter: @LisaDonahey |www.lisadonahey.com
ABOUT WENDY HINKLE TAQUINO
A born performer, Wendy Hinkle Taquino has entertaining in her bones, beginning as a toddler sitting on the back of the upright piano in the living room while her dad accompanied her. It was because of him that she learned to love all the old jazz standards.
Growing up in Los Angeles, a city with no shortage of talent, she has had the privilege of singing with world-renown artists, groups, and professional choirs. A seasoned session singer, Wendy has recorded — both behind the scenes and on camera — for television shows, movies, and theater performances. She enjoys music of all genres, singing a range from classical to pop, musical theater, country, folk, and gospel. She also leads music at a local church and adores singing with her popular LA swings bands for senior citizens events.
Empathetic to the core, Wendy has dedicated her life to showing others that sharing who you are is the greatest gift. By expressing emotions through song, Wendy hopes to inspire others that they too can be their whole, imperfectly wonderful selves. It is her love of music and her desire to bring authenticity and joy to every performance that makes her voice and her personality shine (plus her fondness of enormous sparkly jewelry...).
Follow Wendy on social media - Facebook: Wendy Hinkle Taquino, IG: @weeenk
ABOUT FREDERICKA MEEK
Since the age of 2, Fredericka has been singing. It started with commercial jingles. Apparently she sang them ALL. THE. TIME. At the ripe old age of 8, she booked her first McDonald's commercial-doing guess what? Singing the jingle. If you ask her she probably still remembers it. And by probably, she definitely does. This weirdly cool chica, whose parents thankfully instilled in her a love and respect for all things jazz and blues, actually wrote her first couple songs in the 4th grade (it was a good year). She has since done 2 additional McDonald's commercials and sung on stages ranging from concrete to marley to the most expensive woodgrain, Dahling. "Ensemble Theater Company Debut in the iconic role of Carmen in Carmen Jones. Tours: Take A Shot (Maxine-Lead-Original Cast), Legally Prohibited from Being Funny on Television" (Coquette), Celticfusion (Lead Female Vocalist). Pre Broadway Workshop: Car Wash the Musical: The Norman Whitfield Story(Bunny). World Premiere: Unsung Sheroes (Lead-Anarcha Westcott) Encore Producer's Pick at the Hollywood Fringe Festival and an official selection in the Atlanta Black Theatre Festival._" _She has shared the stage vocally with such stars as Stevie Wonder, Barry Manilow, Cheryl Lynn, Conan O' Brien, Berry Gordy, Smokey Robinson, former Temptation Ollie Woodson, Marilyn Manson, etc., in the exotic locales of India, Hawaii, Chile, Japan, and Eugene, Oregon (if you haven't been there, you don't know). She just wrapped her first solo producing passion project, a short film she also wrote and starred in - Tyler Perry who? Look for it soon at a Festival near you!!! Fredericka is over the moon to be sharing the stage with these beautiful powerhouse singing divas…in the Key of She!
Follow Fredericka on IG: @FrederickaPatricia, Twitter: @FrederickaMeek | www.FrederickaMeek.com
ABOUT SARAH STALLMAN
Sarah is just a small town girl...from the one-stoplight town of Granger, Iowa. She was raised on an acreage with horses, dogs, cats, and rabbits. Ever the curious kid, she loved doing just about anything she could try her hand at - baking, public speaking, showing her animals, and of course, performing. She started learning piano at a young age and grew to love singing as she got older. When she went to high school in the city, she joined every choir imaginable and started doing musicals. She was officially hooked! She ended up dropping her lifelong path of being an equine veterinarian and instead went on to get her degrees in Vocal Music and Theatre.
After college she got the call to be a lead singer in Holland America Line's mainstage shows. She spent the next four years traveling the world, going on to live and work in Singapore as a singer/dancer at their Universal Studios park in "Monster Rock!" followed by performing in Playlist Production shows with Carnival Cruises. Then she decided it was time to put down some roots and moved to LA. Led by her love of different genres and musical outlets, she's worked with a variety of vocal groups, bands, and stage shows in SoCal, as well as studying session singing. You can currently find her on keys and vocals portraying the late, great Christine McVie in the Fleetwood Mac tribute show, Gypsy Dreams. Her latest venture is managing and headlining LA's first Adele tribute show: Always, Adele (alwaysadele.com). Outside of music, she works as a voice actor, continues to ride horses, and has dabbled in professional wrestling (yes, really).
Follow Sarah on Facebook & IG: @thesingersarah | www.sarahstallman.com
--
Ticket Holders must be 21 years of age or older. A minimum of $20.00 / two drinks is required per person while inside the showroom. Service fees apply to all tickets purchased via Eventbrite, at the door, and/or at the Box Office.
Guests requiring accessible seating should book directly by calling 747-400-4156 X321.
About the organizer
Pablito's World Taco Truck joins us every night offering up their Tijuana explosive flavor, along with the Peruvian touch.
21 & Over • 20% Gratuity on all Checks • A & P Valet $8 Cash Only
11502 Ventura Blvd, Studio City, CA 91604 | 747.400.4156 | www.thewriteoffroom.com