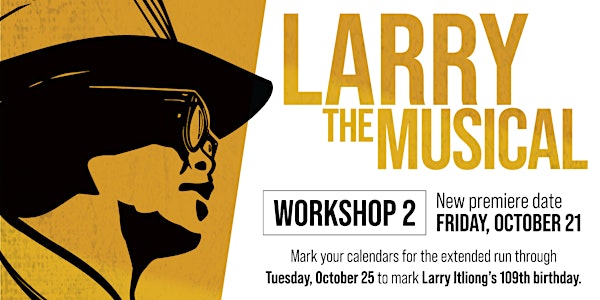 Songs from Larry The Musical Workshop #2
Free virtual premiere of new songs from Workshop #2 of Larry The Musical about the life and legacy of Larry Itliong.
About this event
Greetings, Family and Friends!
Larry The Musical Workshop 2 will NO LONGER BE SHOWN OCT 1. The new premiere date is Friday, OCTOBER 21 for a special extended run through Tuesday, October 25 — which marks Larry Itliong's 109th birthday.
Apologies we're not able to keep our original date. We are honoring new ancestors and felt the need to provide space for our Larry Creative Team.
This special 5-day premiere provides you with more opportunities to gather with family and friends. We strongly encourage you to schedule watch parties to help us spread the word and celebrate Filipino American History Month. You won't want to miss this!
Friday, October 21, 2022 6:00PM PDT / 9:00PM EDT - Tuesday, October 25, 2022 11:30PM PDT / 2:30AM EDT
Available for streaming only. YouTube link will be emailed to attendees prior to the performance.
Featuring:
Kylie Abucay, Renee Albulario, Eric Badique, Eymard Cabling, Ali Llacer, Daniel Lloyd Pias, Lianah Sta. Ana, and Marah Sotelo.
Written by Gayle Romasanta and Kevin Camia
Composed by Bryan Pangilinan and Sean Kana
Directed by Billy Bustamante
Lead Producer, Melvign Badiola
Music Director, Sean Kana
Director of Film and Photography, Christopher Sotelo
Folk Arts Consultant, Herna Cruz-Louie
Educational Consultant, Dr. Allyson Tintiangco-Cubales
Producer, Dr. Kevin Nadal
Based on research by the late and great historian Dr. Dawn Mabalon.
Supported by Brava Theater, the San Francisco Arts Commission, the National Endowment for the Arts, the Filipino American community of Delano, and by the incredible generosity of our community and supporters: https://www.larrythemusical.com/supporters
Maraming Salamat!
www.larrythemusical.com