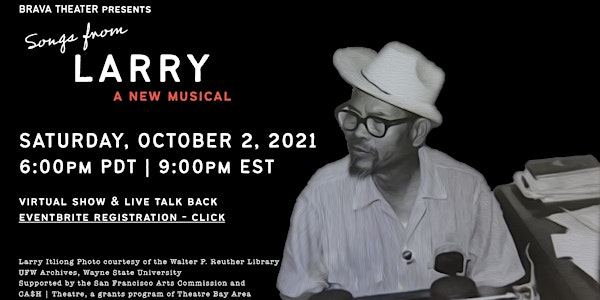 Songs from Larry: A New Musical
Songs from Larry: A New Musical about the life and legacy of Filipino American labor leader Larry Itliong.
About this event
Brava Theater presents songs from Larry: A New Musical.
A FREE virtual workshop reading and panel discussion.
Saturday, October 2, 2021 6:00PM PDT / 9:00PM EST
Link to view online event will be sent at a later date.
Written by Gayle Romasanta
Composed by Bryan Pangilinan
Directed by Billy Bustamante
Lead Producer, Melvign Badiola
Musical Director, Sean Kana
Dramaturg, Kevin Camia
Video Director, Christopher Sotelo
Folk Arts Consultant, Herna Cruz-Louie
Education Consultant, Dr. Allyson Tintiangco-Cubales
Producer, Dr. Kevin Nadal
Based on research by the late and great historian Dr. Dawn Mabalon.
Larry Itliong photo courtesy of the Walter P. Reuther Library, UFW Archives, Wayne State University.
Supported by the San Francisco Arts Commission and CA$H | Theatre, a grants program of Theatre Bay Area.