Songs for the Beloved Community: Expressions of Protest & Hope
Works of Burleigh, R. Carter, J. Carter, Hogan, McLin, and Amukele and a discussion with the artists
About this event
Please join Arch Angel Productions for our first online fundraiser. This is a benefit for Arch Angel Productions operating and production costs. A portion of the proceeds will go to Border Angels. Border Angels promotes a culture of love through advocacy, education, by creating a social consciousness, and engaging in direct action to defend the rights of migrants and refugees.
Arch Angel Productions vows that the African-American Spiritual be hidden no more! Please join as 3 superior artists, perform 6 outstanding arrangements that will tear at your heart-strings and also encourage you as we live in this unusual time.
The songs are 20th and 21st century arrangements, based on the folk material of enslaved Africans who dealt with the harshest conditions as they arrived in this country, but can inspire us all, to this day, with the tunes and text of protest and hope.
There will be discussion portion by the artists , to discuss these contemporary settings. You will have an opportunity to ask the artist questions.
Join us and hear, America's National Treasure!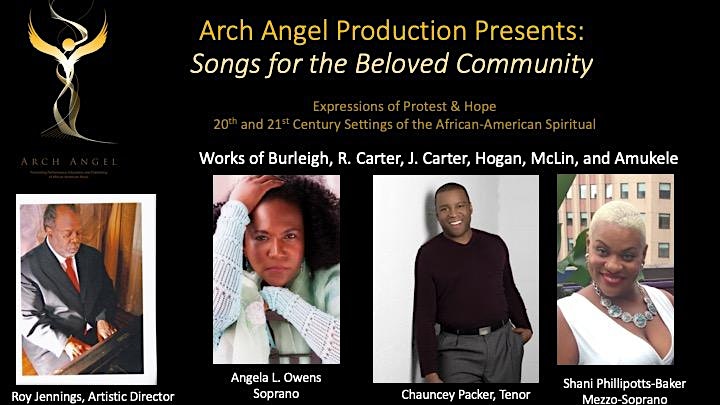 Organizer of Songs for the Beloved Community: Expressions of Protest & Hope