Fresh off his Texas Piano Man record, Robert Ellis takes Songbyrd with support from Deer Tick's Ian O'Neil.
About this event
"We make a lot of assumptions about different people. Heck, I like Liberace. I got a kick out of him. He played vaudeville. And he was reverent about it. He'd come out with all the rings on his fingers. It was like, 'You could have this, too. I'm going to bring a little elegance into your rotten tomato life.'" – Tom Waits
Indeed, we particularly make a lot of assumptions about people who make songs for a living. Because Robert Ellis and his band were fluent in honky tonk and capable of burning through dozens of George Jones standards on any given night, he could have found his boots set in concrete. He has instead over the course of now four albums done his best to set wide parameters for his musical expression, befitting a guy from a state nearly 800 miles from one end to the other.
Had we paid more attention, we might've seen the Texas Piano Man coming with his white tuxedo and bouquet of yellow roses to hand out to fans. Maybe we made some assumptions about him. After all, Robert Ellis traveled the world for a few years, playing songs and pouring sweat each night into the unforgiving fabric of a lapis-colored western suit with Titan rockets embellishing the sleeves and a space suit-clad Buzz Aldrin standing on the flaps. If rhinestones were truly stars, the stages wouldn't have needed lights.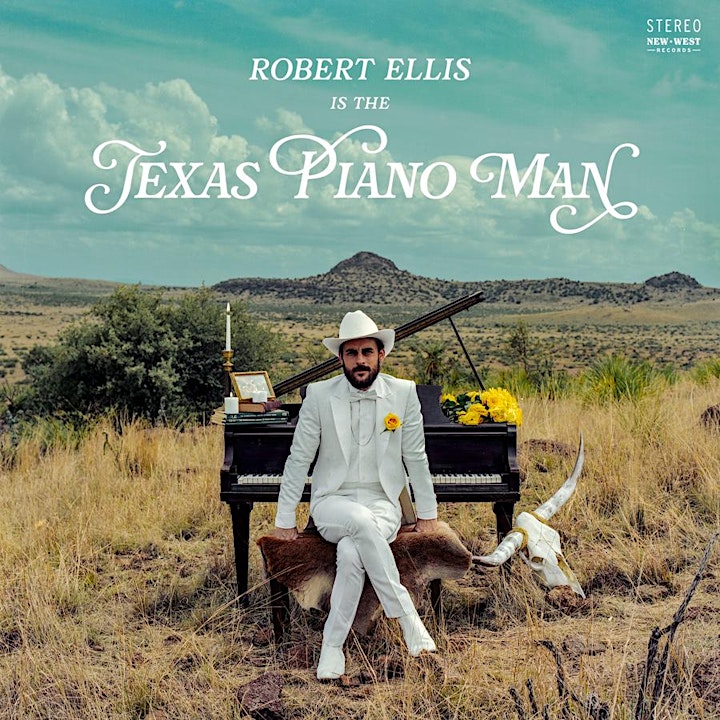 Performers
Date and time
Location
Refund policy