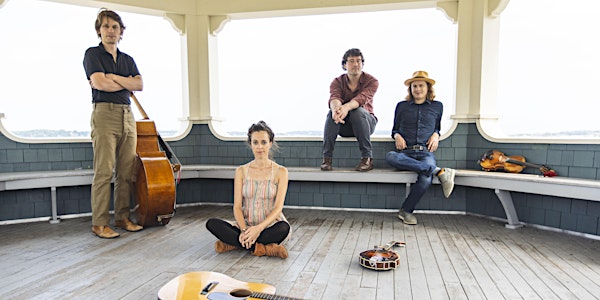 Songbyrd Presents: Hawktail
Location
Songbyrd
540 Penn Street N.E.
Washington, DC 20002
Hawktail make their Songbyrd debut
About this event
Hawktail is the instrumental acoustic quartet of fiddler Brittany Haas, bassist Paul Kowert, guitarist Jordan Tice, and mandolinist Dominick Leslie. Though at first glance it looks like an acoustic superpicker side-project, their all-original music is cohesive and unique, distinguishing them as an ensemble with a sound built from the ground up. Flush with orchestral sweeps and sparse vigils, with strains of the American South and the North Atlantic, this cosmopolitan sound is not what you'd expect from a string band.
Each member of Hawktail brings a strong individuality to the project. Haas, whose 2004 self-titled release instantly became the touchstone for a generation of old-time fiddlers, has since lent her sound to Crooked Still, Live From Here, Steve Martin, and David Rawlings, where she played alongside Kowert, well known as the Grammy-winning Punch Brothers' virtuosic bass player. Tice is a rare guitar player whose music showcases his unique identity and a particular knack for song and tune-writing, and Leslie is a versatile mandolinist whose rhythmic sensibility has made him ubiquitous on the acoustic music scene for over a decade. However, despite each of their ability to contribute to many musical situations, something special happens when they unite as Hawktail. Together, they have fostered a reputation as a rare ensemble of composers and instrumentalists able to take the listener on a journey, without the use of words.
The release of Hawktail's new record Formations comes just over a year after their debut, Unless. Unlike the arduous 3-plus year process of writing and recording Unless, Formations came about quickly -- written in 2 months and recorded in 4 days at Southern Ground Studios in Nashville. "We had studio dates to record a quick EP of covers, arrangements we'd been playing live," explains Kowert, "but we had these strong starts that felt so good that we were like 'let's finish THESE instead.'" Adds Haas, "we found a new joy in creating, tapping into the experience we gained from writing and recording Unless."
This new energy is largely due to Leslie's presence from the inception of Formations. Says Leslie, "our first album had more or less been written by the time I joined the band, so it was more about finding a complementary part. On Formations I was there for the writing, which resulted in the mandolin having a fundamental role in the music." Tice adds, "it's gotten easier to make music since we became a quartet; now we're able to be more spontaneous." Kowert elaborates, "having the strong rhythmic component of the mandolin gave agency to our new ideas, and the extra voice greatly increased musical staging possibilities. We're able to embrace things like bluegrass rhythm and twin fiddle, and also to build some pieces around a more complex rhythm, now an equal ingredient in the compositions."
This is apparent in the rollicking first track, 'Annbjørg.' It's a relentless Scandinavian-tinged march where a storm of fiddle and bass interplay swirling with aggressive strumming is anchored by the steady chop of the mandolin. The result is a tornado-like chaos that one can still tap their toe to.
Formations has more conversational trades, improvisation, and sonic shifts than their debut. It's playful and dramatic. Says Haas, "on 'Eddie's Attic' we combine people on the same part in different ways. Unison, octave, together or staggered. Each instrument is like a character, and as they enter and exit, the scenes change. It's simple stuff, but it really makes an impact when it's clear." Adds Tice, "with four people, new roles appear that weren't there before. You can have two be 'the backing band,' one 'the soloist,' and one 'the commentator,' for instance. The music begins to tell a vivid story." This storytelling is evident on the noir minor bluegrass number, 'Last One on the Line,' in which each member puts their own spin on the tune. Duets of rotating casts step out from the shadows as they embellish the quirky cantina band-like melody. "Much of this record came naturally from improvisations and open spaces and free ideas; this tune's arrangement unfolded behind the mics, in the moment," remembers Haas.
On 'Dandelion,' the most reflective number, the band returns to the chamber music-inspired orchestration of Unless which NPR characterized as "devotional and worthy of deep attention." With no melody per se, this track is a journey through consonance, dissonance, fragility, and robust strength. The band uses simple, familiar sounds like 'Blackbird'-esque finger picking and pulsing bows in unusual ways. The sensation generated is one that is dreamlike and hard to define but familiar, archetypical and clear in its intent. "What we ended up with on 'Dandelion' is something we're very proud of, something none of us have heard before," says Leslie.