Claud makes their DC headline debut live from Songbyrd
About this event
Claud is the solo project of Claud Mintz. After releasing their debut EP made out of their college dorm room under the name Toast with Terrible Records, Claud dropped out of Syracuse University to move forward with their music career. Since then they've toured and played with the likes of The Maria's, Clairo, Triathalon, and more. After being sued by Wonder Bread and making the name change - Claud is now working with various collaborators and will be sharing new music - a new chapter following the project formerly known as Toast.
--
Grace Ives never pursued music in the traditional sense like many of her peers. Instead, it followed her like a common thread that connected her various dwellings over the past few years. Whether living in Brooklyn with her parents, or in Baltimore while briefly studying at MICA, or the three years following at SUNY Purchase, Grace made music irrespective of setting or ambition. She made pop songs inspired by the sounds of Brittany Spears and Rihanna while surrounded by "punk-er" friends in Maryland, bought and MC 505 to emulate the sound of MIA while surrounded by guitar noodling when the cult of Mitski still loomed large over the SUNY Purchase campus, and opened so many shows to audiences of one, maybe two, that she cannot even think to count. But along the way she won people over, almost literally one-by-one, until audiences began to grow in number. Now, living in Astoria, Queens, Ives regularly leaves home with a blue Ikea bag full of her musical equipment to play shows all over the metro area -- to audiences of increasingly insatiable fans.
As for her writing process, her melodic ideas simply do not leave her alone. She is always singing. Much of her work stems from simple and relatable nuggets of experience. It is almost as if putting her thoughts to a melody are a way of processing the world as she sees it unfold around her. These humble origins of her ridiculously catchy songs are, she says, result of a "keep it simple, stupid" approach, one that she pulls off with the fire-y confidence of artists such as Bratmobile or Minutemen.
As Grace would have it: "I'm a man of few words, or just the same words over and over again. Everything about me is very laid back, my music is just supposed to be fun, danceable. I write songs so that they get stuck in people's heads. I follow a formula. Butterfly is two notes, Mansion is six. I'm trying to keep it minimal, just so I can get this idea out and listen to it. I just try to crank these out, not so I can do something else, like sleep, drink, or go to a party, but so I can do more. I'm relatable, I shop on a budget, I'm your friend, and I want to write songs for you... to dance to. And I'm a great cook -- I make a killer bolognese."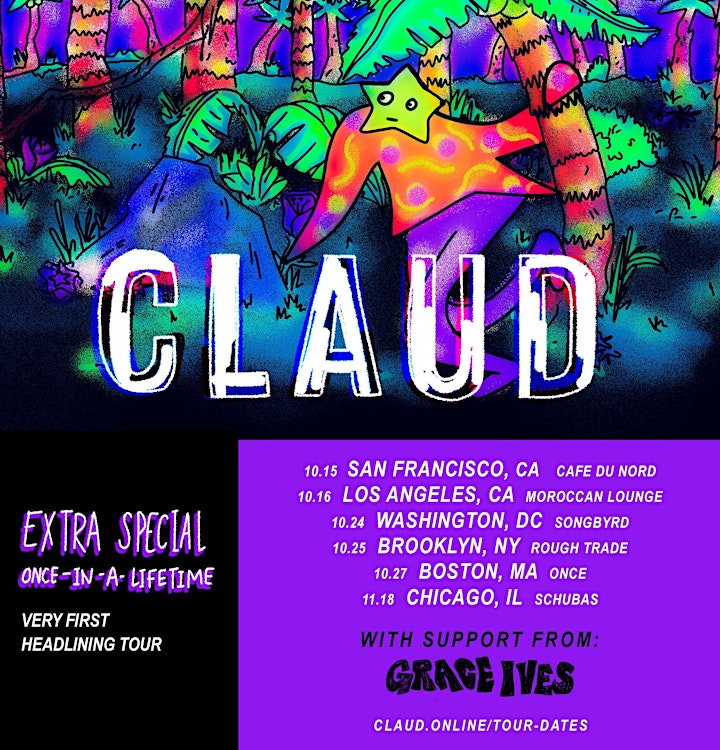 Organizer of Songbyrd Presents: Claud