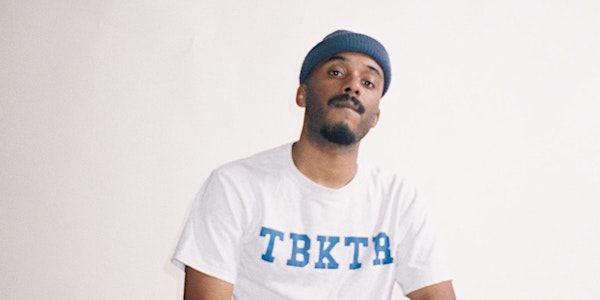 Songbyrd Presents: Caleborate
with Lo Village & Franky Hill
Location
Songbyrd
540 Penn Street N.E.
Washington, DC 20002
Songbyrd Veteran Caleborate returns to the Byrd on anniversary week
About this event
In the pocket with nuanced, reflective bars or riding atop sunny, soulful bounce, Sacramento-born, Berkeley-bred Caleborate's sharp, deft flow, gripping narratives, and charismatic, infectious energy paints a vivid portrait of life as a Northern Californian 20-something.
Lauded by Pigeons & Planes as "smart, introspective hip hop" and deemed "one of the most promising spitters out right now" by XXL, the 25-year-old carefully assembles a kaleidoscoping mosaic of love and heartbreak, weed smoke and college loans, family ties and simmering ambitions, triumph and loss – from the cinematic vistas of the Oakland hills to visceral childhood memories.
--
Lo Village is a Hip-Hop/R&B group from Gaithersburg, MD. The group consists of MC's Kane & Charles Tyler as well as R&B vocalist Ama. Lo Village was formed in 2011 by Kane & Charles Tyler. As the group began to develop their sound vocalist Ama joined forces to give the group a R&B sound twist. Artist development has and will continue to be the cornerstone of the groups sound and progress. Although the group was formed in 2011, Lo Village's debut project, "Last Summer" was not released until September of 2016. The project was met with great reception, with coverage from 50+ blogs including: Rap Nation, Elevator, 2dopeboyz, DailyChiefers, etc. Following their debut effort, Lo Village released a collaborative EP with Dirty Shafi titled, "For The Birds" in 2017.
Lo Village has also gained an increasing amount of traction within the music industry. Some highlights have been being selected for multiple Spotify branded playlists (ie. @MellowBars & @FreshFinds), amassing over two million streams on that platform alone. The trio has also been performing live in cities up and down the east coast, including a 2018 New York Fashion Week pop up shop. Lo Village is currently wrapping up their third project. Stay tuned!