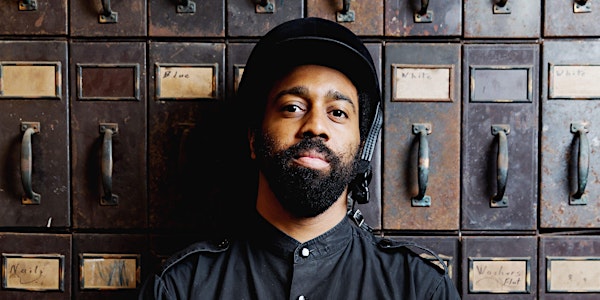 Event Information
Performers
Location
Songbyrd
540 Penn Street N.E.
Washington, DC 20002
Canadian musician AHI (pronounced "EYE") takes the Songbyrd stage with his smooth crooning
About this event
Does anybody say what they mean anymore?/ Talk so cheap everybody can afford/ But my silence is golden, every word carefully chosen/ So lend me your ears and I'll say what you need."
No matter his material, the Canadian musician AHI (pronounced "EYE") has one unbreakable rule for his songwriting: he has to be able to see himself—and some truth— in his songs.
When it comes to songwriting, my stuff has to be honest, and I have to feel like the song I sing can be spoken to someone or said to someone in a conversation," AHI says. "I have to be able to see myself in the narrator's seat, and even if it's not my specific story there has to be something in the song that's coming from my voice and persona." It is after the Ontario-based artist's insistence upon truth-telling and his innate knack for storytelling that all else in his repertoire follows. In fact, while AHI himself prefers the familiar tag "singer-songwriter" to be reversed when describing his music, he may be better served to be labeled a "singer-storyteller." At any rate, when considering his talents, it's a shame that one of those descriptors must come after the hyphen, but a single glimmer of AHI's voice—best described as "gravel on silk"—will leave no doubt why "singer" should still lead the charge.
And while it's undeniable that AHI's voice could easily steal any show, on his second album, In Our Time, he has learned to harness his instrument's power by balancing its range across a colorful landscape of tightly-crafted lyrics, driving rhythms, and catchy melodies. The result is a sublime collection of modern-day folk-rock set off by its singular, soulful sire, a group of eleven tracks as earnest and emotive as anything being recorded today, and one sure to bring AHI to the forefront of his scene.
Leading with his heart as much as with his head, AHI is an emotional yet discerning lyricist who would rather demonstrate love than use the word itself. He allows his light to shine inward but only to a degree, admitting to some autobiography on In Our Time but as glimpsed through an imaginative lens. While his music possesses a quality of timelessness, the sounds here reveal a broad spectrum of influence and also toe the line between retro and revelatory. None of that is by accident: the album, like its 2016 predecessor, We Made It Through the Wreckage, was recorded in Nashville—a place AHI finds attractive for its sound and skilled studio hands rather than its glitzy polish— and this time on analog-to-tape with flourishes of digital technology.
Performers
Date and time
Location
Songbyrd
540 Penn Street N.E.
Washington, DC 20002
Refund policy