SONGBIRDS...live 2010

Monthly Event - First Wednesday of every month: 8:00 PM (ADT)
Event Details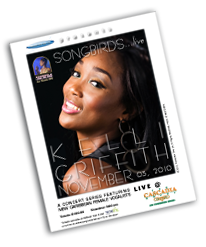 Dynamic singer, KELLI GRIFFITH will be the sixth vocalist performing at the 2010 edition of SONGBIRDS...live™, the concert series produced by Production One Ltd., featuring new Caribbean female vocalists at Sky View Lounge, Cascadia Hotel on Wednesday 03, November from 8:00 pm.
Kelli Griffith is a young woman from the very charismatic and diverse island of Trinidad and Tobago. She has always managed to stay true to her self, her talent and what ...she wants in life.
Kelli's amazing voice has taken her places that she had only dreamed of as a young girl. Although growing up and being the middle child of five children was never an easy journey, it was an interesting one that she always makes fun of being a "good read" someday.
Through adversity, Kelli has always kept her eye on the prize and worked toward it full steam ahead. She is currently one half of a sister act duo called 2NTRIGUE which has made a name and sound for themselves and is still making great music.
Her musical background and influences molded her into the kind of artist she is today. Vocally trained under the R&B/Gospel genre, then dabbling in Pop, Soca, Reggae and a bit of Jazz, leads one to imagine such a sweet, kaleidoscope of sound. She also plans to start recording an album in the very near future. Kelli's ultimate goal is to reach and touch the hearts people through song and music.
Production One Ltd. continues in 2010 the performance showcase for the female voice that began last year. SONGBIRDS…live™ features, from June to November on the first Wednesday of the month, some of the most notable upcoming and unheralded female voices in contemporary music in Trinidad and Tobago with an ear turned to Jazz and World Music. These smaller productions serve as a platform for the recording of the singers and their performances. The musical range, from world jazz  to neo-soul to quiet storm, places SONGBIRDS...live™ in a position far separate from the plethora of jazz gigs popping up around the city of Port of Spain.
For more information, please visit the website, http://www.songbirdslive.com
---

NIQUET GOLDSON - June 3, 2010       GLENDA COLLENS - July 7, 2010


NISA NORA - August 4, 2010                 SAMANTHA GOODEN - September 1, 2010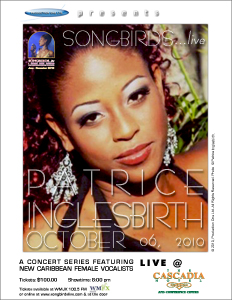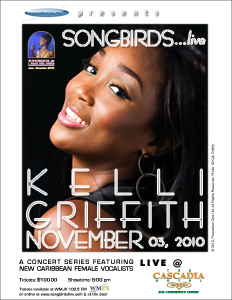 PATRICE INGLESBIRTH - October 6, 2010   KELLI GRIFFITH - November 3, 2010

---
Where

Sky View Lounge, Cascadia Hotel
67 Ariapita Road
Saint Anns, TRINIDAD AND TOBAGO


Monthly Event - First Wednesday of every month: 8:00 PM (ADT)
Add to my calendar
Organizer
Production One Ltd. is a company committed to the top quality production of high-profile concerts and to expanding the audience for jazz, and other live music in Trinidad and Tobago and the wider Caribbean. This will be achieved not by compromising the music but through a dynamic and highly visible marketing strategy and by developing the public's trust through a commitment to quality. In addition to fulfilling the role of a traditional concert promoter, we also specialize in providing opportunities for sponsorship by adding value to events through sophisticated marketing, advertising, design, public relations and production of collateral media.