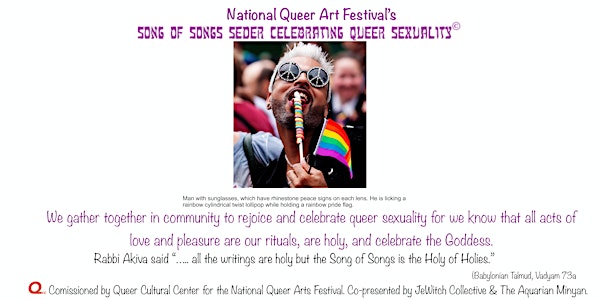 Song of Songs Seder: Celebrating Queer Sexuality
Celebrate queer sexuality and conjure a magic spell at an empowering participatory JeWitchy ritual!
When and where
Location
Urban Adamah 1151 Sixth Street Berkeley, CA 94710
About this event
ALL are invited to kick off Pride season on May 19th with the National Queer Arts Festival's JeWitchy event celebrating queer sexuality. Open all your senses as you leisurely wander through the gardens of Urban Adamah savoring sensual delights.
Renowned musician, Jewlia Eisenberg, serenades our hearts and ears. The rockin' beats of Debbie Fier on percussion will entice your body to move. Rabbi Eli Cohen and Akiva Bankole lead us in queering the ancient erotic biblical poem: Song of Songs, while sharing poetry, stories and exploring our seder plate.
Celebrated Jewish dance masters, Bruce Bierman and Gilberto Melendez lead the whole crowd in ecstatic Middle Eastern dance orgies. The ritual culminates in everyone casting a jewitchy magic spell. Doing so we share our fully embodied joyous energy with all the world. Our kavanah, intention, is for that positive life force to imbue and empower all who need it.
Past attendees including non-Jews and straight identified folxs said they were moved and delighted by the experience.
This event is being held on May 19th which is Passover Sheni, 2nd Passover, a little known holiday, that gives those who weren't able to celebrate Passover a second chance to do it. Some queer religious Jews have adopted it as their own, deeming it "Religious Tolerance Day." The biblical passage that the holiday is based on demonstrates the Torah's consideration for the needs of minorities and the ways that solutions are found for those who are left outside of the general structure of Jewish communal life. The passage offers a model of religious leadership inclusive of those who are different.
Supporting LGBT Refugee Services through East Bay Jewish Family and Community Services is the tikkun olam (repairing the world) project for this event. Click here to donate or learn about volunteering to help LGBTI Refugees.
Wheelchair Accessible Fragrance Free venue. ASL Interpreted.
Please come fragrance free including laundry, hair, and body products so that everyone can participate. Click here for more about what that means.
Ritual foods and drinks will be provided.
Commissioned by Queer Cultural Center for the 2019 National Queer Arts Festival.
Co-presented by JeWitch Collective and The Aquarian Minyan. Co-sponsors include Urban Adamah, Be'chol Lashon, Oakland LGBTQ Center, Berkeley Moishe House, Oakland Moishe House, Kehilla Community Synagogue, Chochmat HaLev, Torah of Awakening, Pacific Center, Wilderness Torah, Derech HaAretz: Outdoor Yeshiva and others.
The San Francisco Awesome Foundation generously provided a grant to support this event.
Contact events@JeWitchCollective.org with any disability needs or any questions.