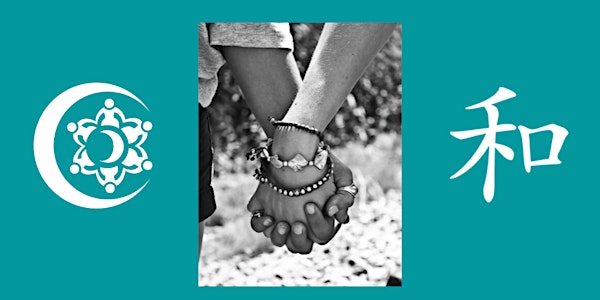 Song Leader Training 2022 - FREE Informational Call
Find out more about our 6-Month Sisters in Harmony Song Leader Training
About this event
Curious about our 2022 Song Leader Training?
Learn more about how you can empower yourself and uplift your community with song!
Join us for an informational call on November 20th @ 1:00 pm PT
The event will be recorded, sent out to registered participants.
About the Six-Month Program:
Please join us for our 2022 training!
Share your gift of singing and leadership with the world!
Program Dates:
Wednesdays from 1:00 — 2:30 pm PT
Training calls with Heather — 2nd & 4th Wednesdays
Practicum calls with your sisters — 1st & 3rd Wednesdays
"Heather's song leader training has helped me to find my voice! I grew from struggling to even think of a song I could practice teaching, to confidently leading women through a series of songs." —Chrissy Thomure
Grow into your mastery as a song leader!
Strengthen your community of women on the path of song leading
Learn to create safe space for people to free their voices.
Expand your repertoire of songs and chants that open hearts, awaken consciousness, and transform lives.
Receive the tools and resources you need to lead songs and chants at events and singing circles in your own community, on Zoom, and beyond.
Feel inspired to boost your income doing something you absolutely love.
Learn how to lesson plan.
Cultivate powerful vocal practices that deepen your relationship with your own voice.
Become part of the growing movement of women who are empowering the voice of the rising feminine spirit.
Get the training and support needed to launch a regular song circle in your own community, or on Zoom.
Learn how to grow your list, connect with your community of singers, grow in your business skills, grow your promotional tools.
Learn more about marketing and promotion.
Get support with your personal bio, class/series description and webpage content.
Receive a Sisters in Harmony Song Leader Training certificate once you've met the additional requirements.
"Heather Houston's song leader training changed my life! I was searching for a substantial way to help others through music and to make a living at it and Heather helped me to get my own women's circle going!" —Zoey Wren, relationship coach, singer, and energy healer
What Else:
Biweekly practicum calls with your sisters
One private coaching call with Heather
Training Videos and MP3s (vocal training, ear training, rhythm practice, self-care practices, leadership development, business development, songwriting, and repertoire building)
Access to recorded SHE Sings and Art of Mindful Singing Courses
Access to Heather's private song library throughout the duration of the training
You do not need to be a trained singer or have the ability to read sheet music. All you need is passion in your heart and the ability to carry a tune. The training is designed for women desiring to lead their communities in song and chant: retreat leaders, yoga teachers, school teachers, coaches, women's circle leaders, campfire song sharers… sky's the limit! Lead your community in joyous song!
Have more questions?
Join the Informational Call
AND / OR
"Dear Heather, the most inspiring part of the program for me was how deeply you embody what you do, and what an attuned, conscious, and compassionate leader you are. You inspired me to step into my leadership role not only as song circle leader but in other areas of life too." —Andrea Farkas
Tuition:
In Full:
$1,497 — Early Bird SIX Month Training
$1,797 — On-time Bird
Payment Plan:
$397 — Early Bird Registration Fee PLUS:
$197/month — Early Bird
$597 — On-time Bird Registration Fee PLUS:
$197/month — On-time Bird
Once you make the deposit, Heather's assistant Natalie will set you up with a recurring payment plan.
Scholarships:
If you need a partial scholarship, please APPLY HERE
Sisters in Harmony Membership:
Upon completion of the 6 month training. For those that would benefit from ongoing mentorship.
Quarterly OR Monthly support calls with Heather
Continued access to Heather's private song library
Continued access to training videos and MP3s
Your own webpage on the Sisters in Harmony website
Permission to use our logo
Discount on any of Heather's online classes, retreats, and trainings
Continued access to the Sisters in Harmony community through private Facebook page and quarterly / monthly calls
More support with marketing, promotion, and getting a Sisters in Harmony circle series going in your community.
Testimonials:
"Heather Houston's song leader training changed my life! I was searching for a substantial way to help others through music and to make a living at it. Heather helped me to get my own women's circle going through fantastic repertoire, leadership tips and techniques, mentorship, and business coaching. My first intro night had 32 women. My first circle had 18 registrants!" —Zoey Wren, relationship coach, singer, and energy healer
"Heather has developed the most comprehensive song leader training program out there. I was amazed and inspired throughout the 6-month training at how thorough it was and how much time, effort, and devotion she put in to serving aspiring song leaders and holding a safe container for us to step into leadership. Forever grateful!" —Louise
"This course was absolutely incredible in every way, Heather's beautiful and inspirational energy and teaching style as well as the website which is beautifully presented and the teaching modules all so well thought out. As well as the amazing teaching, the community of women I am now connected to and felt so supported by makes the joy of the program continue on." —Joanne Gillard
"Dear Heather, the most inspiring part of the program for me was how deeply you embody what you do, and what an attuned, conscious, and compassionate leader you are. You inspired me to step into my leadership role not only as song circle leader but in other areas of life too. In the last 4 months I went through a deep level of transformation. After leading a couple of song circles in Bali I had the wonderful opportunity from life to lead my first blessing way (with some singing of course.) And I even had a presentation in my daughter's school to the kids about how we are all interconnected. I would have never done these before. But something has shifted. I feel so empowered and called to action! Also my voice opened up so much to speak up and take the lead. (So powerful, just thinking about it brings tears into my eyes.) I know your training, your magical healing songs, and all the energy I've put into it had a big part of this transformation. I feel so privileged that you shared your wisdom with me! Thank you so much for pouring all your heart into this program! This program turned out to be exactly what I needed to get a new momentum in my life. :)" —Andrea Farkas
"Heather's song leader training has helped me to find my voice! I grew from struggling to even think of a song I could practice teaching, to confidently leading women through a series of songs. Heather created a sweet, safe and supportive environment throughout the program. I've learned dozens of beautiful songs and chants, and gained a whole new tribe of amazing women! I'm so excited to share this joy with others." —Chrissy Thomure
"Heather puts all of her passion and herself into her courses. She shines brilliantly; I'm drawn to her inner light and beauty that comes out in her music, voice, presence, and guidance. She teaches in such a positive, supportive, uplifting way and is incredibly inspiring. She's fun, lighthearted, and incredibly talented. I highly recommend her Sisters in Harmony Song Leader Training course. It offered so much more than I ever expected and I feel blessed to have been a part of it. Thank you, Heather!" —Kim Muirhead