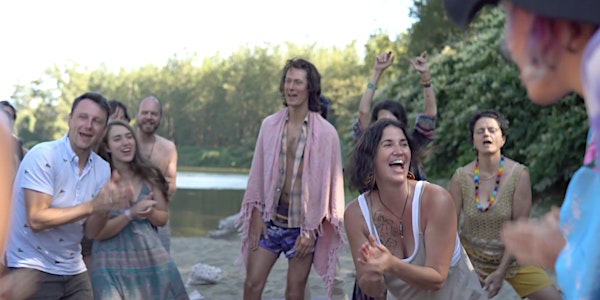 Song Circle: Songs for Grief & the Unknown @ BALLARD HOMESTEAD
Song Circle: Songs for Grief & the Unknown by Alexandra "Ahlay" Blakely live at Ballard Homestead
Date and time
Starts on Wednesday, May 17 · 6pm PDT
Location
Ballard Homestead 6541 Jones Ave NW Seattle, WA 98117
Refund Policy
Refunds up to 7 days before event
About this event
Imagine a group 30-100+ folks in a circle, singing… together. The song leader teaches easy to learn songs in an acapella style and the group echoes them back. These songs are sung together collectively as invitations to move stagnated emotions in the body and to be in our bodies as we notice what arises for us as we sing together. Ahlay offers a 2 hour container invoking connection that serves as a catalyst to discuss + sit with taboo topics in our culture and movements for collective liberation.
—-----------
"Alexandra "Ahlay" Blakely (she/her) is a song carrier remembering that which was meant to be forgotten in her lineages: song technology as connective tissues of the communal body.
She blends song, body percussion, dance, stillness, breath & silence with the deepest intention to support others in remembering their inherent birthright to singing and rhythm.
Her ancient ancestors of Old Europe (Ashkenazi, Scandinavian, Finnish, English, Scottish, Irish) sang while building, creating, birthing, working & being in reciprocity with the Land. She understands song to be fundamental in the expansion of one's internal capacity to participate in the collective shift towards life-affirming conditions. An underlying prayer in her song offerings is that they may contribute to the shared effort to transform white culture into being more connected with our bodies, emotions, Land & the animate world around us.
These songs are swirls of spells for cracking open, falling humbly to our knees and cultivating more access to the conversations our souls are aching to have with us about their most intimate longings. They are dedicated to the more than human world, the Waters and our Kin in both the seen and unseen realms. We sing to shame, courage, for breaking cycles of intergenerational trauma and for the preparation of being ready for these times we are living in, all while sending these song-beings in ripples through to the ancient and future ones. The songs sung have come directly through Ahlay."
-Artist Bio
Learn songs from Ahlay's upcoming album, WAILS: Songs for Grief
50% of proceeds (after labor costs) will go to Grief to Action
About Grief to Action: Grief to Action was founded to fill the needs of BIPOC in need of a place and community to facilitate healing and hope. We desire to grieve and process trauma at the pace of resistance and revolution and not at the pace of media coverage. Grief to Action is a semi-mobile camp with a land-based community in the Mojave Desert. We hold space on the land and with the land for deep grief and rage that gives birth to the creative solutions we need to resist and end oppressive systems. The land and sanctuary are Black-owned and Black-led centering the needed grief support for African-heritage folks and all People of the Global Majority.
@ Ballard Homestead
6p event, 5:30p doors
All ages, mostly seated
--------------------------------------------------
EVENT & VENUE INFO:
Check tickets for show times
Ballard Homestead is ADA accessible
Service animals as defined by the ADA are allowed. Service animals are defined as dogs that are individually trained to do work or perform tasks for people with disabilities.
Please refrain from talking during songs.
Please enter quietly if the show has already begun.
Please leave quietly, it's a very quiet neighborhood. I sense a trend here.
Quiet Picnics Welcome. Big surprise there right?
Light snacks & non-alcoholic beverages may be available for purchase, but no other food or bar service at Ballard Homestead shows.
We have a mix of normal chairs, some tall chairs, and standing room in back.
Seating is not reserved unless noted.
Please limit photos during the show so as to not distract other attendees from the experience.
We are an all ages venue. Kids 10 & under are free at Abbey Arts concerts & arts events unless noted.
Entering the venue indicates agreement to adhere to the Abbey Respect Policy. All are welcome.
--------------------------------------------------
ABOUT ABBEY ARTS, SEATTLE:
NONPROFIT 501C3, NON-RELIGIOUS, EST. 2005
Presenting welcoming music, arts & cultural experiences for people of all ages & incomes.
Home Venue: Fremont Abbey, 4272 Fremont Ave North, Seattle, WA 98103 / 206-414-8325 Ballard Homestead: 6541 Jones Ave NW, Seattle | + South Park Hall, Woodlawn Hall Greenlake, UHeights Auditorium (UDistrict), St Mark's Cathedral (Capitol Hill), & more
--------------------------------------------------
See Updated Public Health Safety Info at the bottom of this page under Abbey Arts Presents. All Abbey Arts venues adhere to WA State & King County health guidelines. Thanks for helping keep our community safe!
--------------------------------------------------
About the organizer
Public Health Info:
Be sure to check your events ticketing page for any special requirements per event.
That being said, we still strongly encourage people attending to follow all safety protocols shown below and per King County Public Health.
Attendees are welcome to wear masks at their discretion, all are welcome. Please don't discriminate based on mask or no mask. Some people may opt to wear a N95 for their own protection.
Please check your specific event details before purchasing a ticket.
THESE GUIDELINES MAY CHANGE AT ANY TIME DUE TO PUBLIC HEALTH GUIDELINES
-----------MORE INFO--------------
All Abbey Arts employees & volunteers are vaccinated.
We are operating at full capacity and do not have any capacity restrictions unless otherwise noted in the event description.
We have added hand sanitizing stations and air filtration systems around our venues. We encourage you to regularly sanitize and fully wash hands when you use the restroom.
****
By entering the Venue, you and the members of your group voluntarily assume the risks of contracting COVID-19 and agree to release, waive, discharge and covenant not to sue any Artist performing or Abbey employee or company (including their owners, officers, employees, volunteers, agents and the City of Seattle), and hold these entities and persons harmless from liability regarding any and all claims relating to COVID-19 and indirectly or directly arising out of or relating to the Venue or event.
****
Individual events may have additional safety measures in place, see Ticketing pages for details.
-----------------------
ABBEY ARTS, SEATTLE:
NONPROFIT 501C3, NON-RELIGIOUS, EST. 2005
Fremont Abbey | Ballard Homestead | South Park Hall | St Mark's Capitol Hill | The Auditorium @ UHeights |  & more
Independent nonprofit, non-religious, all ages/incomes. 
Low Fee Tickets! No hidden high fees like Ticktmstr. :-)
[ Click here to subscribe to our optional text messages. ]
[The views and opinions expressed at events are those of the artists and performers and do not necessarily reflect Abbey Arts. About Page | Respect Policy.]
Refunds may be available per event settings.
No refunds due to support act changes.
Tickets for rental events may be via their website. 
Note: Entry requirements are subject to change. By purchasing tickets to this event you agree to abide by entry requirements in effect at the time of the event. Check the venue website leading up to your event for the latest protocols.
On Sale Dec 30 at 12:00 AM