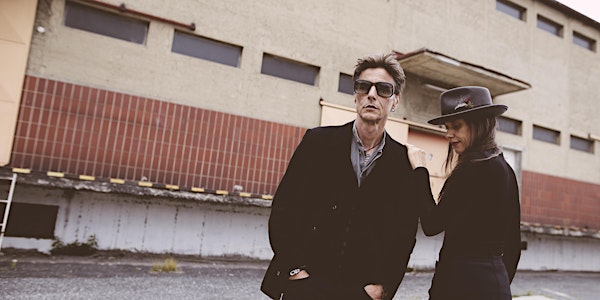 Son of the Velvet Rat & Special Guest Jolie Holland @ Furst Wurld
SON OF THE VELVET RAT "Haunting folk noir melodies!"—PASTE MAGAZINE
When and where
Location
Furstwurld 8528 Desert Shadows Road Joshua Tree, CA 92252
About this event
The last album, Solitary Company, is an aural chiaroscuro, bathed in shadow and light. Lyrical silhouettes give way to vivid vignettes haunted by magnetic melodies."—COACHELLA VALLEY WEEKLY, ELENI P. Austin
Son of the Velvet Rat is the solo musical endeavor and masked identity of Georg Altziebler – sometimes shared with his wife, Heike Binder – who, having left their hometown of Graz, Austria and the cloistered safety of the Continent for the endless highway of America, finally settled along the edge of California's Mojave Desert in Joshua Tree in 2013.
Situated at the vanguard of Euro-Folk Noir, these songs build on the cabaret traditions of Old World masters like Georges Brassens, Jacques Brel and Fabrizio De André, now fused with the dark Old Testament prophecy and Kabbalistic visions conjured by New World visionaries Townes Van Zandt, Leonard Cohen or Bob Dylan.
The result is like some exotic desert fruit – equal parts bruised pulp and scarified skin, set off against the crepuscular glow of the violet horizon or blood pooled on the desert floor – all delivered in what accidental fan Lucinda Williams (guests on two tracks) calls Georg's "great sexy-gravelly voice," leavened by Heike's translucent harmonies, like roses circling a tattooed heart.
Paul Cullum
______________________________
JOLIE HOLLAND
Over the span of her career, Jolie Holland has knotted together a century of American song—jazz, blues, soul, rock and roll—into some stew that is impossible to categorize with any conventional critical terminology.
This is her burden and her gift, to know all of these American songs of the last ten decades in her head and her heart, and to have to wrestle with their legacy. She dives straight to the pathos of a song the way the very greatest singers, singers like Mavis Staples, or Al Green, or Skip James, or Tom Waits do. Upon first encounter her songs seem challenging, perhaps unsettling at times, but as so many poets and rockers have shown us (from Dante Alighieri to William Blake to Sylvia Plath to Patti Smith to Nick Cave to Mark E. Smith) that's where the beauty lies.
As evident on her first recordings, Holland apparently has no fear of the truth, and there is no emotional core that she cannot reach in song. In fact she thrives on the red hot center of a musical composition, in all its strange and brutal detail.