Event Information
Location
Cedar Cultural Center
416 Cedar Ave S
Minneapolis, MN 55454
About this Event
This is a seated show with general admission, first-come-first-served seating. The Cedar is happy to reserve seats for patrons who require special seating accommodations. To request seating or other access accommodations, please go to our Access page.
General Admission tickets are available online and by phone.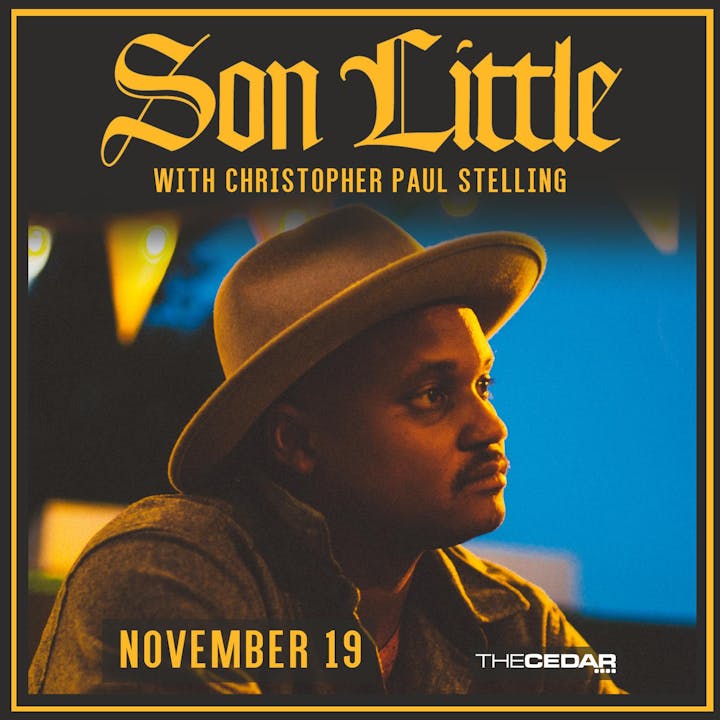 About Son Little
Recorded at Paris's iconic Studios Ferber, Son Little's brilliant new EP, invisible, offers up a tantalizing preview of his highly anticipated third full-length album, due out early next year on ANTI- Records. While Little plays nearly every instrument on the EP himself, he put his songs in the hands of an outside producer for the first time here, collaborating with French studio wizard Renaud Letang (Feist, Manu Chao) to create his boldest, most self-assured statement yet. Equal parts vintage and modern, the collection blends classic soul, old-school R&B, and adventurous indie sensibilities into a timeless swirl fueled by gritty instrumental virtuosity and raw, raspy vocals. It's an ambitious work of vision and reflection, to be sure, but more than that, it's an ecstatic testament to the freedom that comes from letting go.
"I'd always produced myself in the past," explains Little, "but it's easy to get caught up in an endless quest for perfection when you do that. Working with Renaud let me see what I was doing from an outsider's perspective, let me see the songs from a bird's-eye view. It was liberating to have someone there to help me focus on the bigger picture like that."
Little's newfound liberation is clear from the outset of invisible, which revels in freewheeling wordplay and daring sonic juxtaposition. Opener "hey rose" marries distorted, jittery guitar with smooth, sinuous vocals, while the slow-burning "about her. again." injects trippy psychedelia into Sam Cooke soul, and a cover of "Skid" from Love's long lost masterpiece 'Black Beauty' uses a 1973 meditation on homelessness to make a pointed statement about our indifference to suffering in modern America.
"I've heard that song a million times, but I didn't realize how relevant the lyrics were until I recorded it myself," says Little. "It's easy to become desensitized to people's pain when you encounter so much of it every day, but every single person you see struggling, wherever they're at, is a human being with their own story."
Born Aaron Earl Livingston to a preacher and a teacher in Los Angeles, Little first came to international prominence with his self-titled 2015 debut. While Little had already made a name for himself in his adopted hometown of Philadelphia for his collaborations with hip-hop legends The Roots and electronic pioneer RJD2, critics on both sides of the pond were quick to recognize the unique power of his solo recordings. They didn't simply revive sounds from the past, but rather stripped them for parts and reconstituted them into something wholly new and original. NPR hailed Little's "impeccably crafted songs" as "honest and unpretentious," while The Independent proclaimed him "a formidable talent," and Vice declared that he was "dissolving the barrier between R&B and rock 'n' roll one tearjerker at a time."
Songs from the record racked up roughly 30 million streams on Spotify alone, and the album landed Little dates with everyone from Leon Bridges and Kelis to Shakey Graves and Mumford & Sons alongside festival appearances at Bonnaroo, Newport Folk, and more. Never one to rest on his laurels, Little showed off his production chops the following year, earning a GRAMMY Award for his work helming Mavis Staples' acclaimed 'See That My Grave Is Kept Clean,' and in 2017, he released a critically lauded sophomore album, 'New Magic,' which Paste raved "did for the blues what Sharon Jones did for soul music." Little hit the road for dates with Dr. Dog and X Ambassadors behind the record in addition to crisscrossing the country for extensive headline touring (much of it featuring Jade Bird as support) and festival performances at Hangout, Sasquatch, and Pilgrimage among others.
Son Little performing "hey rose" from the 'invisible' EP, available October 11th. Courtesy of ANTI- Records' YouTube channel.
About Christopher Paul Stelling
Christopher Paul Stelling is a songwriter based in Asheville, North Carolina. Known for incendiary performances and his own blend of fingerpicked guitar, howled laments, and southern gothic lyrics, Stelling has toured the United States and Europe extensively. After self-releasing the albums Songs of Praise and Scorn (2012), and False Cities (2013), Stelling released 'Labor Against Waste' (2015), and Itinerant Arias (2017) on the Anti-Records label. He has been featured on NPR's Tiny Desk series, performed on CBS This Morning, and is a frequent performer at the Newport Folk Festival. His next album is slated for release in February of 2020. When not playing guitar he can be found walking his fierce hound, Ida Mae.
Christopher Paul Stelling performing "Have To Do For Now" courtesy of ANTI- Records' YouTube channel.
Performers
Date and Time
Location
Cedar Cultural Center
416 Cedar Ave S
Minneapolis, MN 55454
Refund Policy