About this Event
As yoga grows in popularity, there is also a growing amount of misrepresentation and false assumptions about yoga. Some people my assume "yoga is not for me" or "yoga is not for my body or body type," which is simply not true.
Yoga IS much MORE than asana (a physical pose) and YOGA IS FOR EVERYBODY, BODY TYPE, RACE and ETHNICITY.
SOMOS YOGA (We Are Yoga) creates a safe space for anyone to explore/practice yoga. If you are experienced or new to yoga, you are welcome here.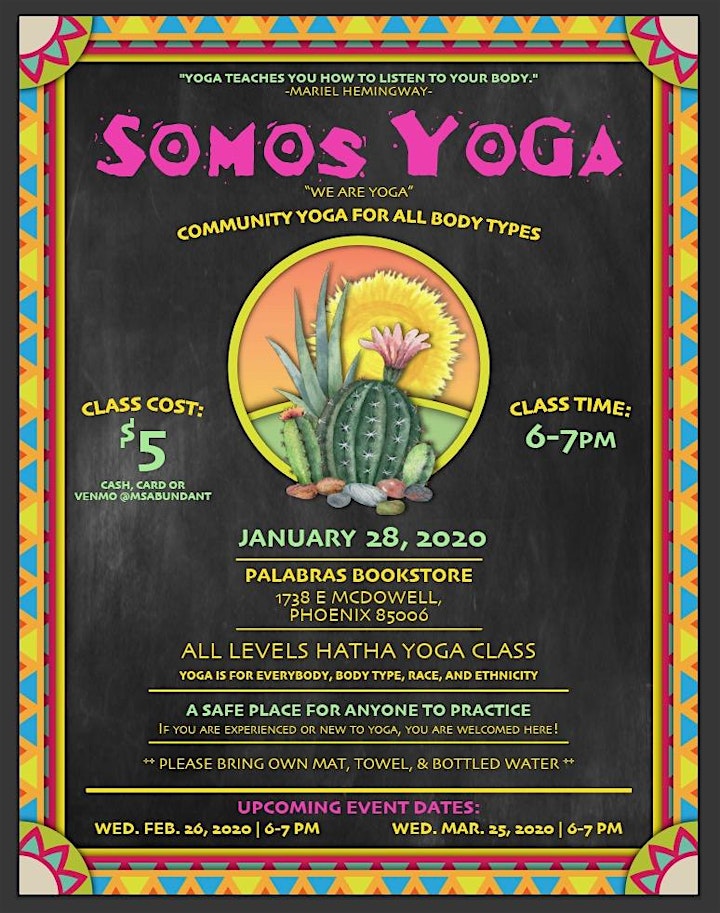 DETAILS:
The class will be an gentle All Levels Hatha Yoga Class.
COST: $5 Cash/ Card at the Event
WHAT TO BRING:
Please wear comfortable clothing that you can move in.
Please bring your own yoga mat and water bottle.
Please bring 1-2 towels (to use as a prop) (optional).
**We have a limited supply of yoga blocks available.**
ABOUT THE TEACHER:
Stephanie Marie is a certified Trauma-Informed 200hr Hatha Yoga Teacher, a certified 100hr Integrative Amrit Method (I AM) Yoga Nidra Facilitator, certified Yin Yoga Teacher and certified in Level 1 of the Trauma Resilience Model (TRM). She is also trained Council Facilitator. She is the founder of Heartspace Circle a monthly community circle that focuses on heart-based communication. She was drawn to create Somos Yoga because she wants everyone to feel safe to practice yoga in community.
She believes that yoga is for everyone. As a teacher she meets students where they are, empowers them to listen to their body, connect to their breath and makes each pose accessible with the use of modifications and props. As an optimist and storyteller, she weaves in mindfulness, chakras, mantras and/ or quotes to serve the theme of the class.
For More Information Check Out Our Website:
https://heartspacecircle.com/somos-yoga/