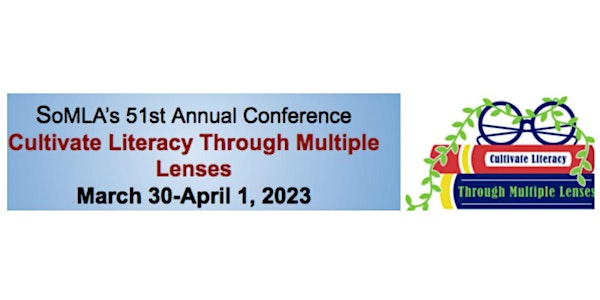 SoMLA 2023 Virtual Conference: Cultivate Literacy Through Multiple Lenses
Welcome to SoMLA Virtual Conference 2023: Cultivate Literacy Through Multiple Lenses
Refund Policy
Contact the organizer to request a refund.
Eventbrite's fee is nonrefundable.
About this event
49 days 7 hours

Mobile eTicket
This is Maryland's 51st annual conference! The three day event is packed with exciting opportunities for professional development, networking, and examining exemplary materials for classroom use. This conference is intended for a wide-range of audiences including classroom teachers, reading specialists, special educators, curriculum specialists, administrators, and other educators.
There is a variety of high caliber speakers, researchers, practitioners, publishers, and authors that are presenting throughout the conference, as well as during the pre-conference "Session Saturday" presentations and Professional Learning Book Study group.
You may apply for CPD credits through MDSE by filling out the form linked here. To qualify, you must have attended 15 hours total per credit. This includes time you spent engaged in "Session Saturday" presentations and the Book Study sessions. Please fill out all of the information. Incomplete requests will not be filled. Requests will be cross referenced with attendance from "Session Saturday" presentations, Book Study sessions, and sessions attended on the weekend of March 30-April 1st 2023. If you participated for the required hours, you will receive a credit for each 15 hours of participation. Please be patient, as we process your form.
Tentative Conference Schedule NOTE: Schedule is subject to change or be revised
Saturday, February 11 Pre-Conference Session Saturday Presentations
9:00am EST Cultivate Literacy through the Lens of National Boards: Seeing Yourself as an NBCT Presenter: Dr. Shawn Washington-Clark
10:00am EST High Five Comprehension Strategy Helps Readers Thrive: A Reflective Literacy Lens on Action Research in the Everyday Classroom Presenters: Cherita Lassiter • Lanee Shefield
11:00am EST How does this work?: Facilitating the Development of Disciplinary Literacies in Elementary Science Lessons Presenters: Kathryn Maitland • Dr. Leah Katherine Saal
Saturday, March 4 Pre-Conference Session Saturday Presentations
9:00am EST Examining How Play-Based Literacy Centers Build on Multilingual Learners' Social and Cultural Capital Presenters: Dr. Keri-Anne Croce • Meredith Lashley
10:00am EST Multimodal Writing: Breaking the Language Barrier Wall Presenter:Hongye Zeng
10:00am EST The Lens of Social Justice: Mini Units that Honor Identity, Appreciate Multiculturalism, and Value Critical Consciousness Presenter:Dawn Little
11:00am EST Book Study- Part 3: Continuing our Professional Discussion Presenters:Brian Cambourne • Debra Crouch
11:00am EST Intern Supervisor Observations: Writing Opportunities for Preservice Secondary English Teachers Presenter:Rasha Alkhateeb
Thursday, March 30
5:30pm EDT Welcome and Orientation Kelly Davis, SoMLA Chair
6:00pm EDT Conference Support
6:00pm EDT Meet the Exhibitors
6:30pm EDT Title: Reading Joy Presenter: Donalyn Miller
7:30pm EDT Title:Deepening Literacy Instruction Through the What We know About the Learning Process Presenter: Marisa Stukey
7:30pm EDT Title:One Platform Endless Possibilities Presenter: Jill Schechter and Sharon Moffat
7:30pm EDT Title: Reading Starts with Your Ears Presenter: Joan Macenat Charles
8:30pm EDT SoMLA Wheel of Fortune Raffle
Friday, March 31
5:00pm EDT Welcome and Orientation
5:30pm EDT Conference Support
5:30pm EDT Guest Author(s): Inspirational Speaker for SoMLA's Young Authors Presenter: Katrina Denise- Hill
6:00pm EDT Young Author Celebration: Elementary Level
6:00pm EDT Young Author Celebration: Middle
6:00pm EDT Young Author Celebration: High School
7:00pm EDT How to Create an Interactive Book with Book Creator Presenter Monica Burns
Saturday, April 1
9:00am EDT Keynote Say Yes to Joy, No to Burnout Presenter: Berit Gordon
10:00am EDT Story Groove: Help Students Comprehend and Craft Totally Gnarly Narratives Presenter: Trevor Bryan
11:00am EDT Cultivating Our Own Professional Literacy: Book Study Part 4 Presenters: Brian Cambourne • Debra Crouch
11:00am EDT Write Now: Getting Real with Literacy in the Classroom Presenter: Rebecca Harper
12:00pm EDT Cultivate Literacy Through the Lens of Co-Teaching Presenter: Terell Savage
1:00pm EDT Cultivating Oral Language Literacy Presenter: Eric Palmer
2:00pm EDT Cultivate Literacy through the Lens of Multilanguage Learners: Engaging Strategies to Maximize Learning Presenter: Tamisha Sampson
3:00pm EDT Envisioning POSSIBILITY through the Eyes of an Educational BIG LEAP Presenter: Dr. Mary Howard