Description
Please join us for our final installation of Something I Ate, a Food+Art Series. We started SIA as an experiment of the relationship between food and art, with an event celebrating every season, showcasing fresh and local ingredients. Spring, Summer and Fall were all memorable but Winter promises to be the pentultimate of our exploratory series. Housed in a unique, private residence in Williamsburg, we'll welcome our guests with the warmth of inventive eats, cocktails, artwork, and sounds.

Creative minds converge for this event with food being the principle medium. Artists document seven days of their personal eating experience, culminating in exclusive works using whichever media they prefer–photo, paint, jewelry, fashion, film, music, etc. The idea is that from food, we derive pleasure, satisfaction, energy and inspiration (or vice versa) and these elements, whether cognizant of them or not, ignite our creative fires. With "Something I Ate", we intend to share various artists' true perception of food & sustenance in everyday life.

Following final submissions of the exclusive work, each artist will pinpoint a defining meal, ingredient, or experience and Sam Kim of Skimkim Foods will present a menu based on the artists' eating. The Bar is curated by Tristan Gardiner with Art In the Age, Reyka Vodka, and Artisan Elixirs. Sip on decadent Chupon drinking chocolate all evening to satiate your sweet tooth. Live music will be provided by our artists, The Lair's Players, who will present improv using samples from their week of eats. You'll hear familiar sounds like crunching potato chips and frying bacon by a 3-piece ensemble.

Can't wait to have you home with us for the winter!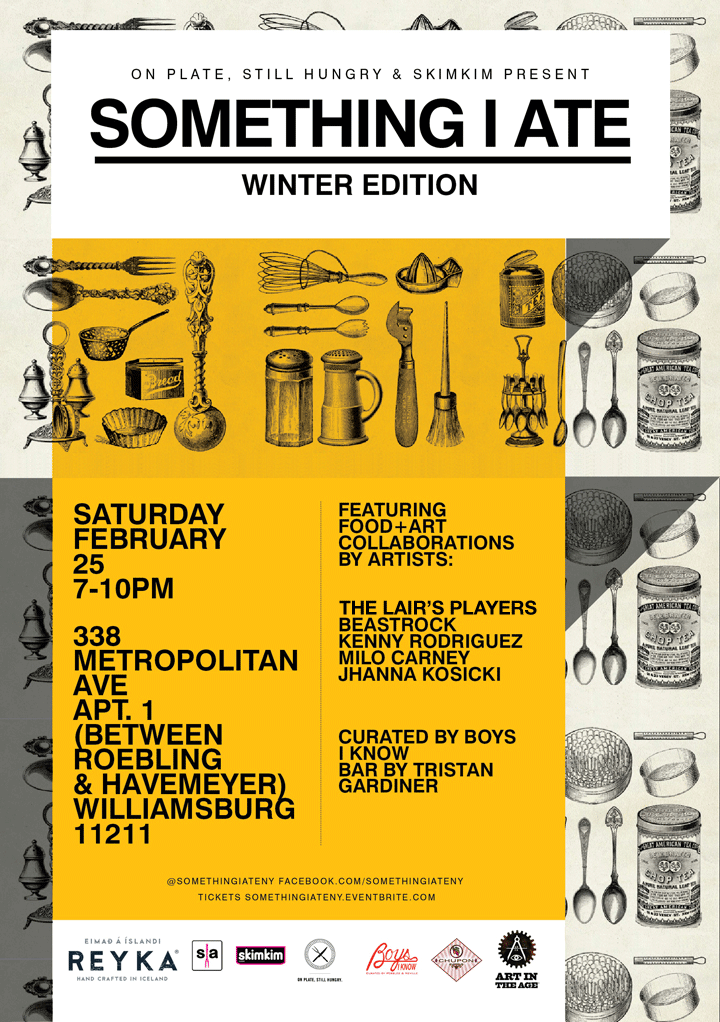 "Boys I Know" will be curating this season! Together, Pebbles and Jon have put on events, concerts, parties and art shows throughout the city. Their "Boys I Know" group art shows focus on great work made by regular guys. A love of New York is what drives "Boys I Know" to want to foster a wider appreciation for this miraculous place where we all live through creation and involvement. Pebbles and Jon both have a penchant for nontraditional art spaces, off-humor animation, specialty grilled cheese sandwiches and Irish whiskey. Check out boys-i-know.tumblr.com and centre-fuge.tumblr.com.
Here's the menu! Start dreaming!