A recently made expose on the MMIW crisis told through the lens of the legal jurisdictional maze and socio-economic constrictions.
About this event
SPECIAL GUEST SPEAKERS TO BE ANNOUNCED SHORTLY!
A focus on some of the highest-profile Murdered & Missing Indigenous Women (MMIW) cases. With historical points of reference, the victims' and their families' stories are told through the lens of the legal jurisdictional maze and socio-economic bondage that constricts Indian Country. For the first time on film, tribal leaders reveal the devastating roles of drug cartels and gangs in the MMIW crisis. The purpose of Somebody's Daughter is to alert lawmakers and the public alike that the Murdered and Missing Indigenous Women crisis exists and demand urgent action.
**The new version of the film, titled Somebody's Daughter (1492 - ) features US President Joe Biden, and is thought to be the only documentary that includes a contribution from a sitting US President. "Somebody's Daughter is both hauntingly beautiful and emotionally devastating and should be recognized as one of the most important documentaries made on not only MMIW, but also on Indian Country in the twenty-first century" was typical of the first cut's reviews.
"After watching Somebody's Daughter many thoughts fevered my brain for hours . . . the search for a solution begins with first knowing a crisis exists." - Wes Studi, the only Native American actor ever to receive an Oscar​
"Somebody's Daughter does a very good job showing why this is such an urgent issue in Indian Country. It is a great film, done on a very personal level.
"The film captures the attention of everyone who watches it so they understand why this is such a serious issue not only for our Indian community, but for the whole country. The film explains where this began, that this is still going on, and the how and why it is still going on. This is a tragic issue - and this is an extremely important film that must be seen." - John E. Echohawk - Founder and Executive Director of the Native American Rights Fund (NARF)
"A great work." - Winona LaDuke, Internationally renowned indigenous author, Orator and activist/ Co-founder, Honor the Earth.
"A very powerful and important film for the world to see – equal parts beauty and tragedy, it reveals the horrific truths that are sure to ignite change."- Georgina Lightning - Award-winning actress and director
"A heartbreaking portrayal of an underreported issue, "Somebody's Daughter" focuses on Missing and Murdered Indigenous Women.
The documentary confronts systemic racism, colonialism & genocide through the eyes of grieving & frustrated family members whose loved ones are MMIW victims. Viewers are left feeling a personal connection to an epidemic that deserves everyone's attention." - Great Falls Tribune
"A powerful film." - Indian Country Today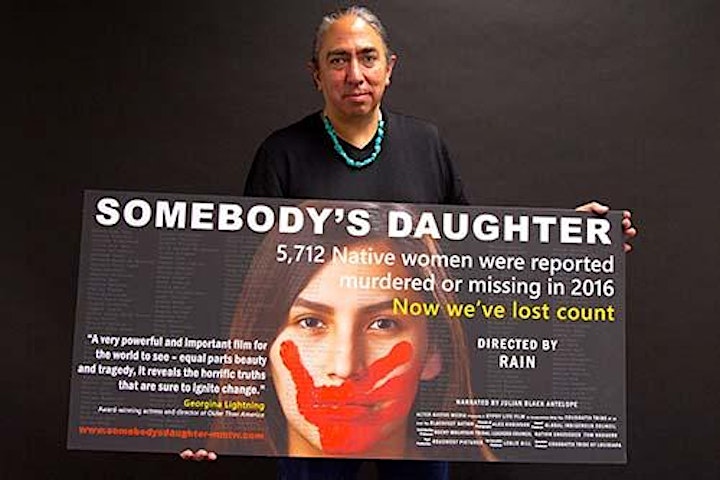 Organizer of SOMEBODY'S DAUGHTER - the Murdered & Missing Indigenous Women Crisis doc