Location
Hilton Garden Inn Hotel
4271 Campbell Ave
Arlington, VA 22206
Description
It all started with the last words of Ressurrection's Poem, "Rock Bottom" where she says in her hype voice,
"Now Somebody, Anybody, Everybody --- Say WORD!"

She has hosted open mics in various locations within DC and Virginia from U street to her Massage Center that had a Somebody say WORD room built in.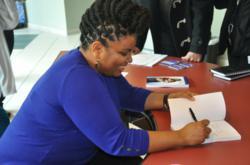 She has been published since the age of 12 and loves the art of poetry. You can read more about Ressurrection Graves, our host by clicking here
WELCOME NEW CO-HOST 13 of Nazareth!
13 of Nazareth is a performance poet from Virginia successfully living with epilepsy, a dry sense of humor, and peace of mind over everything. He has been engaging audiences for over a decade with creative works geared toward the personal and collective healing process. For more information on 13 of Nazareth please click here.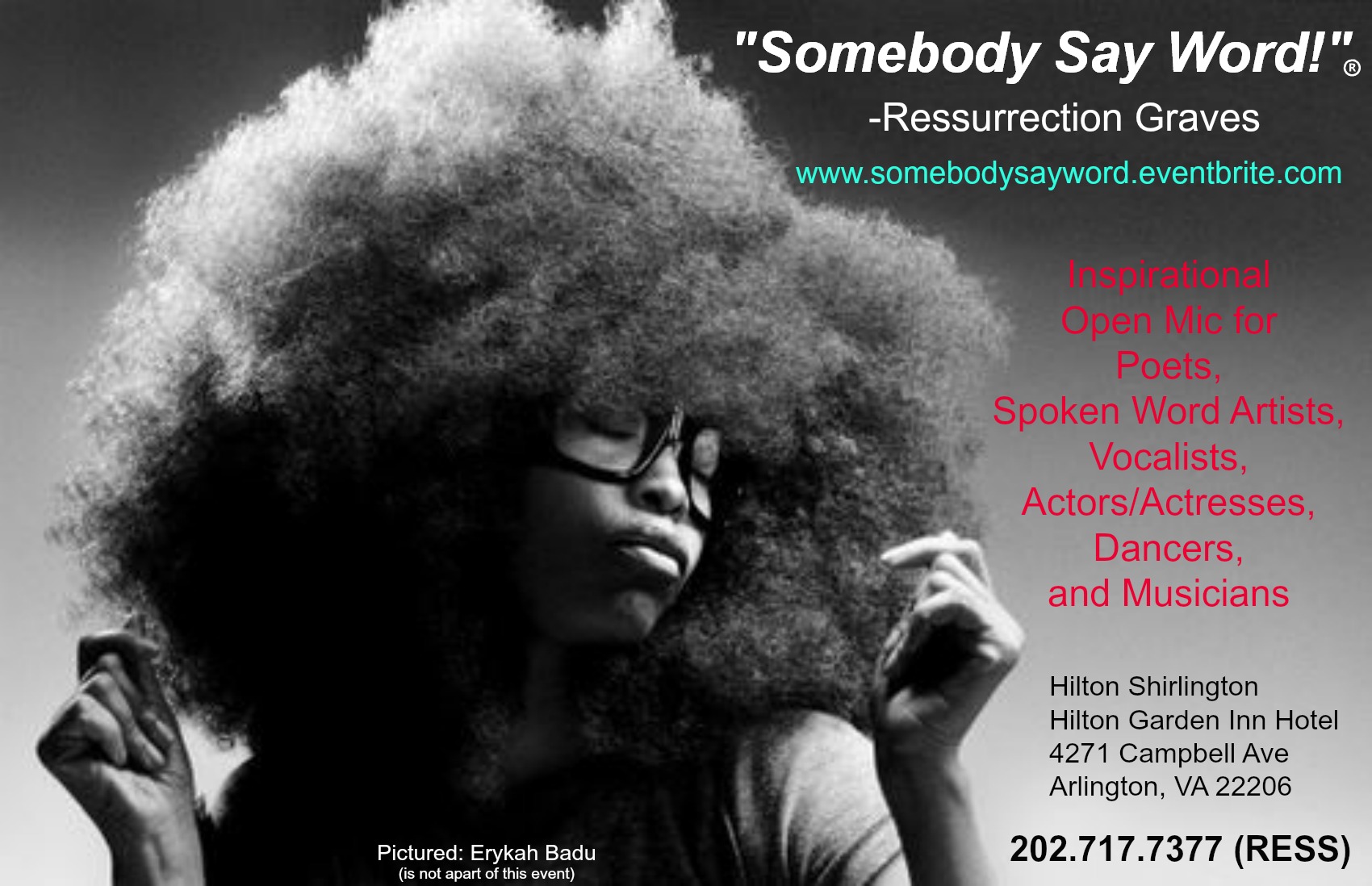 About the Open Mic
Our open mic is located in a Hilton Hotel. We will not offer or require food (like restaurants who offer open mic events), but we will encourage you to check out our vendors, mingle and having an extraordinary time.
The vision for this open mic is that your words inspire, and heal. Audience members are encouraged to support artists by not interrupting their pieces, and celebrating them whether their performance is unmatched or could use some polishing in delivery.
This is the perfect open mic to bring a new or old piece, or to rally support if you're a virgin to the microphone.
This open mic is family friendly. No Children under 13 permitted.
How to Sign Up for the Open Mic List
The open mic list opens 30 minutes before the show at 6:30pm near the admissions desk outside of the hotel room. You will sign up to deliver to pieces to total five minutes on the microphone.
If you are performing a piece that speaks about domestic or sexual violence, you must share your piece in written form to Ressurrection (the host). This is not to "qualify" you for the open mic, it is to ensure that we do not "trigger" memories or pain, that go unanswered or mishandled.
We want people to feel whole when they leave.
If Ressurrection knows what to expect from your poem, she can help the crowd to process those emotions in a healthy way.
GUEST APPEARANCES
Somebody Say WORD! will feature guest performers from all over the United States. You can fully expect for slam champions, def poetry guests, and individuals who have been successful writers, performers, vocalists, and actors/actresses to come by and bless the mic.
Ressurrection will announce guest appearances as she is told about them, but even Ressurrection LOVES surprises.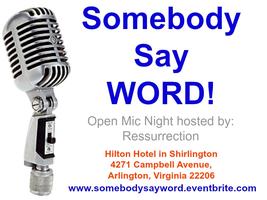 GUEST FEATURES
Are you a poet, vocalist, actress or actor who does monologues? Are you a litugical dancer with an Alvin Ailey type of training?
If you are interested in guest featuring, all you have to do is upload your video to youtube, and let me hear your piece. All I need is one piece.
I will publish it on our facebook page here and say, "Would you like ______ to be our next feature?"
All you need is 50 Likes.
ABOUT SELLING PRODUCTS
You are welcome to come and bring your instrument. We will allow you to stand behind the mic and adlib for performers as they wish. If you do music lessons or sell some kind of product, you may not sell them without becoming a vendor and paying the $50 vendors fee.
Artists with paintings are required to pay the vendor fee of $50 in order to display your work, and have a table that allows you to sell your work.
Likewise, poets and performers on the microphone are not permitted to sell their work, pass out any cards or promote on the microphone unless you are a vendor.
We like exclusivity. We only allow a maximum of five paid vendors per event. This is ideal for performers who plan to get on the mic, features for the night, artists, musicians, jewelry makers, and other cool crafts or restored items that you would sell in a music store or flea market.
Attendees are encouraged to shop for cool items.