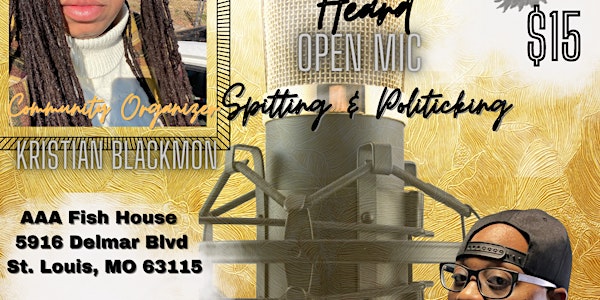 Some Things Must Be Heard: Open Mic
Some Things Must Be Heard: Open Mic
By Tracy ( T-Spirit the Poet) Stanton
Date and time
Sunday, April 16 · 6 - 10pm CDT
Location
AAA Fish House 5916 Delmar Boulevard St. Louis, MO 63112
Refund Policy
Contact the organizer to request a refund.
Eventbrite's fee is nonrefundable.
About this event
Some Things Must Be Heard: Open Mic
T-Spirit the Poet presents, Some Things Must Be Heard: Open mic.
The Spitting & Politicking Series will feature artists, activists, and community organizers that are committed to bringing a messages of hope, healing, truth, and power to the people. This Spoken Word & Soul vibe will stimulate your mind, activate your heart, and propel you into action. Poetry has always been a catalyst for personal and social change. This atmosphere will set the tone for your upcoming week.
Are You Ready to join the movement? It ain't a movement if we ain't moving so Let's Get to it....
ALL and I mean ALL of our 2022 artists and organizers that have graced the stage have been ahhmazing.
We want to thank King Que, Inez Bordoueax, Jus Rich, Aniya Betts, Juss Aaron, Dr. Rev Dietra Baker, Ms Nterpretation & ML Smith and all the artist pulled up to the open mic. Listen,, this is space is just different..
It's time that we reclaim our culture and spread positivity not poison. We live in reality so we will always stay true to that however, we live in reality so we will always stay to FACTS. We are the ones that we have been waiting for.
You can follow me on facebook at Tracy Stanton & T-Spirit. Instagram at T-Spirit2019 and Linked In Tracy Stanton to stay up to date Ticktock at tspriritthepoet
Please email us at tspiritbookings@gmai.com if you would like to volunteer.
For our 2nd open mic of the year, we will be featuring National Spoken Word Artist Aja LaStarr former Jennings councilwoman, author, poet, emcee, trauma educator and peer specialist from St. Louis, Missouri. She received her bachelor's degree in Mass Communication from Xavier University of Louisiana and her MBA from University of Phoenix. Aja is a change agent that has dedicated her life to utilizing creative arts to promote healing in the community for the betterment of humanity. In addition to publishing 13 books, she has helped more than 30 authors publish their own books.
She has opened up for Jill Scott, Mary J.Blige, 50 Cents, Da Brat appeared on BET, ABC, Fox 2 News, KDSK, KMOX, KMOV, St. Louis Public Radio, Riverfront Times, St. Louis American, St. Louis Post Dispatch and served as a casting judge for American Idol. Her most recent endeavor is becoming an Outreach Representative for Missouri's 1st District Congresswoman Cori Bush. Some of her most recent accolades include receiving St. Louis Black Pride Lifetime Achievement Award and becoming a Power 100 honoree.
WE WILL ALSO FEATURE :
Kristian Blackmon is a native of St. Louis, MO. Her passion lies in the fight for black liberation, injustice and oppression that negatively impacts ALL people. She is a community organizer, art curator, activist, facilitator, & trainer.
Kristian has done organizing work around economic justice, raising the minimum wage for 30K St.Louisians, protecting voting rights for voters in the state of Missouri, leading & participating in dozens of voter registration drives , youth justice work around incarcerated youth, and LGBTQI+rights. She has has trained up to 300 youth and adults in leadership development and organizing both locally and nationally. She is currently the Coalition Coordinator for Homes For All St.Louis, a grassroots housing justice & advocacy organization.
She has done curating work since 2012 & has worked with at least 40 established career and emerging artists. Her most notable shows and exhibitions are Invisible No More, I STILL love her:A Celebration of Women in Hip-Hop, SEEN: A Love Letter to Black Queer & Trans Folx & R U Still Down?: A Music & Art Tribute to Tupac Shakur.