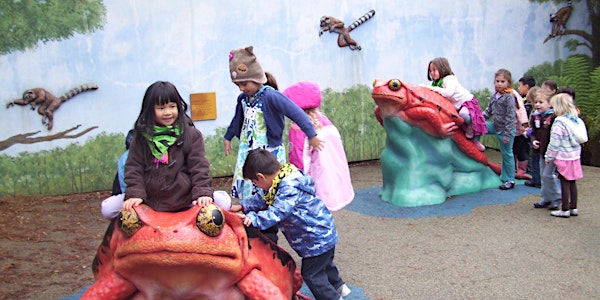 Some Like It Wet
Some Like It Wet - What is wet, dark, and green all over? The Rainforest, that's what! Learn about its many layers and amazing diversity.
Date and time
Saturday, May 13 · 9:30am - 12pm PDT
Location
Oakland Zoo 9777 Golf Links Road Oakland, CA 94605
About this event
2 hours 30 minutes

Mobile eTicket
Some Like It Wet
What is wet, dark, and green all over? The Rainforest, that's what! Explore the many layers of the rainforest, learn about the amazing diversity of the millions of animals and plants that call them home, and understand how you can hekp protect them.
Participants: This program is for participants ages 5-6.
Drop off:  Class begins at 9:30 am.  Drop off takes place at the Lower Entrance (near the Maddie's Center for Science and Education Center ). There will be directional signage as your enter Knowland Park. You will turn left into the lower parking lot (even if the sign says it is closed). Do not drive up the big hill. 
Pick up: Class ends at 12:00pm.  All ZooKids classes finish at the Lower Entrance, inside Maddie's Center for Science and Environmental Education.  Let the ticket booth cashier know you are picking up a ZooKids participant and they will direct you to the Education courtyard.
Parents/Chaperones: A parent or chaperone is required to sign-in and introduce themselves and their child to the ZooKids instructors. Once the child is signed into the class, adults are free to go.  A parent or chaperone is required to come into the education center to sign out their child.  
These classes are designed for children to participate independently. Parents are not allowed to stay with their children.  If your child has diagnosed special needs and is unable to participate without an aide, please contact us to discuss accommodations at: lisa@oaklandzoo.org).  
Most classes end with a short presentation (song or recitation) for the parents.  If parents or families want to enter the zoo during or after class, they will need to pay regular zoo admission. Oakland Zoo member families can use their membership for admission. Although the ZooKids class starts at 9:30 am, the zoo does not open until 10 am. Parents or families who wish to visit the zoo while their child is in ZooKids will have to wait outside the entrance gates until the zoo opens. 
Parking:  Zoo members receive free parking in Knowland Park as part of member benefits.  The parking fee is waived for non-member families dropping off and picking up ZooKids participants. If the parking "arms" are down when you arrive at the zoo for drop off, please pull a ticket.  You will be given instructions about parking validation when you check-in your child for the program. Non-member families who plan to visit the zoo during or after ZooKids are required to pay the parking fee.
Weather:  ZooKids programs happen rain or shine (unless the zoo is closed). Please dress your child appropriately for the weather.  If it is raining heavily, the schedule will be altered to spend more time in the classroom. However, a light rain or drizzle won't keep us from touring the zoo.
Masks: Masks are required for this program.
Refund/Transfer Policy:  Unfortunately, we are not able to offer refunds for cancellations unless the zoo is closed.
One change to your reservation date can be made as long as it is requested at least 7 days prior to your originally-scheduled program. Should you need to make a change, we will gladly work with you to reschedule a later date, if space is available, and any previous payments will be applied to the new reservation. We can be reached at:  lisa@oaklandzoo.org
We look forward to seeing your child at ZooKids!
About the organizer
Oakland Zoo is managed by the Conservation Society of California (CSC), a non-profit organization leading an informed and inspired community to take action for wildlife locally and globally. With over 25 partners and projects worldwide, the CSC is committed to conservation-based education and saving species and their habitats in the wild.  Oakland Zoo is dedicated to the humane treatment of animals and is accredited by the Association of Zoos and Aquariums (AZA), the national organization that sets the highest standards for animal welfare for zoos and aquariums.