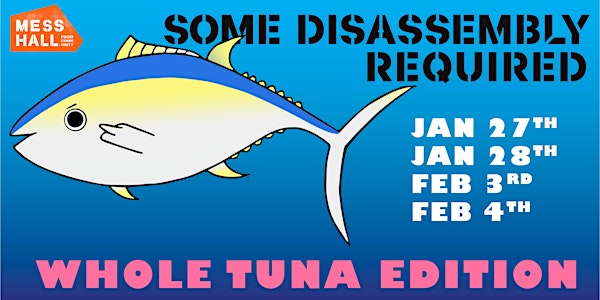 Some Disassembly Required - WHOLE TUNA CUTTING + TUNA DINNER INCLUDED
Premium Blue Fin Tuna cutting LIVE, in person. Includes dinner and beer.
When and where
Location
Mess Hall 703 Edgewood St NE Washington, DC 20002
About this event
Our wildly popular Whole Maguro Tuna Cutting Demonstration is back! We're happy to invite you back to Mess Hall (FULLY VACCINATATED GUESTS ONLY)! Get excited and get hungry, because this 125lb+ tuna will become the freshest possible dinner, right before your eyes! A complete menu is listed below and includes Kirin Ichiban to wash it all down!).
More details...
In this unique 2-3 hour experience, you will watch chefs Zach Ramos and Amy Phan (co-founders Ama Ami and previously of Sushi Taro) break down a tuna into traditional sushi blocks, and then make several sophisticated culinary preparations with the beautiful fish. You will learn some sushi/sashimi-making tips and tactics. During the experience, you'll learn how various cuts of the tuna are used, and all three types will be prepared for dinner (lean, medium-fatty AND fatty). You will even learn to make your own hand rolls.
The class will culminate with a LIVE auction of the Maguro Tuna collar, an exceptionally unique treat and coveted delicacy - The chefs will prepare the collar meat to the winner's liking. Blocks of Sashimi-grade tuna will also be available for purchase (limited quantity).
Click to view this 45-second highlight reel from a previous edition. Special thanks to @4mybelly for the video. 
About our COVID-19 Protocols - This is a Vaccinated-only event. We will require a vaccination card (or clear photo of your vaccination card) to gain entry. For our safety and yours, no exceptions will be made, and no refunds will be issued, if a card is forgotten. Even though we are limiting the number of attendees, we are requiring masks to be worn when not eating/drinking, since you will be allowed to gather somewhat close to the fish that will be consumed by others. We will ask guests to spread out when eating. Chefs and Mess Hall Staff will be wearing masks throughout the event. Additionally, we will ask all guests to wash hands before participating in creating their own sushi hand rolls.
____
LIVE MAGURO CUTTING SAMPLE MENU
SNACKS - Including: * Edemame togarashi * Wakame Sunomono *
POKE - Tuna, ginger, sesame, alae salt, inamona with Taro chips
SPICY TUNA - Cucumber and takuan uramaki with bubu arare
MAGURO DON -Lean, Medium fatty and fatty tuna (Akami, Chutoro and Otoro) served on premium sushi rice, simmered shiitake and burdock root.
D.I.Y. NEGI TORO - "Nagaochi" Scraped fatty tuna with scallion handroll
Please note, each fish will be prepared two nights only. We will break down one side of the fish on Thursday, and the second side of the fish on Friday. For the highest quality fish, we have ordered the fish to be prepared Ikejime. The head may or may not arrive with the fish, depending on availability and the highly-coveted collar WILL be in tact either way.