Description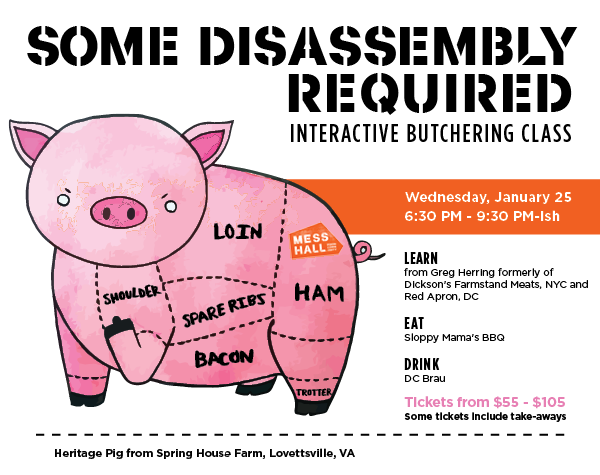 ---
---
Here it is! Our first-ever whole-animal butchering class, paired with beer from DC Brau and dinner from Crave Catering in partnership with Sloppy Mama's Barbeque.
What to expect:
Greg Herring, a skilled butcher will break down a beautiful free range, heritage pig, sourced directly from Spring House Farm, in Lovettsville Va. The evening will last approx 3 hours and will cover many butchering techniques. Yes, you can don gloves and participate to an extent. We will also discuss various types of charcuterie preparations, and unlimited Q&A.
Joe Neuman, pitmaster and founder of Sloppy Mama's Barbeque will provide a dinner of smoked pork and hand-made sausages, plus sides. He will stay to talk about additional preparation methods over rounds of DC Brau.
Ticket Options:

VIP Ticketholders will take home 4 Chops each.
Meat-Lover Ticketholders will take home braising cuts (approx 3 lbs each)

Voyeur

Ticket Holders will go home with full bellies and empty hands.
It's your best chance to be the the most interesting person in your office Thursday morning...You're welcome.
We are keeping our butchering classes small, which means tickets are extremely limited. Plenty of free parking. Please drink responsibly.

Responsibly Raised Beef, Pork, Goat, Lamb, & Poultry - Sustainable, Ecologically-Friendly Farming Practices - A Family Owned Farm


Dinner provided by: