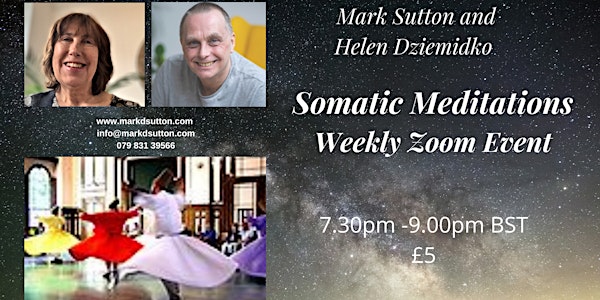 Somatic Meditations: OSHO Nadabrahma Meditation®
SOMATIC MEDITATIONS Somatic meditations are a form of meditation that involves the body: Breathwork, Dance and Touch.
Refund Policy
Contact the organizer to request a refund.
Eventbrite's fee is nonrefundable.
About this event
SOMATIC MEDITATIONS
Somatic meditations are an ideal way of enjoying the benefits of meditation without the discomfort or distraction of "just" sitting still – and, unlike yoga nidra, you don't need to be good at visualisation either.
They are not a new idea. Whirling Dervishes and shamans rituals have been using such practices since ancient times.
Our meditations are of more recent origin. They were inspired by the spiritual teacher, Osho. He created them to help his Western students quieten their minds more easily. We also have our own somatic meditations based on his format.
WHAT HAPPENS IN A SESSION?
Each session is an hour long, broken into different segments. Please arrive on time so that we can demonstrate the stages before we start. So that you can fully benefit from the music, which is designed to enhance your meditation, we suggest that you either wear headphones or connect your device to an external sound system.
For most of the meditations you will need:
• Space to stand and move (we encourage you to move on the spot)
• Something to sit on so that it is easy to keep your spine upright - either an upright chair (where your legs can comfortably touch the floor) or a meditation cushion (if you are used to sitting on one)
• Something to lie on - a yoga mat, blanket or bed
• Something to cover you should you get cool when we come to stillness.
The most important thing is your comfort so bring whatever works for you.
To begin with, we will be teaching a cycle of 6 meditations, one each week. We have taught them in our workshops for years but teaching them on line is a new venture for us.
1. BODY SENSE MEDITATION
This meditation focuses on our bodies' sensory experiences. It includes movement, touch and conscious breathing. It is a powerful way to become fully aware of the whole of your being.
2. KUNDALINI MEDITITION™
This meditation focuses on movement and opening ourselves to the sounds of the meditation. It is a beautiful way to relax and become fully present to ourselves.
3. THE QUANTUM LIGHT BREATH
The Quantum Light Breath is a breathing meditation process vocally and energetically guided by Jeru and includes evocative classical music to accelerate personal transformation by releasing withheld feelings and revealing unconscious programs.
4. NADABRAMA MEDITATION®
This is a sitting meditation focused on sound (humming) and slow movement. It is less active than most of these meditations but not any the less powerful for this. It generates expansiveness and gratitude.
5. MANDALA MEDITATION™
This meditation involves both repetitive and random movements. It is particularly good for letting go of emotional stress and trauma.
6. MEDITATION OF THE FIVE SENSES
Becoming more aware of our senses is a powerful way for us to open ourselves to pleasure, even if we are alone. This is a relaxing, joyful experience. You will need to bring some bite sized pieces of your favourite nibble.
HELEN DZIEMIDKO
Helen has practicing tantra for over 20 years. For many years she taught tantra first as Tantra North, and more recently, with Sacred Light Tantra. She has withdrawn from formal teaching in order to write. Helen has a background in both alternative and orthodox medicine.
"I am delighted to be offering these meditations, both for my own pleasure and yours"
MARK SUTTON
Mark has been a Trauma Informed Breathwork Practitioner for 6 years. Prior to this he taught Tantra as Tantra Awakenings. Mark has a background in Science as well as alternative therapies.