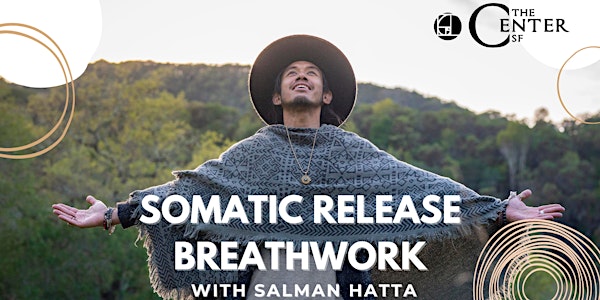 Somatic Breathwork Journey: A Renewal of Self-Love
Participants can expect to experience a powerful guided journey into healing their own psyche through deep, cyclical breathing.
When and where
Location
The Center SF 548 Fillmore Street San Francisco, CA 94117
Refund Policy
Refunds up to 30 days before event
Eventbrite's fee is nonrefundable.
About this event
Salman Hatta invites you to experience this unique guided Somatic Breathwork™ Journey at the Center in SF. Showing up for the work is an energetic declaration, re-committing you to self-love.
Somatic Breathwork™ is an embodiment experience. It takes you out of your thinking mind and into your body. Whether you have been through high stress/traumatic events or not, this modality is a powerful tool. Everyday micro-stressors build up in our nervous system, and if we do not discharge this pressure from our body by expressing (ex-ing the pressure), then it can lead to depression and suppression. Expression is our birthright, and it is the only way our bodies can complete the feedback loop of life experiences. Somatic Breathwork™ provides a safe container for full permission and expression so that the nervous system can work its way back to regulation and your authentic self can come forth.
Somatic Breathwork™ employs circular connected breathing coupled with rhythmic music to produce a cathartic emotional release. As emotions are energy in motion, this release may be in the form of moving, shaking, yelling, crying, or laughing. All of these expressions are welcome. All of you is welcome during your session; no expression is right or wrong. Your body is simply moving it through you so that it may move out of you.
Participants can expect to experience a powerful guided journey into healing their own psyche through deep, cyclical breathing which can evoke emotional releases and expressions. Through this, powerful healing will take place, allowing the participant to clear away the old and invite in the new.
Who is Somatic Breathwork for?
Anyone looking for:
- Releasing of trauma, stress or anxiety
- Clarity in life
- Nervous system regulation
- Stress management
- Personal transformation
Please bring comfortable clothing and a water bottle. Yoga mats and blankets will be provided.
The 1.5-2 hour journey will include:
- Opening
- 1 hour guided Breathwork
- Sharing/Integration Circle
Salman's life and spiritual journey in this world started in California and has led him to experience and serve the medicine of plants, breath, music and dance all over the world - from the jungles of Bali to the beaches of Costa Rica and all over in between. He is a multidimensional guide who produces and runs transformational retreats and events, supports people with psychedelic journey preparation and integration, coaches on life transformation and optimal performance, and curates music for ecstatic dance and sound healing. His purpose in this world is to help people expand their ability to access more freedom and love for themselves.
www.instagram.com/the.shalman
By signing up for this session you agree to these terms:
I acknowledge that Somatic Breathwork™ is a deep and powerful process. It involves rapid and prolonged breathing that is designed to activate intense emotional responses. I have notified the practitioners of any physical injuries, mental or psychological conditions I have. I engage in this experience willingly and take full responsibility for my own physical, mental and emotional experiences during and after the session.
Contraindications:
Somatic Breathwork™ is intended as a personal growth experience and should not be looked upon as a substitute for psychotherapy. It is not appropriate for pregnant women, for persons with cardiovascular problems, including angina or heart attack, high blood pressure, glaucoma, retinal detachment, osteoporosis, history of seizures, stroke, major psychiatric conditions, recent surgery, acute infectious illness or epilepsy. If you have any doubt about whether you should participate, please consult with your physician(s). Persons with asthma should bring their inhaler and consult with their physician(s).
Release:
I have chosen to participate in SBW™. My choice has been voluntary and I may terminate my session at any time. I understand that there is no assurance that I will feel better and that emotions may be evoked that will be upsetting in nature. I understand the potential risks of participation and hereby agree to release and hold harmless Salman Hatta, SBW™ Practitioner from any and all legal responsibility or liability for outcomes experienced as a result of the Somatic Breathwork. I or my representative(s) agree to fully release and hold and, SBW™ Practitioners harmless from and against any and all claims, liability, or damages - arising out of or in connection with my session(s).
I hereby confirm that I have read and understand the above information and attest that my general health is good to participate.