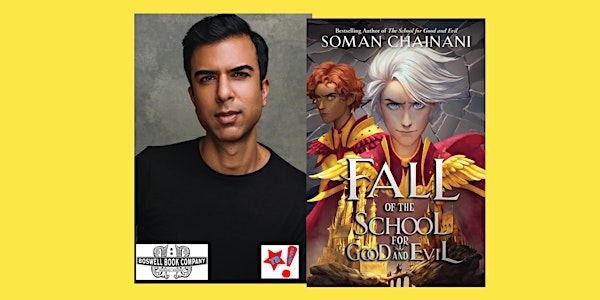 Soman Chainani, author of FALL OF THE SCHOOL FOR GOOD AND EVIL
Soman Chainani, author of FALL OF THE SCHOOL FOR GOOD AND EVIL - an in-person Boswell event
Date and time
Starts on Wednesday, May 10 · 6:30pm CDT
Location
Boswell Book Company 2559 North Downer Avenue Milwaukee, WI 53211
About this event
Boswell Book Company presents an evening with Soman Chainani, author of Fall of the School for Good and Evil.
What rises . . . must fall. Two brothers. One Good. One Evil. In exchange for power and immortality, they watch over the Endless Woods and rule the School for Good and Evil. Yet all School Masters must face a test. Theirs is loyalty. But what happens when loyalty is corrupted? When the bonds of blood are broken? Who will survive? Who will die? And what will become of the school and its students?
The journey that started a hundred years ago throttles toward its end. This final chapter in the duology that began with the Rise of the School for Good and Evil brings the tale of the twin School Masters to the brink of war and a shocking conclusion that will change the course of the school forever.
Soman Chainani is the author of the School for Good and Evil series, which has sold over 3 million copies, been translated into 31 languages and will soon be a major motion picture from Netflix. His most recent book, Beasts and Beauty: Dangerous Tales, was also an instant New York Times bestseller and is in development to be a television series. Chainani is a graduate of Harvard University and received his MFA in film from Columbia University.
Click here to order your copy of Fall of the School for Good and Evil from Boswell. Signed copies and personalization available on pre-orders. Please note that signed copies will not be shipped until after the event.