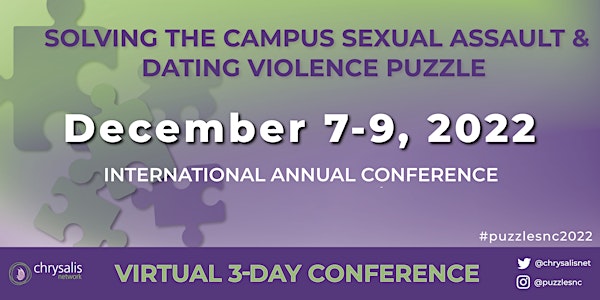 Solving the Campus Sexual Assault & Dating Violence Puzzle Conference 2022
For all conference information, please see the Conference Website: https://www.chrysalisnetwork.com/conference-2022
Refund Policy
Contact the organizer to request a refund.
Eventbrite's fee is nonrefundable.
About this event
ALL SESSIONS WILL BE RECORDED AND AVAILABLE FOR PARTICIPANTS TO ACCESS FOR UP TO 6 MONTHS FOLLOWING THE CONFERENCE VIA THE CONFERENCE APP.
For all conference information, please see the Conference Website
Payments & Fees
Payment by check is preferable and does not incur the additional processing fee charged by Eventbrite when paying by credit card (fees range from $7-$30 depending on ticket price). 
If paying by check, please select the 'Pay by check' ticket option at checkout. Contact Juliette if you need an invoice. Mailed payments MUST be received by Friday December 2, 2022. If your payment cannot be received by this date, please notify Juliette to work out a payment plan. 
We will honor the registration fee at the time you register, as long as your check is received within 2 weeks* of registering. If it arrives past the 2 weeks, your registration fee will reset to whatever the fee is at the time the check is received.
*We realize that campuses/organizations can take time to process payment. If you need an extension past the 2 weeks, please contact Juliette to make arrangements. 
Mail checks to:
Chrysalis Network
6101 Castlebrook Drive
Raleigh, NC 27604
Cancellation and Refund Policy
Cancellation and Refund Policy: If you cancel your registration prior to November 1, 2022 you will receive a full refund, minus a $25.00 processing fee. You can receive a 50% refund minus the $25 processing fee if you cancel between November 1-November 14. No refunds will be given after Nov 15, 2022. Please submit cancellation and refund requests to Juliette.
In the event that Chrysalis Network must cancel the entire conference due to unforeseen circumstances such as illness, your registration fee will be transferred to the 2023 conference. You will be responsible for paying the remaining difference in registration fee. No refunds will be issued. Additionally, Chrysalis Network does not assume responsibility for any additional costs, charges, or expenses such as those associated with travel, lodging, and per diem for the 2023 in-person conference.
If you register as a single campus/organization representative and other members from your campus or organization register at a later date, upon notification and confirmation, you will be reimbursed for your overpayment. Similarly, if you register as a multiple campus representative and you are the only representative, you must pay the difference no later than November 14, 2022 or your registration will be cancelled and subject to the refund schedule listed above.
For all conference information, please see the Conference Website