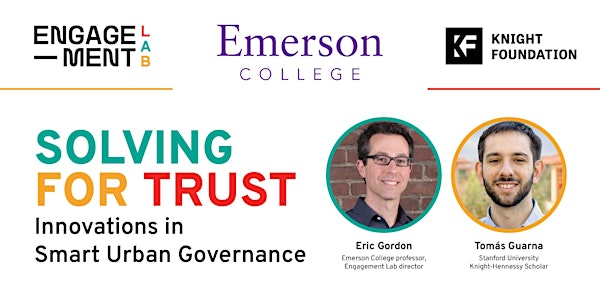 Solving for Trust: Innovations in Smart Urban Governance
How can city governments gain and retain the trust of their constituents?
About this event
Join Emerson College Engagement Lab director Eric Gordon and Stanford University Knight-Hennessy Scholar Tomás Guarna for an examination of the tech-based solutions being imagined and implemented by city governments to build trust with their constituents. Hear from Gordon and Guarna about the actionable learnings they've gathered from technologists and city leaders in Argentina, Spain, and the United States, as part of their research made possible by the Knight Foundation. Then, join us for a panel discussion on recommended next steps for not misusing data, artificial intelligence, and social media influencers in the pursuit of more functional and equitable cities.
Panelists include:
About the Authors and Panelists
Eric Gordon – Emerson College professor, Engagement Lab Director
Eric Gordon, Ph.D. is a professor at Emerson College in Boston, director of the Engagement Lab, and Assistant Dean of Civic Partnerships in the School of the Arts. He is also a research affiliate in Comparative Media Studies at MIT. His current research focuses on technology augmented trust in institutions and novel innovation arrangements in cities. He specializes in collaborative research and design processes, and has served as an expert advisor for local and national governments, as well as NGOs around the world, designing responsive processes that help organizations transform to meet their stated values. He has created over a dozen digital games and apps for public sector use and advised organizations on how to build their own inclusive and meaningful tools. He is the author of four books and over two dozen journal articles on digital media, civics, and social justice.
Tomas Guarna — Stanford University Knight-Hennessy Scholar
Tomás Guarna is a Ph.D. student at Stanford University, where he is a Knight-Hennessy Scholar. He has a S.M. in Comparative Media Studies from MIT, and is a research affiliate there. His research focuses on citizenship, trust, and legitimacy in the digital public sphere.
Dana Chermesh-Reshef — Founder and CEO, InCitu
Dana Chermesh-Reshef is an Israeli architect, a former F15 flight simulator trainer from the Israeli Air Force turned urban data scientist (NYU CUSP '18). In 2020, Dana was selected to become an Entrepreneur-In-Residence at Schmidt Futures, the public benefit arm of Eric Schmidt, under which she founded inCitu: a startup on the mission to bring future cities to life via augmented reality in order to empower residents, designers and policymakers to collaborate on the process of urban change. Prior to becoming an EIR Dana worked at the NYC Department of City Planning (DCP), her research on the feasibility of Tel-Aviv's city center rezoning was published in "Haaretz" newspaper and she is a frequent lecturer on Smart Cities' next frontier.
Andy Lutzky — Executive Vice President of Brand Partnerships, XOMAD
Andy Lutzky's 15-year career in marketing and communications has taken him from sports, to technology, and to the public sector, both agency and in-house. He currently leads brand partnerships at XOMAD, one of the top, rising influencer marketing companies in the world. He also teaches public relations and content marketing at San Jose State University. He has served as CMO for a City, executed global/integrated campaigns for tech brands like Samsung, Microsoft, Google, PayPal, HP, AMD, Nissan, Adobe, eBay, and Coursera and led editorial strategy with the San Francisco 49ers of the National Football League. Through all that, he's learned the importance of blending a sound strategy with an environment of creative safety, openness and empathy. When together, truly great work emerges. When he's not thinking deeply about communications and marketing problems, you're likely to find him watching NBA basketball and eating some kind of burrito.
Emily Yates — Former Smart City Director, City of Philadelphia
Emily Yates is a highly skilled urban policy professional with over fifteen years of project management, economic development, sustainable planning, and design experience. She has advanced knowledge in the transatlantic urban agenda with a focus on resiliency and revitalization policy, facilitating cross-sector collaboration and partnerships, and implementing civic engagement strategies which have brought vibrancy to local communities.
MODERATOR:
Lilian Coral— Senior Director, Open Technology Institute and Technology and Democracy Programs, New America
Prior to joining New America, Lilian Coral served as Knight Foundation's director of national strategy + technology innovation from 2017 to 2022, where she managed the national portfolio and focused on the development of the foundation's citizen-centered Smart Cities strategy. The portfolio's investments include a focus on data accessibility and trust, urban mobility, and technology in public spaces. Coral came to Knight from the City of Los Angeles, where she served as chief data officer for Mayor Eric Garcetti. In this role, she led the mayor's directive on open data beyond the lens of transparency and towards his vision of a data-driven Los Angeles. She managed the growth of Los Angeles' open data program to 1,100 public datasets, the expansion of the use of data science and analytics, and the development of more than 15 user-centered digital services. Of note, was her development of the GeoHub, a first-of-its kind data management solution for integrating geospatial information across the City of Los Angeles' 41 departments. Prior to joining Mayor Garcetti, Coral spent 15 years working on a wide range of policy and technology issues and has experience working with labor unions, NGOs, foundations and local, state and federal government to transform the way government uses data and technology to serve its citizens. Coral has a bachelor's degree in international studies from the University of California, Irvine and a master's degree in public policy from the University of California, Los Angeles. She is a native of Colombia, a place from where much of her inspiration for innovation and social justice emerged.