One way of "solving climate by 2030" is by making climate change a class...everywhere, in every classroom across the world--let's explore NJ
About this event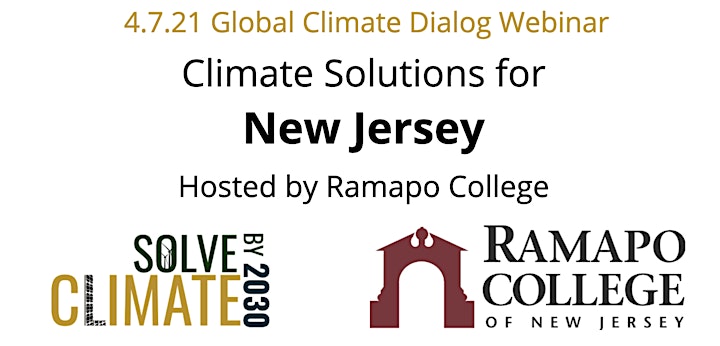 Wednesday, April 7, 2021, 6–8 PM EDT
One way of "solving climate by 2030" is by making climate change a class...everywhere, in every classroom, across the world. Our purpose in this session is to explore education for climate action and climate justice, in the K through 16 space--that is to say, the entire education spectrum.
As you may know, New Jersey leads the nation in enacting climate education standards across the entire K-12 school curriculum. This has implications for Colleges and Universities as well.
Our question is, how might climate be taught, so that it actually empowers students, rather than paralyzing them with the abject despair and hopelessness of conventional climate discourse. We assume the climate crisis has now been broadly recognized, and that the standing question now is…what is to be done, in the here and the now?
We will discuss solutions, and also the ways in which climate can be taught within New Jersey today. We will share resources that might help us teach climate change, and so strengthen this important intervention into our current climate crisis.
We want to help students, teachers and professors across the curricular spectrum, actually solve climate by 2030, and, in the process, successfully "Make Climate A Class…!"
Agenda
6:00–6:15 p.m. Welcome to the Global Climate Dialog – Solve Climate By 2030
6:15–7:15 p.m. New Jersey Climate Solutions: Panel Discussion on the state of Climate Education in the K-12, Community, and Undergraduate spheres of education
• Jaimie Cloud, Cloud Institute
• Harriet Shugarman, Climate Mama, Adjunct Professor, Ramapo College
• Carrie Ferraro, Rutgers University
• Nora DiChiarra, Duke Farms
• Svanfridur Mura, Freshman at West Orange High School
• Ashwani Vasishth, Professor, Ramapo College
• Discussion
7:15–7:30 p.m. Three self-selected Breakout rooms, for K-12, Community, and Higher Education participants
7:30-8:00 p.m. Open Discussion
Meeting Link will be emailed to Registrants one day prior to the event, and then again 15 minutes before the event.
vasishth@ramapo.edu
RESOURCES
Teachers Guides here for: K-8 / Civic Engagement / Anthropology / Art / Biology / Business / Chemistry / Computer Science / Dance / Economics / Engineering / English / Film / Geography / Geosciences/ Earth Sciences / Government / International Affairs / History / Language General / Literature / Mathematics / Media/Communication / Music / Philosophy / Physics / Politics / Psychology / Religion / Sociology / Spanish / Statistics / Theater