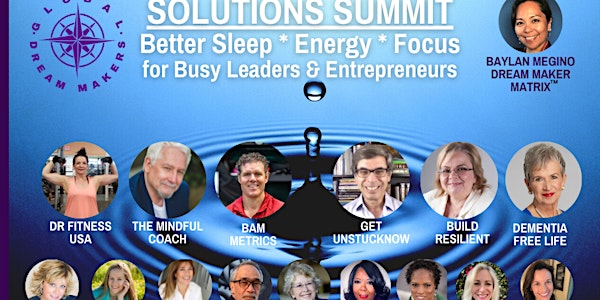 SOLUTIONS SUMMIT Better Sleep Energy Focus for Busy Leaders & Entrepreneurs
Global Dream Makers' The SOLUTIONS SUMMIT: Better Sleep Energy Focus for Busy Leaders & Entrepreneurs with Baylan Megino
Refund Policy
Contact the organizer to request a refund.
About this event
THE SOLUTIONS SUMMIT:
Better Sleep * Energy * Focus
Health & Wellness for Busy Leaders and Entrepreneurs
*****************
Tucked into these 6 days will be information and solutions that could improve your health and wellness significantly.
*****************
We meet each weekday starting at 10am Pacific, from October 5th through October 12th.
And in case you miss the live sessions, registered ticket holders can access the replays through Oct. 16th.
*****************
REAL CHANGE Starts with NEW Perspectives and Approaches
- About You
- About Your People
- About Your Organization
- About Your Community
- About the World
- About the Future
Being a Leader Today Requires
the ability to navigate the tangible and intangible aspects of constantly shifting demands on individuals and on organizations.
BUT Busy People who Lead Stay Up at Night
figuring out solutions to problems like:
- Not enough sleep
- Exhaustion
- Overwhelm
- Anxiety
- Adrenal fatigue
- Workaholism
- Effects of staring at the computer screen
- Too much Exposure to blue lights
- Lack of focus
- Lack of energy or strength
- Nagging aches and pains
- Concern About Possible Health Problems
- Repeated Failures
- Anger or Resentment
- What The Future Will Be
and wondering if there's a better way to handle it all.
It's okay, you're not alone. Millions of us are looking for the same solutions.
That's why we have gathered expert speakers who offer solutions based on their personal life experiences on their journey.
They've Been There, Done That.
Now they are sharing so you can Live Better too.
From October 5th through 14th our speakers will
Share about their SOLUTIONS for
- More Energy
- More Strength
- Giving Our Brains a Rest
- Better Sleep
- Better Health
- Better Focus
- Stronger Immune System
- Better Digestion
- Better Resilience
- Making More Impact
- Improved Communication
and Better Relationships because More of YOU is showing up fully.
Join Us for these Powerful Talks!
WELCOME and Keynote
Baylan Megino, Founder, Global Dream Makers
"DISRUPTER Roundtable"
Moderated by Baylan Megino
Renee Reisch, "Power of Your Voice", https://ReneeReisch.com
Tina De Luca of https://InLightInEnergy.com
Nicole Harvick, "The Power of Forgiveness", https://www.linkedin.com/in/nicole-harvick-4409a5a/
Tamara L. Hunter, 1st Global Next Impactor, https://tamaralhunter.com and https://CB4L.org
Antwaun Thompson, Coach T's Corner, https://www.linkedin.com/in/antwaunt/
"How to Find the Center of The Storm Of Your Life"
Brett Hill, The Mindful Coach
https://bretthill.coach
"Sculpt Your Body, Sculpt Your Brain"
New Paradigm for Personal Fitness
Batista Gremaud, Dr Fitness USA
https://drfitnessusa.com
" The Four Simple Steps To Living Your Purpose"
Robin O'Donovan, Life Purpose Coach
https://energetictribe.com
"Sleep Is Priceless - Pass It On!"
Tamara L. Hunter
https://tamaralhunter.com and https://CB4L.org
"Burnout: The Brain's Heart Attack - Overcoming the Six Contributing Factors of Burnout"
Pamela Cowan
https://ca.linkedin.com/in/pamelacowan
"3 Ways to Create Your Impactful Life That Actually Work Using Your Hidden Power"
Elisa Card, Happy2Succeed Method
https://elisacard.com
"Self-Healing for Health & Wellness"
Carolyn CJ Jones
https://carolyncjjones.com
"Power of Your Voice"
Renee Reisch
https://reneereisch.com
"Healthy, Pain-Free Bodies Improve Mobility and Performance"
Bobby Aldridge, BAMmetrics
https://bam-metrics.com
"Are Your Trash Cans Overflowing?"
Melissa Deally, Your Guided Health Journey
https://yourguidedhealthjourney.com
"The Martial INSTINCT Way"
Sanny Leviste
https://aguaterra.com
"@GetUNstuckNOW: How to Hallucinate.... Better!"
Paul Litwack, GetUNstuckNOW
https://getunstucknow.org
"Life Long Living Dementia Free"
Alexi Bracey, Dementia Free Coach
https://wholehealthacademy.ca
"Financial Fitness"
Yvonne E. Gamble, Author of Financing Your Next Billion$$$
https://sanpetefinancialgroup.com
"You Are Your Solution for Optimum Wellbeing"
Gracienne Jean-Pierre
https://jphealthandwellness.com
"How to Align All Your Physical Worlds for Health & Wellness "
Baylan Megino
http://GlobalDreamMakers.com
Are you Ready to Get Unstuck and Move Forward in Your Life?
JOIN US!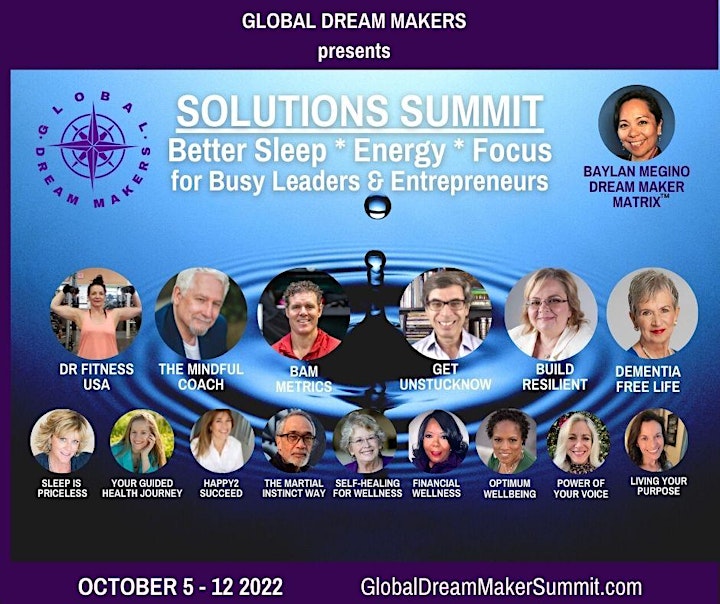 * Refocus on Your Health & Wellness to Serve your Purpose, Vision and Values for Your Life *
* Take New Directions
* Deepen Individually
* Strengthen Your Spirit-Mind-Body
* Bring All Parts of You Forward
* Navigate Change to Transform Your Life Experience
* Expand Your Health Perspectives to Empower Your Lifework.
Find How to Stop the Struggle
with your mind and body as our Summit Speakers share views and wisdom gleaned from life's many challenges, lessons gathered through Good Times and Bad, and successes with clients.
Join us in exploring ways that Spirit, Mind, Body and Purpose Converge and can be better expressed and experienced in your life every day.
For today's transformative times, access tools and information to lead with vision, purpose and integrity.
Elevate Your Life and Your Organization so both will Thrive and Prosper!
JOIN US!