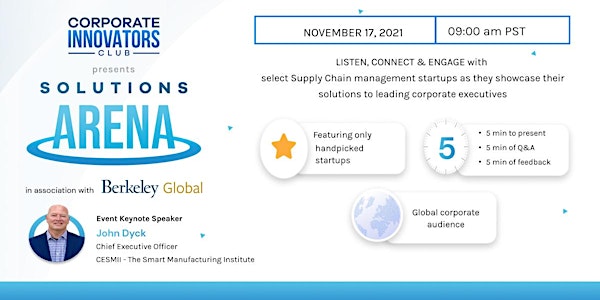 Solutions Arena
What makes a supply chain future-ready? Hear from corporates on their real supply chain challenges, and discover startups fixing these gaps.
About this event
Traditional supply chain management has relied heavily on human intervention, kept key functions siloed and offered limited intelligence on operations. Unidentified costs are on the rise, customers have never had more buying options and quality service is more important than ever. Are present supply chains equipped to counter these challenges and those that are yet to reveal themselves?
Problem-solving takes center stage in the Solutions Arena on 'Future of Supply Chain', as corporates reveal their true supply chain challenges and startups showcase futuristic solutions that are shaping a tech-enabled, data-powered, and insight-driven supply chain.
In this session, keynote speaker John Dyck, CEO at CESMII, a US-government funded, non-profit Smart Manufacturing institute, will share his insights on how 200+ CESMII members like Microsoft, GE, J&J and P&G are using collaboration and innovation to implement smart manufacturing and become more efficient, productive and competitive.
Listen, connect and engage with the featured supply chain startups as they uncover their innovation journey to the corporates on the panel, and a diverse audience of industry experts, investors and entrepreneurs.
Program Outline:
Welcome note (5 min) : Berkeley Global & The X Future
Keynote Address (10 min) : John Dyck, CEO - CESMII talks on 'Future of Supply Chain - Sustainable, Connected and Automated'
Corporate Discussion (15 min) : Featured corporates talk about the top-critical supply chain problems in their organizations that they are looking to solve
Startup Showcase (30 min) : Featured startups give an overview of their game-changing supply chain solutions
Audience Q&A: The floor opens to questions for startups by panelists and the audience
Date: 17 November, 2021 Time: 09:00 am PST
If you are a startup working on a disruptive technology - Apply here
An innovation enablement platform for Corporates to find and buy the best-in-class tech solutions. Corporates can identify the innovation trends, define the need and match with the most relevant solutions on the X Future platform.
At the same time startups can connect with verified corporate use cases and have a single-window access to complex corporate workflows.
About Berkeley Global
Berkeley Global extends the reach of UC Berkeley's impact by providing access and opportunities to a broad and diverse community of learners. Students come from all over the world to study at the top-ranked public university. Offerings include academically rigorous, short-term programs for high school graduates, undergraduate and graduate students, and working professionals. For more details visit : global.berkely.edu