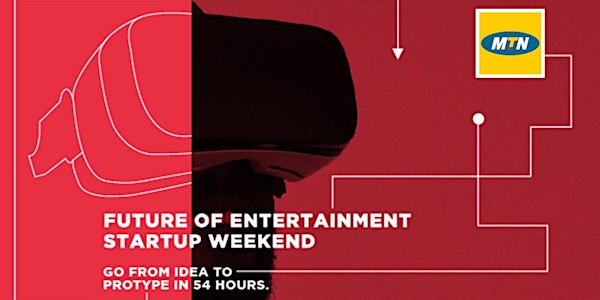 Solution Space Future of Entertainment Startup Weekend
When and where
Location
Workshop17 17 Dock Road Cape Town, WC 8002 South Africa
Description
Startup Weekends are the place to find a team, create a prototype, validate a big idea and receive feedback from customers and experienced mentors. In just 54 hours, you'll learn how to create products and services that customers actually want.
WHO SHOULD SIGN UP?
Whoever you are, if you're motivated, open to new ideas and collaboration, you'll fit right in. Startup Weekends bring together all types of people including designers, developers, creatives, business people, financial gurus and more. The Weekend requires radical collaboration, exploring multiple alternatives and trying out new things. Participants sign up to work with people with different skills, perspectives, backgrounds and points of view. We have a 100% opt-in culture for 54 hours of intense hard work.
WHAT IS THE FOCUS?
The Solution Space Future of Entertainment Weekend in partnership with MTN Group, Simfy Africa, MusicTime! and Ayoba, MTN's newly released advanced instant messaging platform, is focussed on solving problems that matter. We've created a handful of How Might We questions (see below) to kickstart the weekend, and are of course open to other Entertainment-based ideas.
How might a digital entertainment service, such as MusicTime!, effectively interact with customers in order to reduce churn and drive up engagement?
The lack of effective engagement results in high levels of churn and also has a direct and negative impact on the cost per acquisition for ongoing marketing efforts. How might we increase user engagement while ensuring that we add more value to customers?
How might we offer personalised entertainment based on user-preference?
It is key to establish what an individual user's preferences in entertainment are before they have even listened to their first song or browsed through a list of recommended books. The lack of personalised recommendations in any service leaves customers feaeling overwhelmed by the volume of content available. This can also result in low levels of interaction and ultimately the loss of the user to another service. This is currently being solved by asking a number of questions/preferences when first signing up to service. How might we come up with a more elegant solution to the problem?
How might Ayoba and other digital platform services make best use of conversational interfaces, i.e. bots, to deliver new products or services in a way that's intuitive and engaging to users?
In a WeChat world, where there's access to 500m+ users engaging on a chat-based platform and where customers can interact with services and make payments in a conversational context, it's all about the services. Given the same technical capability with Ayoba, and the African Mobile user-base, how might we re-imagine the way users interact with legacy services? Or what kind of new services might be developed using bots?
HOW DOES IT WORK?
Friday, 28 June 16h30 - 21h00
On Friday night, you'll pitch your own idea and/or listen to others. Everyone then votes on the most interesting ideas and form teams. It's not required that you pitch an idea but it's highly recommended. Half the fun of Startup Weekend is getting out of your comfort zone and doing something that makes you a little bit nervous.
Saturday, 29 June 09h30 - 22h00
On Saturday, you'll work with top mentors and coaches to refine your idea and get customer feedback. Don't freak out when all your ideas go out the window and you're forced to pivot. That's what a real startup is like.
Sunday, 20 June 09h30 - 16h30
On Sunday, you'll learn how to create a great pitch. It all comes together when you and your team present your work to a panel of judges.
BENEFITS?
Get introduced to the world of startups and entrepreneurship.

Learn the process for going from concept to creation.

Meet experienced, talented, and passionate entrepreneurs including mentors.

Build a new network of developers, designers, and entrepreneurs - who could be your next co-founder, friend, mentor or even investor.

Get one-on-one time with amazing mentors.

Receive special benefits and discounts from our ecosystem partners.

Enjoy great meals along with unlimited snacks and coffee.

Further support from the Solution Space and MTN Group through access to mentorship, co-working space and participation in masterclasses and clinics.
WANT TO GET IN CONTACT?
If you are a student or the cost of transport is a barrier please get in touch with Phiwe Njapa on +27 (0)21 406 1430 or solutionspacewaterfront@gsb.uct.ac.za
Sponsored by

Ecosystem Partners