Description
Wenatchee's first-ever Solstice Run will take place beginning at 6 p.m. June 21 at Pybus Public Market.
The run course will begin and end outside Pybus, located along the Columbia River waterfront. Runners and walkers will travel by Badger Mountain Brewery, Columbia Valley Brewery and Wenatchee Valley Brewery - the three make up Wenatchee Brewers Row craft brewery district - where they will receive wrist bands. Once back at Pybus, the wrist bands will gain participants entry to a post-race party in the new Pybus Annex to celebrate the longest day of the year. Each brewery will be pouring their beers. This family friendly event also will include non-alcoholic beverages, snacks and live music.
PLEASE NOTE: If you are planning on having a beer, you must have your ID with you. We will be carding everyone, no exceptions.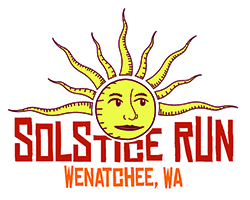 A partnership involving Pybus Market, Wenatchee Brewers Row, RunWenatchee, and the Wenatchee Valley Chamber of Commerce are the organizers behind the Solstice Run. The event has been structured as a fundraiser for the Pybus Foundation, which has been raising money to pay for the Pybus Annex renovation project.
The cost to participate in the fundraiser is $25 for adults (21 years and older), $15 for those 13 to 20 years of age, and free for children 12 years and younger. The cost goes up $5 more the day of the event. Each paid participant 21 years and older will receive a token for one beer inside the Pybus Annex and a commemorative Solstice Run tasting glass. (Please note: Only the first 300 paid registrants are guaranteed a taster glass.) Additional tokens for beers can be purchased inside the Pybus Annex. Each paid participants 20 years or younger will receive a token for one pop or water inside the Pybus Annex.
Start time: 6 p.m.
Start line: Pybus Public Market, 7 N. Worthen St., Wenatchee
Finish line: Pybus Public Market, 7 N. Worthen St., Wenatchee
Timing and results: The race will NOT be timed.
Packet pickup: 4 to 6 p.m., June 21, 2018, at Pybus Public Market.
People who do not intend to run or walk t course can still attend the event, however you will need to purchase a ticket.