About this Event
Ancient traditions throughout time have honored the solstices as significant thresholds for existence and marked with rituals and ceremonies.
Following these ancient traditions during the solstice time, we will spend this fertile time to retreat and reconnect with the beauty of the Earth and tune into the instinctual rhythms of light by meditating outdoors and immersing ourselves into the natural world. We will open ourselves to the exquisite wonder, beauty, instinctual rhythms of light, and the wisdom of the natural world as a mirror of our true nature --- whether through sunset and sunrise meditations, listening to the soothing sounds of the natural world, deep reflections, Council, conversations and medicine walks with the land amidst pine forests and aspen groves and star gazing.
Just as the natural world appears to be ripening and flowering of the seeds planted, the inner realm is s full and flowering with power, innocence, truth, flow, and vitality --- bridging the passage between spirit and flesh. The solstice asks us to tune into the inner fire and the watery flow of body and open to the instinctual alignment and rhythm that will carry us through this seasonal passage.
This retreat/workshop is appropriate for beginning meditators as well as seasoned practitioners. Guided and silent meditations are offered throughout the week.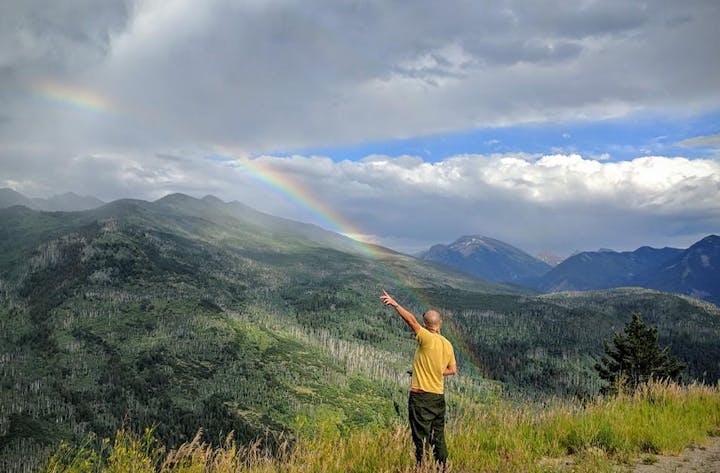 Retreat FAQ:
Schedule: Tentative schedule - Subject to change.
Wednesday
7:00 - 9:00 PM (guests staying on site, please plan to arrive by 4 PM for orientation and dinner)
Thursday - Saturday
Sunday:
Food & Gear: Due to the wild setting of this retreat, guests provide their own food and gear. There will be fully equipped outdoor kitchens and a council tent (weather permitting) or cabin for Council and discussions.
Tuition & Accommodations: Prices vary (see accommodation options below) Accommodation Options:
Off site accomodation + Retreat... $200 - Guests are responsible for their own travel up to the site via 4WD road.
Camping on site + Retreat... $225 - Guests will have access to outdoor solar shower, outdoor kitchen, outhouse, and a camping spot on the land. Guests will provide their own gear/tent.
Shared Room + Retreat ... $450..- Guests will have access to indoor shower & bathroom, outdoor & indoor kitchen, twin beds with linens
Standard Private Room + Retreat ... Sold out
Upon registration, please choose the accommodation option that best suites your needs. Accommodation prices vary.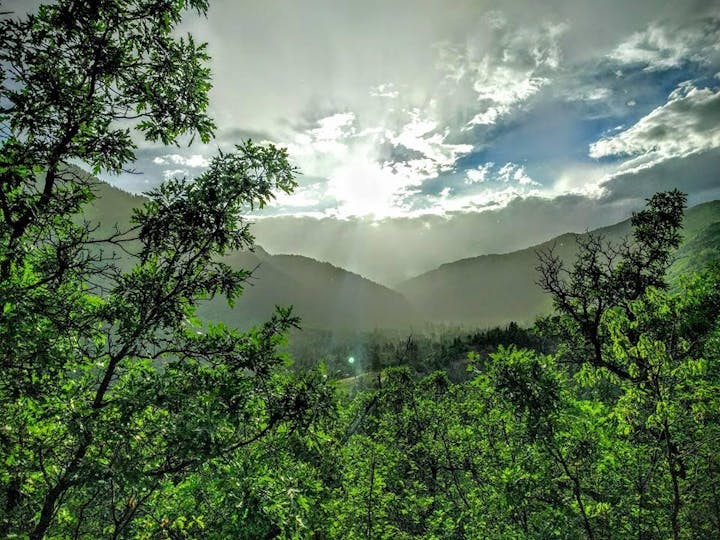 Guides:
colleen bishop (collfeatherz) was raised in Philadelphia, PA. Her ecological identity was first birthed through the ocean and sand along the eastern coast of the USA. She began a career path in Elementary Education before hearing the call to nature. After living closer to the eastern coast in South Carolina in her mid-twenties, she eventually found herself in Landstuhl, Germany. During the two years she spent living in Landstuhl, Germany she discovered an affinity and profound loving connection with the Black Forest. In some ways, the connection began the path toward contacting wholeness the natural world, which eventually carried her to the "crazy wisdom" that Chogyam Trungpa founded Naropa University on and where she met and committed to deep loving with her beloved and now husband, Thompson Bishop. Together, they now call home a majestic narrow crystalline river valley within the Great Mysteriousing of the Western Slope Region of the Rocky Mountains in Colorado.
Colleen is a graduate alumni of Naropa University with a MA in Transpersonal Ecopsychology. She is trained in guiding human beings through transitions and rites of passages using the vision fast model through the School of Lost Borders. Colleen is also a certified yoga instructor and offers ceremonial & heart based yoga classes which give voice to the myriad of ways we practice consciously navigating surrender (severance), the unseen liminal space (threshold) and birth (initiation) again and again. Her vibrant presence and soft voice speaks to the fierce loving she embodies.
Colleen's dharma involves *being* in conscious, loving, embodied, connected and sacred relationship with all of life and in midwifing/bridging the births with Earth-body through ceremony and ritual.
thompson bishop (tbird) grew up in the hills of East Tennessee and the mountains of Colorado. From an early age, tbird began his study of music and a deep connection to the natural world. Trained in classical piano and voice, he received double undergraduate degrees in Music and Recording Arts. Deeply touched by the ecological struggles of the earth in human hands, tbird returned to graduate studies in Animal Policy and Advocacy and then into Transpersonal Ecopsychology (MA) at Naropa University. Trained in Council at the Ojai Foudation and as a Vision Fast Guide with the School of Lost Borders, he will be continuing his education in a year-long facilitator program in 2019 with the Work That Reconnects. tbird has a deep affinity for the Ragged Mountains and the Crystal Valley, and now finds sanctuary and home with his life-mate Colleen and their loving fury-kins just outside of Redstone, CO. tbird loves trail running, hiking, mountain biking, yoga, and all things contemplative. He is an active part within multiple nonprofit and foundation boards.