About this Event
The thriving Chicago film scene has given us iconic midwest flavored holiday stories like "Home Alone" and "Planes, Trains and Automobiles"... but Chicago has long been the home of indie film talent as well. 25 years ago, local filmmaker Jerry Vasilatos began his journey as an independent filmmaker with a dream to make a Christmas movie, going from script to screen with "Solstice", a Chicago Christmas story which was broadcast into millions of households as Lifetime Television's First Original World Premiere Holiday Movie in 1994.
Join us as we celebrate the film's 25th Anniversary ONE LAST TIME at this very special holiday celebration where we will also be collecting Toys for Tots to seliver to the Chicago US Marine Corps Reserve to share in the spirit of giving. Please bring a gift for needy children for discounted admission!
Set in frigid, mid-winter Chicago, "Solstice" tells the story of Nick and Kristine (Michael Kelley & Mary McCloud) a disillusioned young couple dealing with a broken romance who both regain a new sense of hope and optimism during a lonely Christmas Eve. Focusing on themes of second chances and redemption, "Solstice" deals with personal seasonal introspections as relevant today as they were 25 years ago.
Newly restored in 2K from original camera negative elements, remixed and presented with a newly composed orchestral score by Bálint Sapszon and the Budapest Scoring Orchestra, the 25th Anniversary Edition of "Solstice" has garnered awards throughout 2019 for Best Drama and Best Score at the Las Vegas Action on Film Megafest, Hollywood Dreams International Film Festival, Los Angeles Film Awards and Los Angeles Independent Film Festival.
"Solstice" includes the newly produced 15 minute retrospective "Spirits of Christmas Past" featuring interviews with the creative team sharing their memories on the making of this perennial holiday classic and a Q&A with director Jerry Vasilatos will follow the program.
Social Media Links:
Official Website: www.solsticemovie.com
Jerry Vasilatos: www.jerryvasilatos.com
Facebook: www.facebook.com/SolsticeTheNightBeforeChristmasMovie/
Twitter: www.twitter.com/MovieSolstice
Instagram: www.instagram.com/solsticemovie/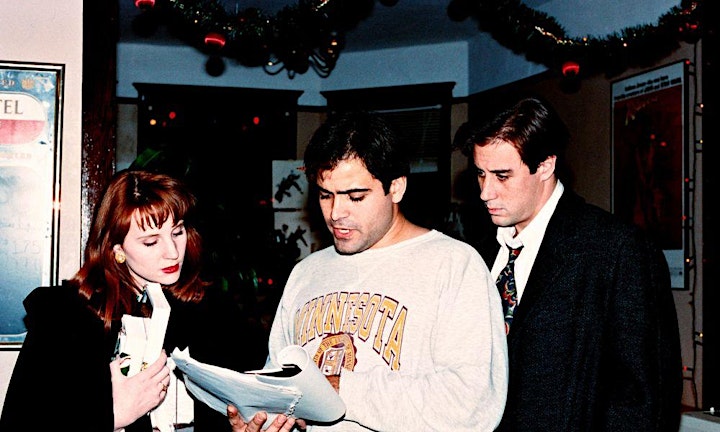 Director Jerry Vasilatos with stars Mary McCloud and Michael Kelley.