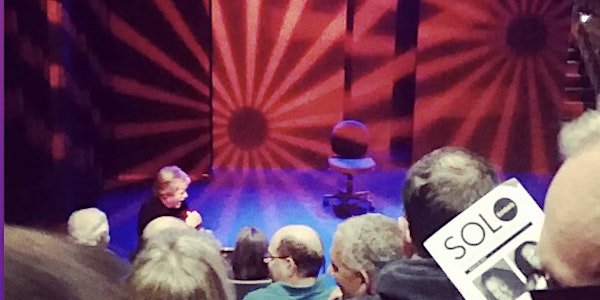 Solo Sundays - Marga Gomez, Pearl Ong, Janet Thornburg, Ike Torres
Solo Sundays, S.F.'s premier monthly showcase, presents select samplings of veteran virtuosos and top emerging talents in The Mission (SF).
When and where
Location
Stage Werx Theatre 446 Valencia Street San Francisco, CA 94103
Refund Policy
Contact the organizer to request a refund.
Eventbrite's fee is nonrefundable.
About this event
Janet Thornburg - "Epiphany in a Black Bathroom"
  I'm zooming along in the buddy movie that my life has become. My best friend and I have ditched romance, and we're in hot pursuit of adventure and power. Everything is coming in right on time, but then, wouldn't you know it? Love sneaks in through the back door. (I am, after all, only human. And a lesbian!) Should I stick with my buddy and press the pedal to the metal, or should I get out of the car and let love's siren song lure me to the edge of a slippery, slippery slope?
Ike Torres - "Mini-Masochist is a Little Sh!t Ass"
At the age of 7 Anthony was a master thief. Isaac was his partner in crime. The older kids told them to stay away from Evangelines because they had floorwalkers, but they took it as a challenge. Just two little heathens in search of vampire teeth. Instead they earn a one way ticket to the BOLO files.
Marga Gomez - "Swimming With Lesbians"
Just before she was pushed into the deep end, flailing and sinking, the emcee had stepped carefully around the swimming pool, mic in hand with an announcement for everyone on the Lido Deck. "Ladies we have a pool game tie! The winning team gets beer cozies! Will it be The Beavers? Or The Pillow Princesses?"
Pearl Ong - "I Will Survive"
I am trying to work out an outfit for a drug run. Maybe this tweed jacket, pressed black shirt, black jeans,  a Parker pen in the breast pocket. My car is a Plymouth Valiant in faded gold and pink bondo, with the stuffing coming out of the back seat. This makes the probability of getting stopped for 'Driving While Poor' quite high. I'm hoping to offset the look of the car with a doctoral candidate get up. A bit of cognitive dissonance can't hurt.