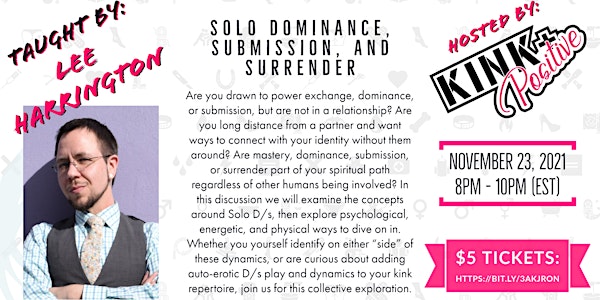 Solo Dominance, Submission, and Surrender
Are you drawn to power exchange, dominance, or submission, but are not in a relationship?
Refund Policy
Contact the organizer to request a refund.
Eventbrite's fee is nonrefundable.
About this event
Are you drawn to power exchange, dominance, or submission, but are not in a relationship? Are you long distance from a partner and want ways to connect with your identity without them around? Are mastery, dominance, submission, or surrender part of your spiritual path regardless of other humans being involved? In this discussion we will examine the concepts around Solo D/s, then explore psychological, energetic, and physical ways to dive on in. Whether you yourself identify on either "side" of these dynamics, or are curious about adding auto-erotic D/s play and dynamics to your kink repertoire, join us for this collective exploration.
---
Attendance Agreements:
Due to the adult nature of the classes, all attendees must be at least 18 years of age. By obtaining a ticket you agree that you meet this minimum age requirement. Any under-age persons will be removed from the class/discussion.
No recording of any kind is permitted of the class, video, or audio whether it is the instructor, the audience, or shared screen images. Do not re-broadcast the content to other media outlets, screenshot any part of the class, or share information about people you saw within the class or their stories. By attending you agree to the above restrictions regarding information sharing.---About Kink Positive:
Kink+ (or "Kink Positive") is a project designed to help spread information, experience, and knowledge in all things related to kink and sex positive thinking.---Presenter Bio:
Lee Harrington (he/him) is an internationally known spiritual and erotic authenticity educator, gender explorer, eclectic artist, and award-winning author and editor on erotic and sacred experience. He's been traveling the globe, teaching and talking about sexuality, psychology, faith, desire, and more, and brings a combination of playful engagement and thoughtful academic dialogue to a broad audience. A nice guy with a disarmingly down to earth approach to the fact that we are each beautifully complex ecosystems, he examines the human experience from that lens. Lee has been a passion instigator, academic, adult film performer, world class sexual adventurer, outspoken philosopher, kink/bondage artist, and has been blogging about sex and spirit since 1998.
His books include "Traversing Gender: Understanding Transgender Realities," "Playing Well With Others: Your Guide to Discovering, Exploring and Negotiating the Kink, Leather and BDSM Communities" (with Mollena Williams), "Sacred Kink: The Eightfold Paths of BDSM and Beyond," "Shibari You Can Use: Japanese Rope Bondage and Erotic Macramé," "More Shibari You Can Use: Passionate Rope Bondage and Intimate Connection," the "Toybag Guide to Age Play," and "Shed Skins: Journeying in Self-Portraits." He has also worked as an anthology editor for "Queer Magic: Power Beyond Boundaries," "Rope, Bondage, and Power" and "Spirit of Desire: Personal Explorations of Sacred Kink," while contributing actively to other anthologies, magazines, blogs and collaborations. Check out the trouble Lee has been getting into, as well as his regular podcast, tour schedule, free essays, videos and more over at PassionAndSoul.com.